Let's face it, Linux can pose an overwhelming complexity to new users. But then, it's not Linux itself that brings this complexity. Rather, it's the "newness" factor that causes this. Not getting nostalgic, but remembering my first time with Linux, I didn't even know what to expect. I liked it. But it was an upstream swim for me initially.
Not knowing where to start can be a downer, especially for someone who does not have the concept of something else running on their PC in place of Windows.
The first thing that confuses a newcomer is that Linux is not a single operating system. There are hundreds of Linux OSes (the correct technical term is distribution).
We have covered why there are so many Linux distributions in detail to help you out with that.
Here are a few lists of Linux distributions based on different criteria:
In addition to that, there are distributions that cater to the needs of newcomers. So, here, we shall focus on those options.
Best Linux Distros for Beginners
📋
Please remember that this list is in no particular order. The main criteria for compiling this list are ease of installation, out-of-the-box hardware support, ease of use, and availability of software packages.
1. Ubuntu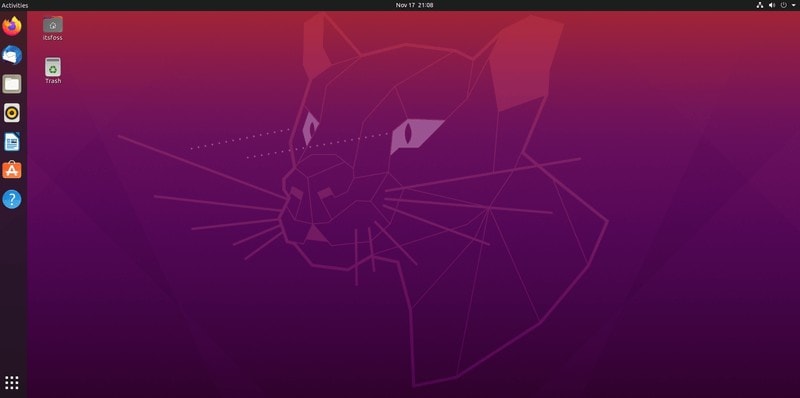 Easy to use
Unique user experience
Huge collection of software applications available through the software center
Essential tools pre-installed
You must have heard about Ubuntu — no matter what. It is the most popular Linux distribution overall. Not just limited to servers, but also the most popular choice for Linux desktops.
It is easy to use, offers a good user experience, and comes pre-installed with essential tools to get a head start. Of course, Ubuntu managed to "simplify" the Linux experience years back and that is the reason it is still so popular even with several other alternatives available.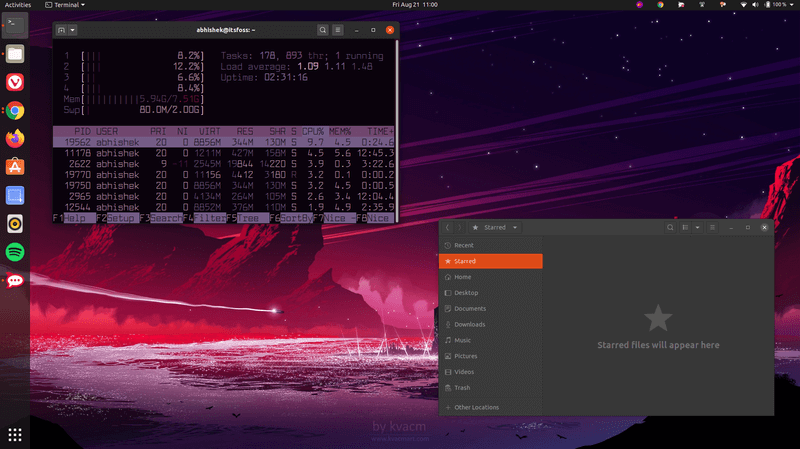 Ubuntu offers a very convenient installation procedure and ensures the best hardware compatibility when compared to some other non-Ubuntu-based Linux distributions.
The original Ubuntu relies on GNOME desktop. Even though it is easy to use, it may not be a familiar user interface if you're coming from the Windows platform.
In that case, you can try out some official flavors of Ubuntu like Kubuntu, Lubuntu to get a Windows-like user interface.
Ubuntu has great documentation and community support. Ubuntu forums and Ask Ubuntu provide appreciable quality support in almost all aspects of Ubuntu. You should easily find answers to common issues and even if you notice something new, the community will help you out with troubleshooting.
2. Linux Mint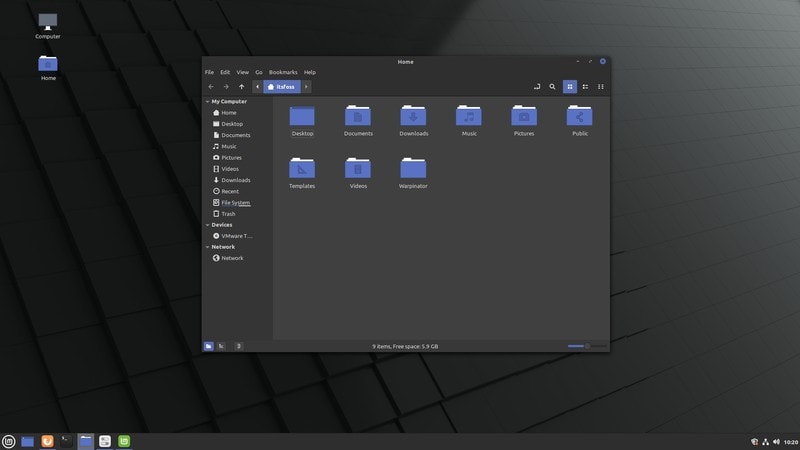 Familiar user interface with Windows
Performs great with older hardware
Some improvements over Ubuntu
Linux Mint is arguably the best Ubuntu-based Linux distribution suitable for beginners. Yes, it is based on Ubuntu, so you should expect the same advantages of using Ubuntu. However, instead of GNOME desktop, it offers different desktop environments like Cinnamon, Xfce, and MATE.
Furthermore, Linux Mint does a few things better than Ubuntu.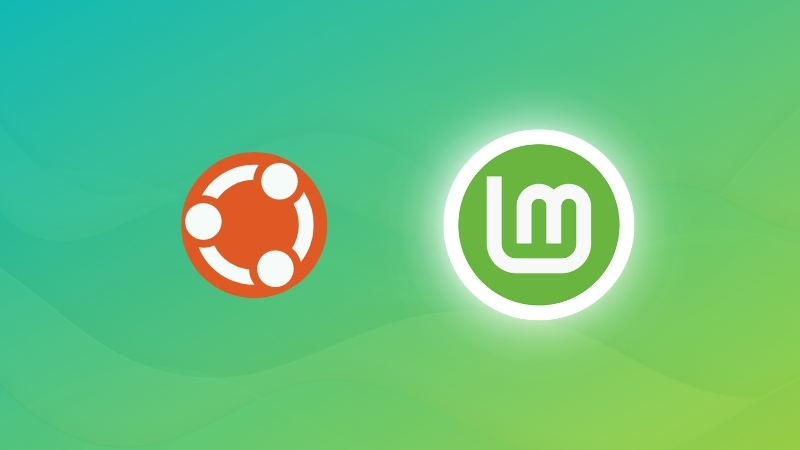 Not just limited to the familiar user interface, which will be a bonus for Windows users. It provides impressive performance with minimal hardware requirements, especially with Xfce or MATE desktop environments.
It also uses the same software repository as Ubuntu. So, you don't have to worry about the availability of software to install.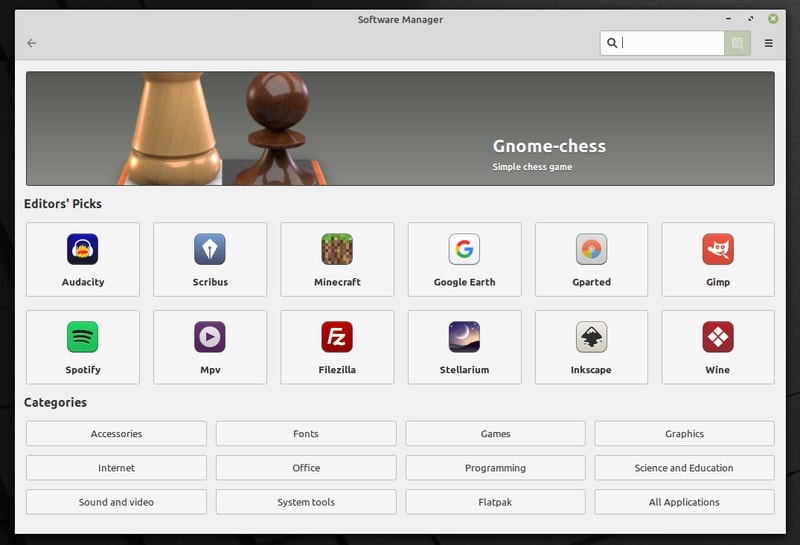 Linux Mint is a fantastic Windows-like distribution. So, if you do not want a unique user interface (like Ubuntu), Linux Mint should be a perfect choice.
The most popular suggestion would be to go with the Linux Mint Cinnamon edition. But, you can explore whatever you want. Moreover, you might want to look at our tutorial to install Linux Mint from USB.
3. Zorin OS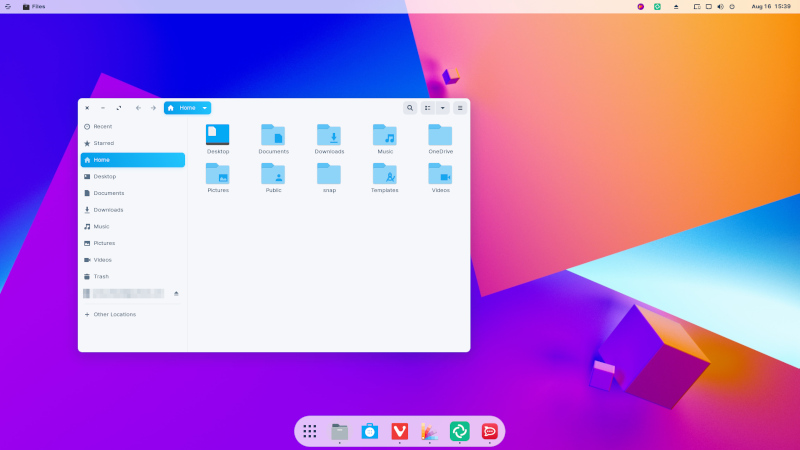 Windows-like user interface
Intuitive user experience
Easy to use
Ultimate edition available with a lot of pre-installed goodies and Lite edition for older computers
Zorin OS is yet another impressive Linux distribution that offers a similar user interface to Windows. It may not be the most popular choice but being an Ubuntu-based distribution, it is perfectly suitable for beginners while offering many cool features as well.
Zorin OS is an Ubuntu-based distribution but feels highly polished. In my opinion, it is perfectly tailored for former Windows users who want a similar look and feel but something beautiful.
No wonder why Zorin OS is one of the most beautiful Linux distros out there.
The ultimate edition of Zorin OS is worth spending if you need all the pre-installed goodies (fun games, office suite, and some additional features). But, the free edition works like charm as well.
You will also find a "Lite" and Education edition, which is suitable for old hardware and school requirements respectively.
4. Elementary OS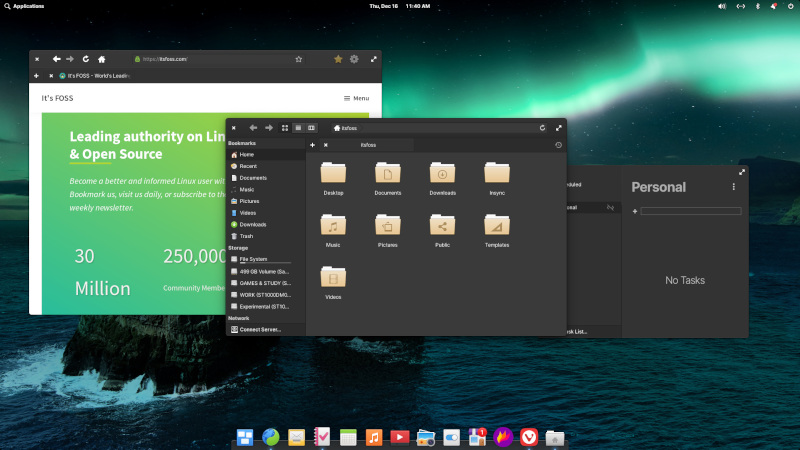 macOS inspired user interface
Focuses on rich user experience
Easy to use
elementary OS is one of the most beautiful Linux distros. It originally takes inspiration from macOS but has evolved over the years.
Even though it is not a "macOS clone" in any aspect, it tries to focus on the user experience similar to how macOS does (or should). If you are coming from the Apple ecosystem, you would love to try elementary OS.
Again, it is based on Ubuntu, so you get all the benefits of it along with a rich user experience.
Elementary OS features the Pantheon desktop environment. You can immediately notice the resemblance to the macOS desktop.
The operating system is zero intrusive, so you can really focus on your work. It comes with a minimal number of pre-installed software. So, any new user will not be repulsed by massive bloat. But it's got everything you need out of the box. The App Center is also unique when compared to other Linux distributions.
You will find many applications specifically tailored for elementary OS. You can install the apps for free, but it encourages you to donate something first.
Experience-wise, Elementary OS is really a great piece of software.
5. Linux Lite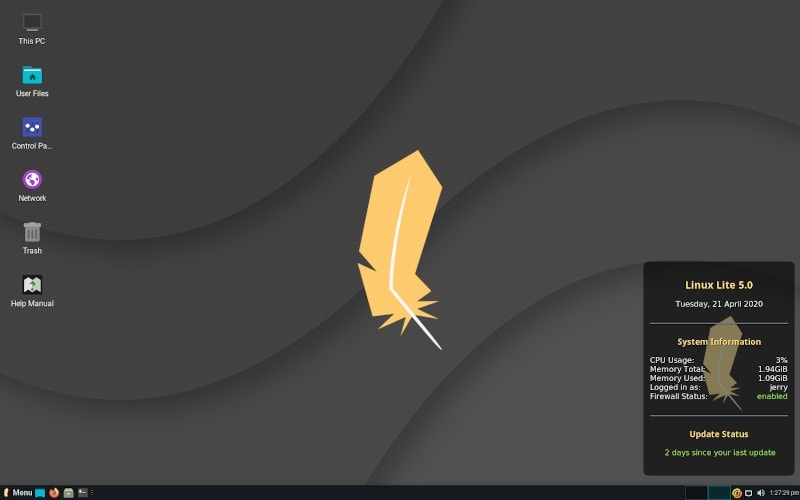 Windows-like user interface
Tailored as a lightweight Linux distribution
Easy to use
Linux Lite is yet another Ubuntu-based distribution that is easy to use. It is specifically tailored as a lightweight distribution with some pre-installed applications that are not resource-heavy.
Linux Lite is perfectly suitable for Windows users, with a similar user interface featuring the Xfce desktop environment. Compared to its previous iterations, Linux Lite has improved the user experience. Even though it isn't meant to provide you with the most modern experience, it still looks great as a desktop OS.
6. Manjaro Linux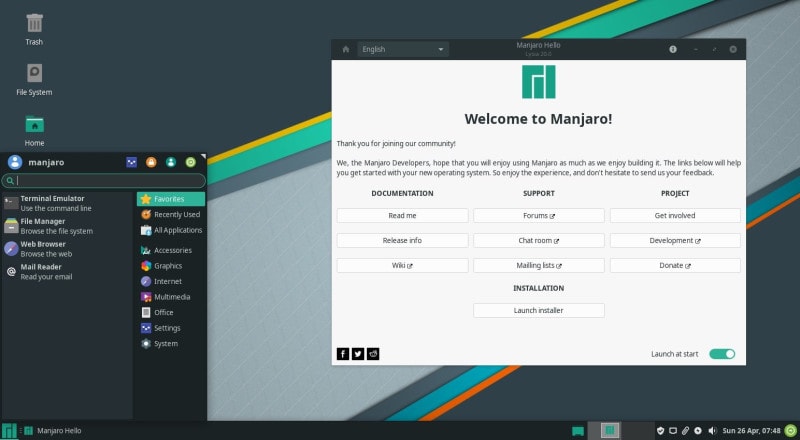 Not an Ubuntu-based distribution
Arch-based Linux distribution
Presents a learning curve
If you want to take up a challenge with a learning curve and try something besides a distribution based on Ubuntu, Manjaro Linux is the best bet.
It is based on Arch Linux but tailored as a beginner-friendly distribution. Of course, considering that it follows a rolling release update cycle, you might end up with a broken system (even though that does not happen all the time). But, you have to compromise on the reliability when compared to any Ubuntu-based Linux distribution mentioned in this list.
You also get a wide range of choices to install a variety of software tools. There's also AUR, which is a community-maintained repository for software that may not be available for Manjaro officially.
If you want to know more about it, you may want to check out our detailed review of Manjaro Linux.
Manjaro Linux offers different desktop environments like XFCE, KDE, Gnome, Cinnamon, and a host of more desktop environments. So, you get numerous choices.
7. Pop!_OS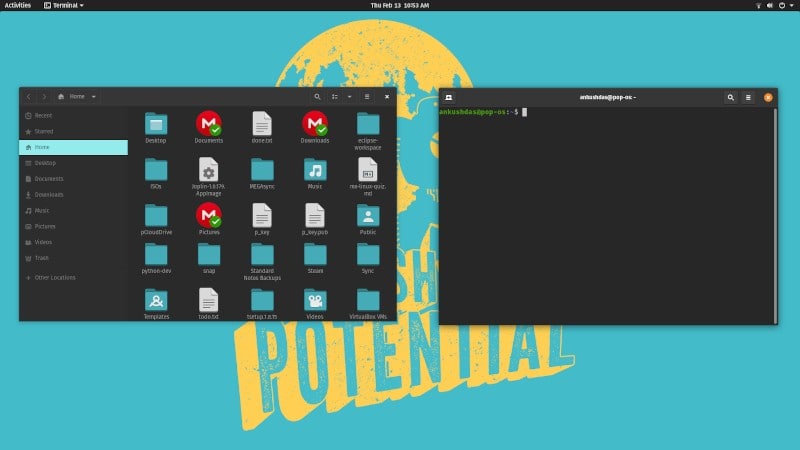 Improved user experience when compared to Ubuntu
Extra out-of-the-box features like Auto-window tiling to help with fast multitasking
Pop OS is probably the best Ubuntu-based Linux distribution if you're not looking for a lightweight Linux distribution.
It provides a polished and snappy experience when compared to the Ubuntu GNOME edition. You also get some interesting features like automatic window tiling, window stacking, and a few more extras with Pop OS.
You get Cosmic, based on GNOME as the desktop environment, with many customizations/built-in extensions to enhance the user experiencee.
Unlike some other options, it does not officially support other desktop environments out of the box. So, if you dislike GNOME, you may have to try other desktop environments manually as an experiment. You might find the new features of Pop OS 22.04 useful to explore more about it.
8. Peppermint OS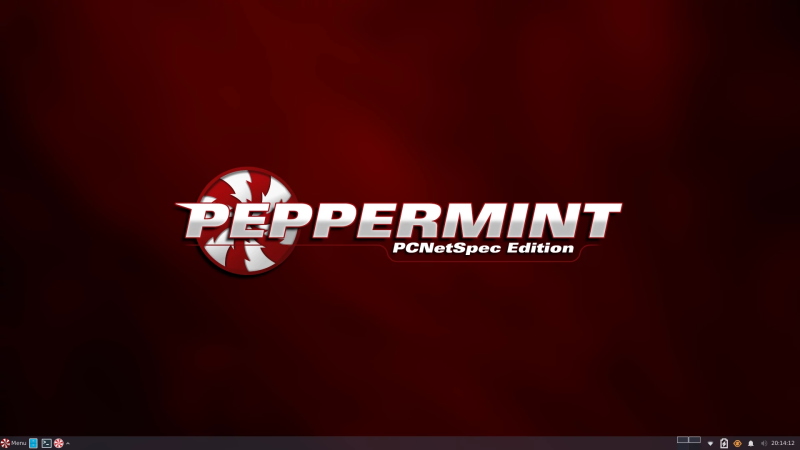 Lightweight Linux distribution
Easy to use and simple
Ability to use web apps in the form of local apps
Peppermint Linux is an interesting choice for beginners who prefer to use web applications as local applications, using the out-of-the-box integration with Ice.
It is based on Debian. It isn't pitched as a lightweight distro, but it works quite well with older hardware as well.
9. Deepin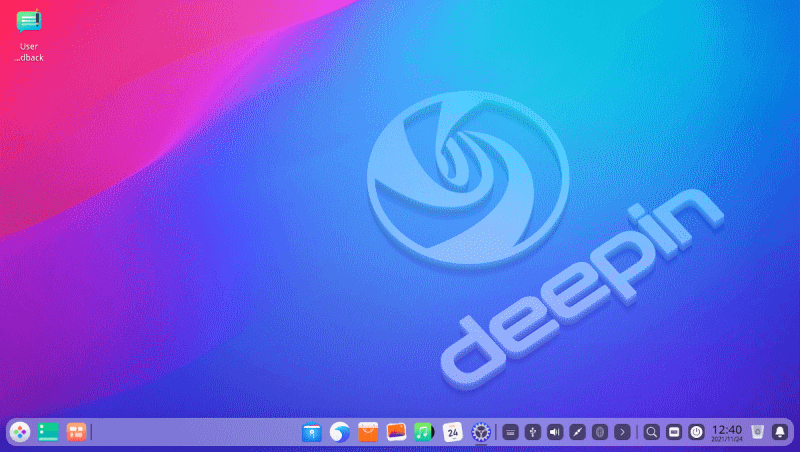 Eye-candy visuals
Rich user experience
Easy to use
If performance or hardware requirement does not bother you, Deepin OS will be an interesting pick. It is known for its eye-candy user interface, one of the most gorgeous Linux distributions out there.
Of course, it suffers from performance issues if you do not have a decent modern hardware configuration. But, if it works well on your system, it is easy to use and offers plenty of software tools to get started.
Some might mention that just because it is a project with based out of Mainland China, you need to avoid it. So, if you have an issue with that, you might take a look at UbuntuDDE (which is basically Ubuntu + eye-candy visuals of Deepin)
Frequently Asked Questions: If You're Still Confused Where to Start
If you still want help for a head start, I've put together an FAQ to address the most basic questions for beginners:
What is the easiest Linux distribution?
The distribution which provides you with a familiar user interface and essential software tools pre-installed should be the easiest experience. If you're coming from Windows, Linux Mint/Linux Lite can be some of our immediate suggestions.

If you're comfortable with macOS, elementary OS can be a good replacement.
What is the fastest Linux distribution?
If you want fast performance and easy-to-use OS, Linux Lite can be a fantastic option. However, you can also explore other lightweight distros.
Can I run Windows apps on Linux?
Yes and no. You can use WINE to run some Windows applications on Linux. You can follow our guide on using windows applications on Linux. You can also try tools like Bottles and Crossover to easily install Windows applications.
Do I need Anti-Virus on Linux?
No. You have nothing to worry about as long as you download stuff from official sources and do not indulge in malicious activities.

However, you can explore any pre-installed firewall or set up a new firewall for additional protection.
Your choice for the best Linux distro for beginners?
Linux might come with a learning curve, but that's not something anybody ever regretted. Go ahead, you will love it like I do!
To give you a head start, I would recommend you to follow Ubuntu 20.04 installation guide and refer how to install a distro from USB.