It's FOSS is an award-winning web-portal that focuses on Open Source in general and Linux in particular.
While there are several other Linux websites on the internet, It's FOSS specifically focuses on beginners to the Linux world. Its motto is to make your desktop Linux experience better. The goal of It's FOSS is to increase the number of Linux desktop users, which is achieved by helping them solve various issues one might encounter. Tutorials are written keeping beginners in mind with screenshots and proper steps.
If you wonder how come It's FOSS is different from several other blogs in the same arena, let me tell you one thing. All the tips, tricks and tutorials are tried and tested first by us. We won't suggest you try anything which we haven't tried ourselves.
Apart from how-to tutorials, It's FOSS also provides information on various applications to improve the Linux desktop experience. News related to Open Source is also covered to keep the readers updated.
Awards and accolades for It's FOSS
Apart from the regular appreciation by thousands of readers, It's FOSS has been awarded:
Won the best Software Blog by IndiBlogger in 2013
Top 5 software blogs by Blog Adda in 2015
Top 20 most popular Linux websites by Feedly
Top 5 best Ubuntu websites to follow by Linux Hint
Top 3 best Linux websites to follow by Feedspot
Top 50 Raspberry Pi Blogs by Dusun
What will you learn at It's FOSS?
Learn more about desktop Linux. Be a Linux guru in your friend circle
Solving common occurring issues in Linux
Get to know more about desktop Linux and its usage
Know and discover new Linux applications and programs to use
Know about desktop customization and beautifying your Linux desktop
Learn about the latest happening in Linux and Open Source world
Become a better Linux user
How to get more out of It's FOSS?
Visit the website regularly
Use the search option on the right-hand side to look for older articles on your topic of interest
Add our feed to your favorite feed-reader
Subscribe to our weekly newsletter to get all the latest articles in your inbox
Like us on Facebook to stay updated on latest happenings
Join our Telegram channel
Do join our friendly community forum and seek help and advice from us and fellow Linux users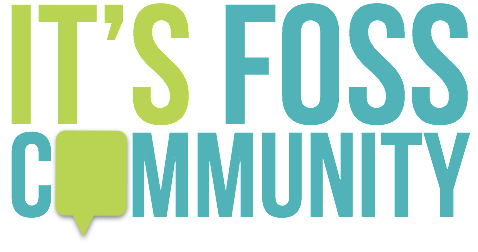 Media Partnership
It's FOSS has been the official media partner for several international Linux and Open Source events. Some of the main ones are:
Open Source Summit organized by The Linux Foundation, Europe
FOSSBackstage, Germany
OSCAL, Albania
Univention Summit, Germany
SUSEConf
ApacheCon
Southern California Linux Expo ("SCALE")
Nest with Fedora
If you want to partner with us for your open source event, don't hesitate to contact us.