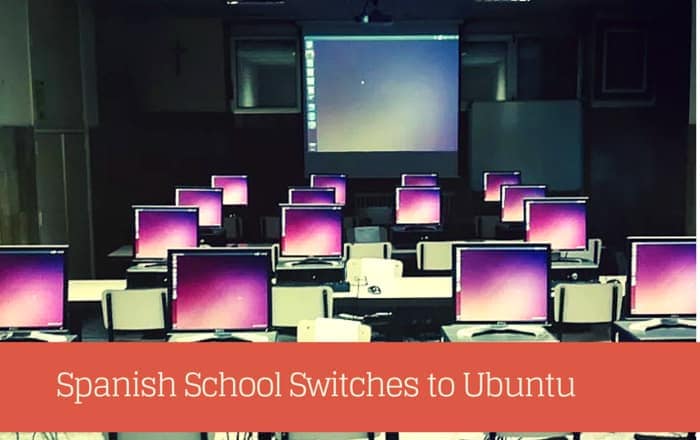 Open Source adoption is increasing in Europe. Government organization, municipalities, companies and universities have been opting for open source alternatives of popular propriety solutions. We have seen stories of Open Source adoption in France, Italy, Romania, Switzerland, Hungry etc. Latest in the trend is a Spanish school that has opted Ubuntu to replace Windows operating system on 120 school computers.
It happened a year back when Windows XP retired
Colegio Agustinos de León (Augustinian College of León) in Spain had migrated 120 computers to Ubuntu 14.04. This switch to Linux was considered after the demise of Windows XP. Windows 7 was no longer sold and Windows 8 cost Euro 120 (after 50% educational discount). School's computer science teacher and open source enthusiast, Fernando Lanero seized the opportunity and proposed the switch to Linux OS. Lanero quoted on the migration:
Switching to a new desktop PC environment was harder for staff than for students. Students are eager to work with GNU/Linux, because of its association with hackers. It is adding to their motivation.
Hurdles in the migration
Apart from some reluctance from the staff, the main hurdle faced was the compatibility with Hitachi electronic whiteboards, school uses 30 such whiteboards. These whiteboards were not supported by Linux. Hitachi provided the source code on the request of school and Lanero took help from Spanish Linux community. The effort brought the whiteboard support to Linux.
Scenario after one year of the migration
So, where does the school stands after one year of the migration to Ubuntu? Lareno tells that the amount of technical issues decreased by 63 per cent and in the school's computer labs by 90 per cent. Apart from that, the school saved EUR 35,000 in licensing cost in the 2014-2015 school year.
This successful migration to Linux has caught attention of other schools and they have also shown their interest in similar migration, said a jubilant Lanero.
The story first appeared at MuyLinux (in Spanish). You can read Fernando Lanero's english interview in 2014 here.