Ubuntu 19.10 Eoan Ermine is releasing today. Take a look at all the new features in Ubuntu 19.10.
The development for Ubuntu 19.10 finally comes to its end and it is being released on 17th October. It's time to look at what new features and improvement this new release brings.
Ubuntu 19.10 is an important release because it will set the course of development for Ubuntu 20.04 LTS (long term support). I have always felt that the LTS version release takes a lot of features from its predecessor.
In other words, Ubuntu 19.10 will be a glimpse of the features you would be getting in Ubuntu 20.04.
Ubuntu 19.10 Eoan Ermine release schedule
Ubuntu 19.10 has been codenamed Eoan Ermine. My vocabulary is poor so I had to look up both the words in dictionary. Eoan means 'relating to the dawn or the east' and Eermine is a kind of weasel. You can read my earlier article to know the logic behind these seemingly weird codenames.
Following a development cycle of 25 weeks, Ubuntu 19.10 will be released on 17th October 2019.
Ubuntu 19.10 is a short term release and it will be supported for nine months. Ubuntu 19.10 users will have to upgrade to Ubuntu 20.04 after that.
Ubuntu 19.10 New Features
Here are some of the new changes Ubuntu 19.10 is bringing:
1. Faster boot with LZ4 compression
Ubuntu 19.10 will boot faster than its predecessors thanks to LZ4 compression algorithms. The Ubuntu kernel team ran several experiments benchmarking the impact of compression algorithms and found that LZ4 provides the best result.
I ran systemd-analyze to check boot time on Ubuntu 18.04 and 19.04 installed on my Intel NUC. Ubuntu 19.10 did boot faster than Ubuntu 18.04.
2. Experimental ZFS support
Ubuntu 19.10 has brought the ZFS filesystem support. It is still in experimental phases though. You can choose to use ZFS instead of the default EXT4 filesystem while installing Ubuntu 19.10.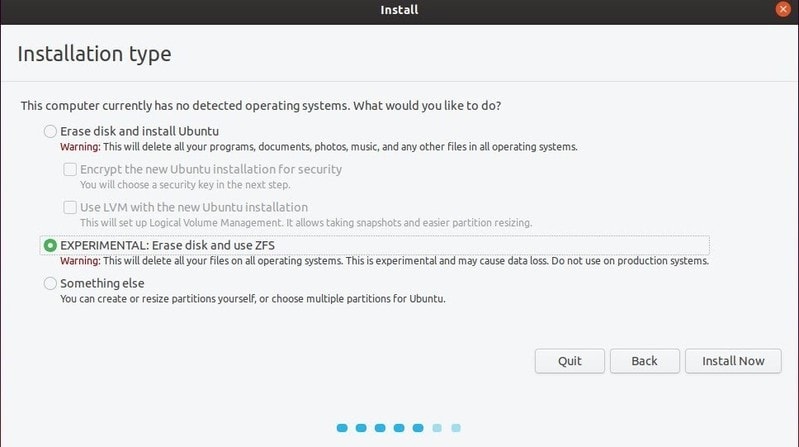 3. NVIDIA Graphics drivers in ISO
Proprietary NVIDIA graphics drivers are now included in the ISO. Which means that now you can install the proprietary graphics driver for NVIDIA while installing Ubuntu 19.10 even when you are offline.
The NVIDIA drivers are approximately 115 MB in size and this increases the size of the ISO. Flavors like Ubuntu MATE have removed less used programs and language packs to keep the ISO size around 2 GB. Of course, you can get those packages after installing the OS.
4. GNOME 3.34 and the performance and visual changes that come with it
GNOME 3.34 has been released with both performance and visual improvements. Ubuntu 19.10 will ship with GNOME 3.34 and it will consist of these changes.
One of the noticeable change is in background settings. Now you can see all the wallpapers available and set them to both desktop background and lock screen at the same time.
You can also add additional wallpapers from your computer and those new wallpapers will also be available in the settings. This makes managing wallpaper in Ubuntu so much easier.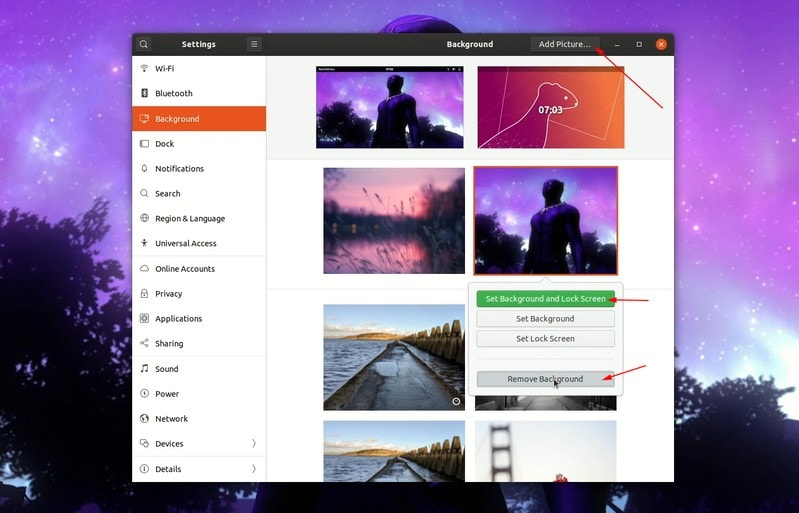 There are subtle changes to the Night Light feature as well. It has got its own tab now and from what I noticed, you can use it even when the location services are turned off.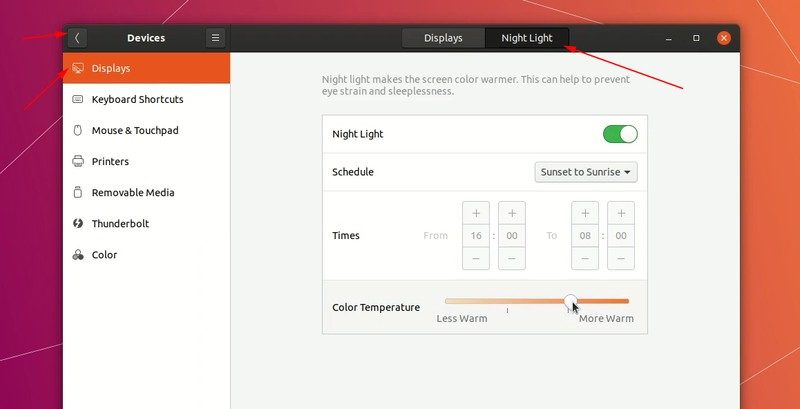 Over the time, when you have plenty of software installed, the application menu gets cluttered. Like Android and iOS, you can now group applications together in a folder. You cannot provide the folder a custom name though.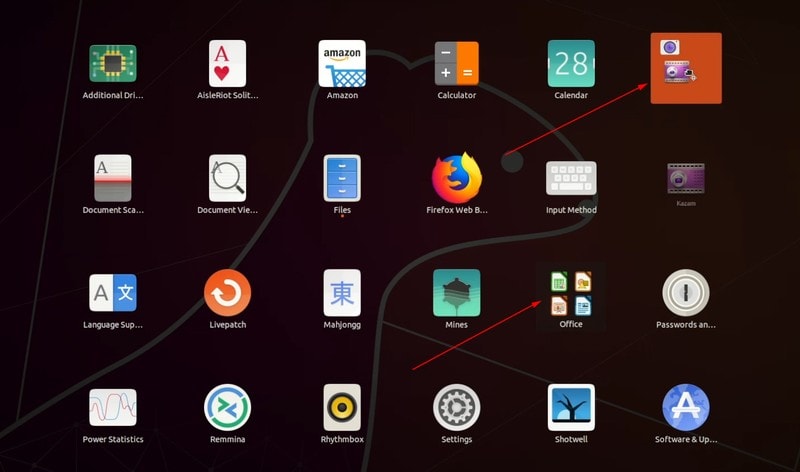 GNOME 3.34 has improved performance so you now have smoother scrolling and animations.
5. Dark and light theme
The default Yaru theme is a mix of dark and light theme where the application top panel is dark while the rest of window is light.
However you can change that as Yaru now has two variants: dark and light. The dark theme works pretty well as GTK applications comply well. Do note that not all applications will have a darker version though.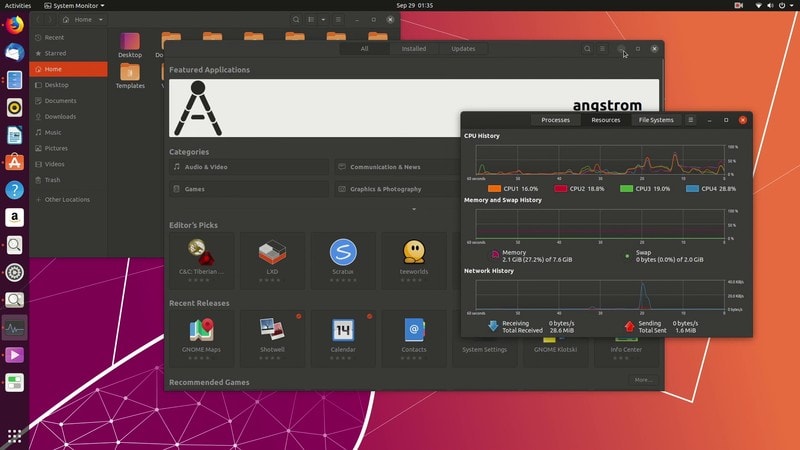 Personally, I don't like the Yaru light theme: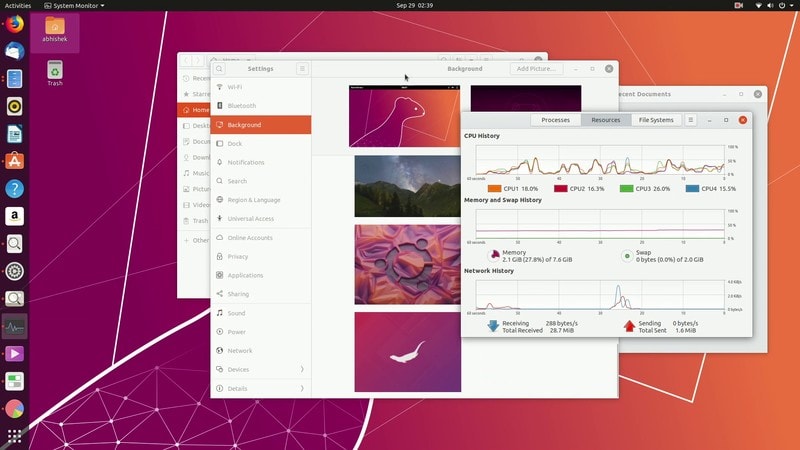 6. 32-bit is not entirely dead
You probably know that Ubuntu doesn't provide 32-bit ISO download for standard install. You could still upgrade the existing 32-bit install to a newer version or use the network installer or minimalCD in 32-bit mode.
But starting Ubuntu 19.10, Ubuntu initially decided that there will be no support for 32-bit anymore. That would have meant no 32-bit libraries, software and tools. This created a problem for Steam and Wine. Steam indicated that it might pull out support for Ubuntu and hence Ubuntu was forced to backtrack on its decision to keep a few 32-bit libraries.
Existing 32-bit users of Ubuntu 18.04 will still be able to use it till 2023. But that's the end of 32-bit for Ubuntu.
7. Under the hood changes
Ubuntu 19.10 uses the latest Linux kernel 5.3 and it has newer versions of several software such as GCC 9, Python 3.7, OpenJDK 11, Mesa 19.2 and Golang 1.12.
Ubuntu keeps on pushing for Snap apps and now you'll find only the snap version of a few applications in the software center.
[interaction id="5da80371e7754ab7c5b4cbc3″]
Things to keep in mind about Ubuntu 19.10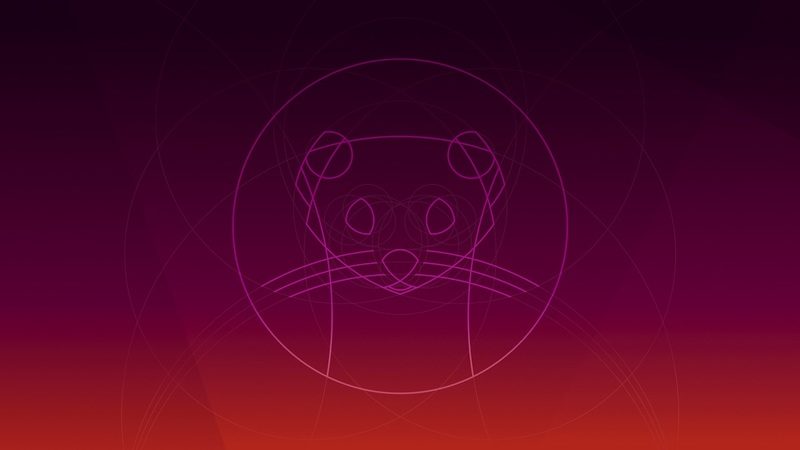 Here are a few things you should know about Ubuntu 19.10:
Ubuntu 19.10 is a short term release. It will be supported till July 2020.
After it reaches end of support, you must either install Ubuntu 20.04 or upgrade to 20.04. You can easily upgrade to Ubuntu 20.04 from within 19.10 if you have a good internet connection.
Ubuntu 19.04 will be supported till January 2020. If you are using Ubuntu 19.04, you should upgrade to Ubuntu 19.10. You'll be notified about the availability of 19.10 in a few days and you can upgrade from within 19.04.
If you are using Ubuntu 18.04, I advise to not install Ubuntu 19.10. The next LTS release Ubuntu 20.04 will be available in April 2020 and you should be able to upgrade to it easily.
If you are using 18.10 or older versions, you must not use it anymore. You'll have to install a supported version like 18.04 LTS, 19.04 or 19.10.
Download Ubuntu 19.10
Ubuntu 19.10 is releasing today. All Ubuntu flavors like Kubuntu, Lubuntu, Ubuntu MATE etc will also release their respective 19.10 versions.
You should be able to download the 19.10 version from the official website but it will be available later today.
If you cannot wait for that, you can download the daily build which is the same as the final ISO.
If you are using Ubuntu 19.04, you'll see the option to upgrade to Ubuntu 19.10 beta from within your system in a few days.
What features do you like the most in Ubuntu 19.10? Will you be upgrading to 19.10? Do share your views.