Brief: Rambox is an all-in-one messenger that lets you combine multiple services like Discord, Slack, Facebook Messenger and hundreds of more such services in one place.
Rambox: Add multiple messaging Services in a single app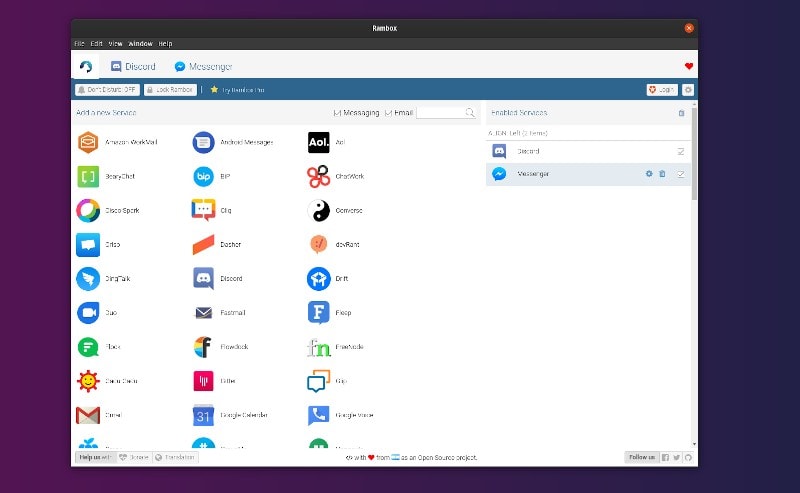 Rambox is one of the best ways to manage multiple services for communication through a single app installed. You can use multiple messaging services like Facebook Messenger, Gmail chats, AOL, Discord, Google Duo, Viber and a lot more from the same interface.
This way, you don't need to install individual apps or keep them opened in browser all the time. You can use a master password to lock the Rambox application. You can also use do not disturb feature.
Rambox offers an open source community edition which is free to use. The paid pro version gives you access to 600+ apps while the community addition has 99+ apps. Pro version has additional features like themes, hibernation, ad-block, spell check and premium support.
Don't worry. The open source community edition itself is quite useful and you may not even need those pro features.
Features of Rambox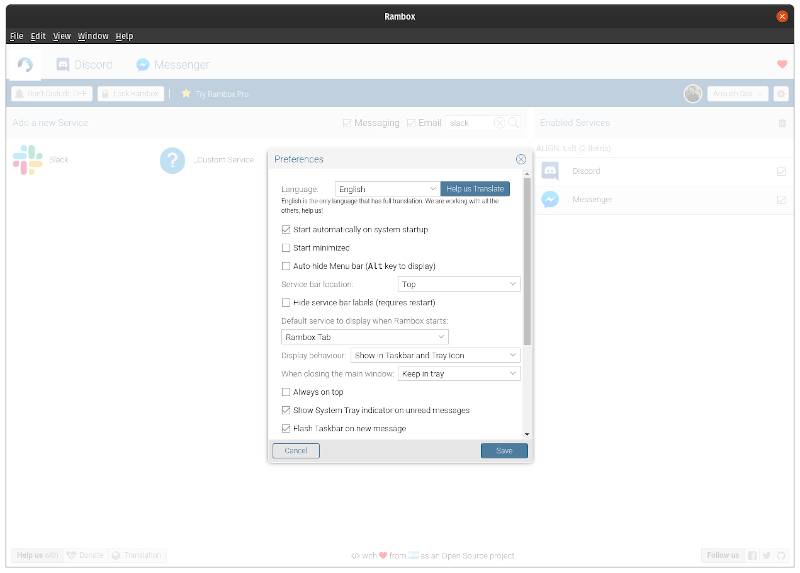 While you should find most of the essential features in the open-source edition, you might notice some of them limited to the pro version.
Here, I've mentioned all the essential features available:
You get about 100 apps/services to choose from in the open-source edition
Ability to protect the app with a single Master password lock
Ability to lock each session that you load up
Do Not Disturb mode
Ability to sync apps and configuration across multiple devices.
You can create and add custom apps
Support for keyboard shortcuts
Ability to enable/disable apps without needing to delete them
JS & CSS injection support to tweak the styling of apps
Ad-block (pro version)
Hibernation support (pro version)
Theme support (pro version)
Mobile view (pro version)
Spell check (pro version)
Work hours – to schedule a time for incoming notifications (pro version)
Proxies support (pro version)
In addition to what I've listed here, you might find some more features in the Rambox Pro edition. To know more about it, you can refer to the official list of features.
It is also worth noting that you cannot have more than 3 active simultaneous device connections.
Installing Rambox on Linux
You can easily get started using Rambox using the .AppImage file available on the official download page. If you're curious, you can refer our guide on how to use the AppImage file on Linux.
In either case, you can also get it from the Snap store. Also, feel free to check their GitHub releases section for .deb / .rpm or other packages.
Wrapping Up
It can be a little overwhelming to have a lot of apps installed using Rambox. So, I'd suggest you monitor the RAM usage when adding more apps and using them for work.
There is also a similar app called Franz which is also part open source and part premium like Rambox.
Even though solutions like Rambox or Franz are quite useful, they aren't always resource-friendly, specially if you start using tens of services at the same time. So, keep an eye on your system resources (if you notice a performance impact).
Otherwise, it's an impressive app that does the work that you'd expect. Have you tried it out? Feel free to let me know your thoughts!