Brief: Franz is a free to use application that combines different messaging services like WhatsApp, WeChat, Facebook Messenger, Gmail, Telegram, Skype, Slack and other chat applications in one application.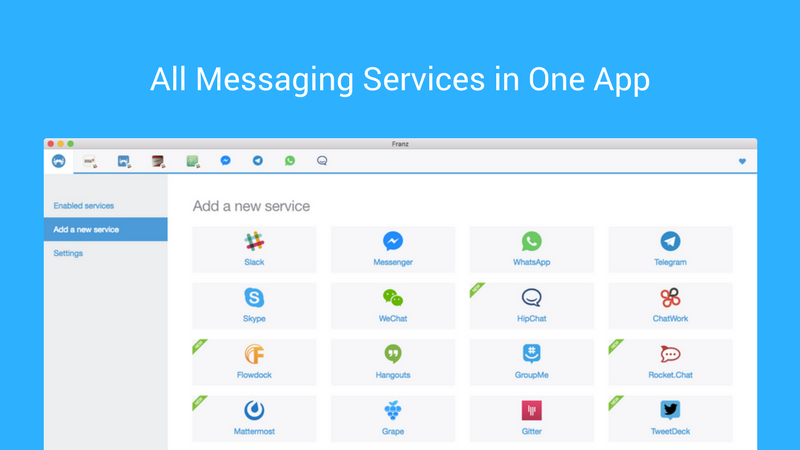 In this social media age, you just don't want to miss an update. With different services always asking for your attention, you end up with so many apps and browsers. Franz provides a one-step solution to it by integrating several messaging apps into a single application.
Franz provides a single, tabbed interface for different chat and messaging services like WhatsApp, WeChat, Facebook Messenger, Gmail, Telegram, Skype, Slack and others.
You can add a service and another within the Franz application and use different messaging / chat services without the need of your phone while you keep on using your system.
The one unique feature of Franz is the option to add a service as many times as you want. I have multiple Gmail accounts and it's really a pain to logout and login for a different account. Franz simplifies it by letting me add different instances of Gmail in a single app. Likewise, different Facebook Messengers and Slack network can be added.
Update: Franz is now an open source application. The new version Franz 5 is not available for Linux yet.
[irp posts="11136″ name="How To Install And Use Slack In Linux"]
How to install Franz in Linux
You can grab a 32/64 – bit copy of Franz from its download page.
Open a terminal and extract it by using below command.
tar -xvf <package-name>
Go to the extracted directory and launch it by typing
./Franz
I did face an issue when I tried to launch it.
ambarish@ElementaryOS:~/Downloads$ ./Franz 
./Franz: error while loading shared libraries: libgconf-2.so.4: cannot open shared object file: No such file or directory
If you are facing the same issue, install the libconf and Franz should work fine.
sudo apt-get install libgconf-2-4
Its a one-time thing setting up different services and allowing Franz to remember your logins. Once done, you can quickly jump from one service to another and make sure you do not miss anything.
Adding a new service is easy, just click on Add a new service, enter credentials and that's it.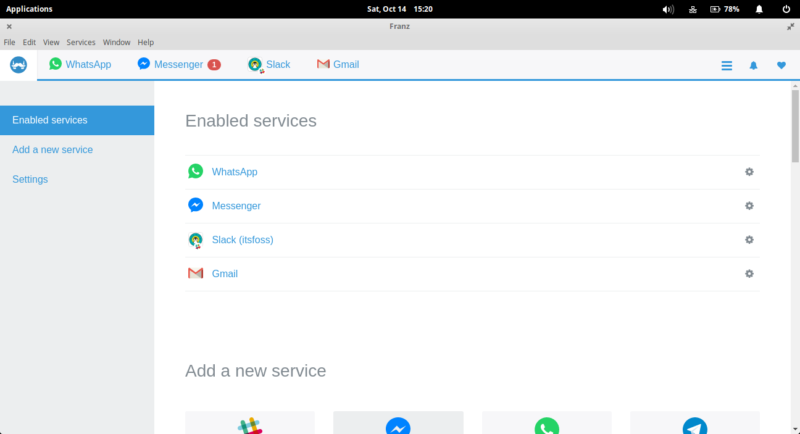 Note : WhatsApp still requires your phone to be in active network and do not work independently.
You might be wondering if it's secure and safe! Franz assures you, it do not read anything between you and your messenger service. It actually is a wrapper to these different services and do not work as a man in the middle application, hence the interaction remains between you and your primary application. You can find the same experience when you visit the original website.
[irp posts="7335″ name="6 Best Messaging Apps Available For Linux"]
Conclusion
It's a nice, simplified app and provides a good number of messaging platform support. I gave it a try and it seems I am going to use for a while now. I have more than one Facebook and Gmail account and it eases my work in using them, making sure I do not miss any update. Let us know your experience in the comments.