Brief: Ubuntu-based lightweight distribution, Peppermint has just released its version 9. Here's a quick look at the changes in the new release.
Any Ubuntu LTS release has a chain effect. There are tons of Ubuntu-based distributions and a new Ubuntu release triggers the new version of release of such distributions as well.
Ubuntu 18.04 had been released around two months back. This has resulted in new version release from many Linux distributions. Lightweight distribution Linux Lite 4.0 was released a few days ago and now we have another lightweight distribution Linux Peppermint 9 release.
What is Peppermint OS?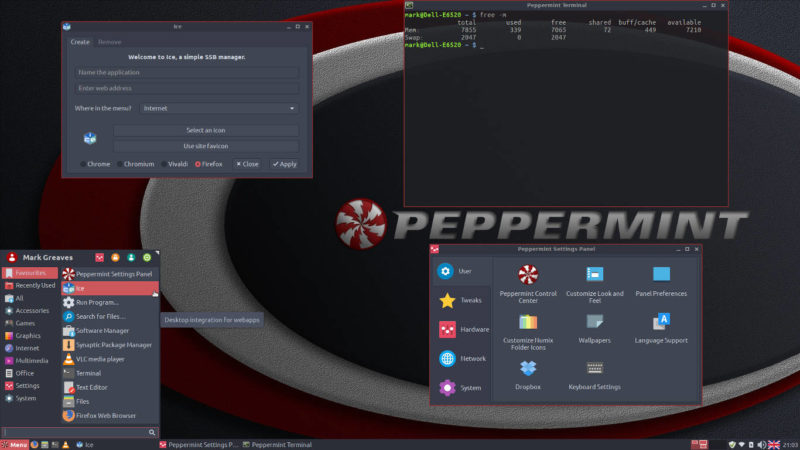 Peppermint OS is an Ubuntu-based distribution that well supports relatively older computers. It focuses on a cloud-centric approach well before Chrome OS. It's ICE tool turns certain websites into a desktop app. It has a significant dedicated niche following.
[irp posts="12523″ name="Cloud Focused Linux Distros For People Who Breathe Online"]
Major Changes & New Features in Peppermint 9
According to the announcement, "Peppermint 9 still comes in both 64bit and 32bit flavors so older hardware is still supported".
xfce4-display-settings for the monitor settings has replaced lxrandr.

Menulibre: The problem that caused the breaks of the Menuilibre menus in the previous versions of Peppermint have been solved. Also, from user request, the Menulibre menu editor is installed by default in this latest release of Peppermint OS version 9.

Xfce Panel Switch utility comes installed by default. Users can now backup, restore or switch between their custom panel configurations. This comes along with a Peppermint-9 default profile.

Nemo File Manager: The file manager is now in its version 3.6.5. There is a right-click "Send by email" now available for users in the context menu item. This works only if an email client like Thunderbird has been installed.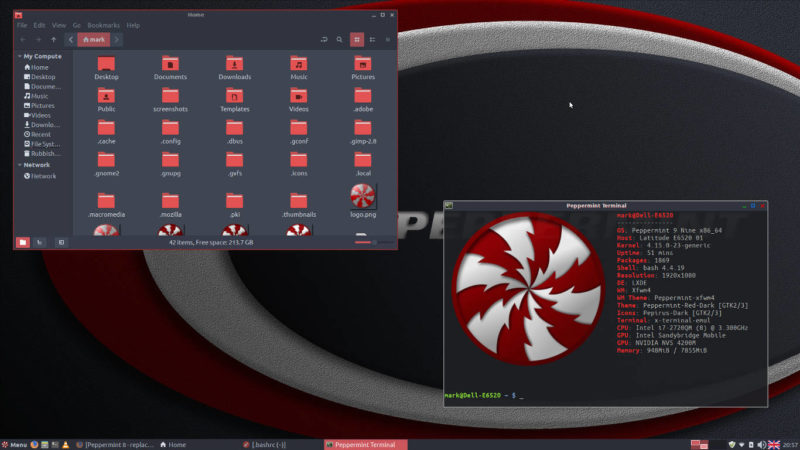 Settings Panel: The user no longer needs to log out their session in order to reset the panel in the Peppermint Settings Panel. Also included in the settings panel is a "Do Not Disturb" function in the system Notification Settings. The user can enable or disable notifications per application.

Peppermint 9 comes with both Mintinstall software manager as well as GNOME Software for Snaps/Flatpak users. The Gnome Software is found at Menu > System > Software.

Microsoft Office Online SSB's: This according to the release statement is "simply links to the free online 'web app' version of Office". Users who may not "like anything containing the word 'Microsoft' on their system" could easily remove it from the ICE application.

NB: ICE is used to create Site Specific Browsers. ICE allows you to integrate any web app or website into Peppermint system menus. An ICE application will open in its own window just like any application that has been locally installed.

Skype Web Client SSB: This feature is mainly for 32bit Peppermint users who use Skype. It should be noted that Microsoft no longer supports a 32bit Skype client for Linux. So for 32bit Peppermint users, this is the only way they can use Skype.
Other changes that could be seen include the "find your mouse cursor" keyboard shortcut, Alt+C, the new Gtk Themes that are based on Arc, new Artwork by Karl Schneider and many others. It should also be noted that the Kernel is now the 4.15 series. Peppermint 9 uses the upstream Ubuntu version of Gdebi that comes with an uninstall option.
[irp posts="9585″ name="Best Free Cloud Services For Linux"]
Download Peppermint 9
You can download Peppermint version 9 in both 32Bit and 64Bit form from its homepage.
Have you tried this new version of Peppermint OS 9 or any older versions? Share with us your experience in the comment section below.