Brief: Google Chrome might rule the world of browsers, but you don't need to keep on using it. Here are some free and open source web browsers for Linux.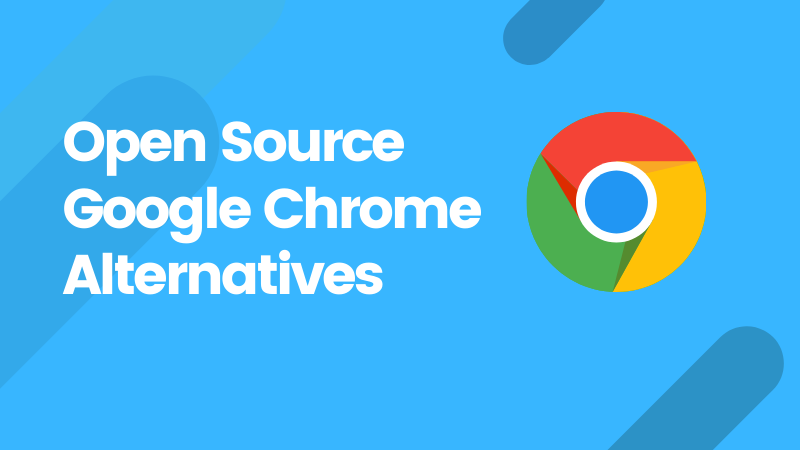 When Google first released its Chrome browser in the fall of 2008, nobody suspected how much it would change the landscape. Within a brief time, this new and fresh browser surpassed older entities that had been fighting for market share in the browser wars.
With nearly 70% market share, Chrome is a dominant solution as a web browser now. Though it is not available in repositories, many Linux users still install Chrome and use it.
For some, this was unfortunate because it gave Google access to even more data on them. In this age, data is the most important thing and the so-called free web browsers are a way to get to your data.
You don't believe me, check yourself how much a web browser knows about you:
7 Open Source web browsers for Linux that are free from Google
For those who don't trust the data collection magnet that is Google, here are seven Open Source browsers for Linux that are not influenced by Google. Don't consider it a list of best web browsers for Linux because it focuses on being Google-free with an Open Source aspect.
This list is not in any order.
1. Mozilla Firefox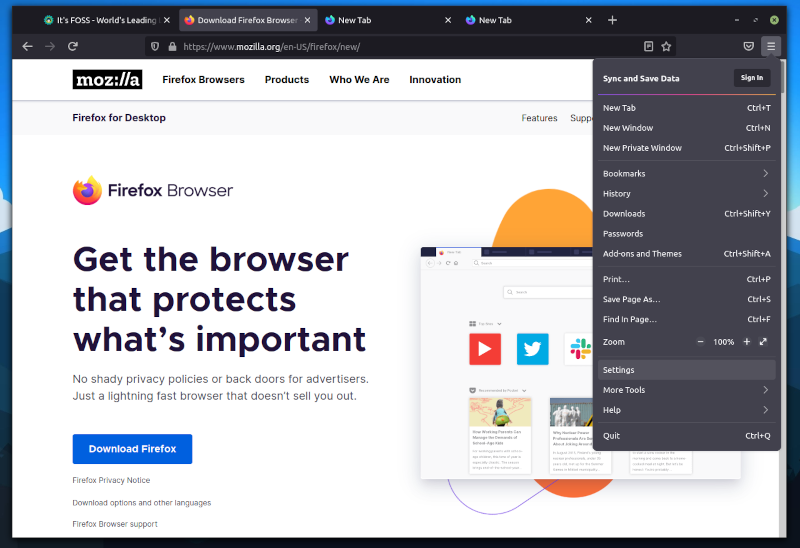 If you want a solid alternative to Google Chrome that's not based on Chromium, you probably have it installed on your system i.e. Firefox.
Mozilla's Firefox comes pre-installed on several Linux distributions, and it is the best bet as an alternative to anything that relates to Chrome. The design may look like Google Chrome in some respects (which should keep you comfortable). And it is constantly evolving with Industry-leading privacy options – so this should be an excellent choice.
2. Basilisk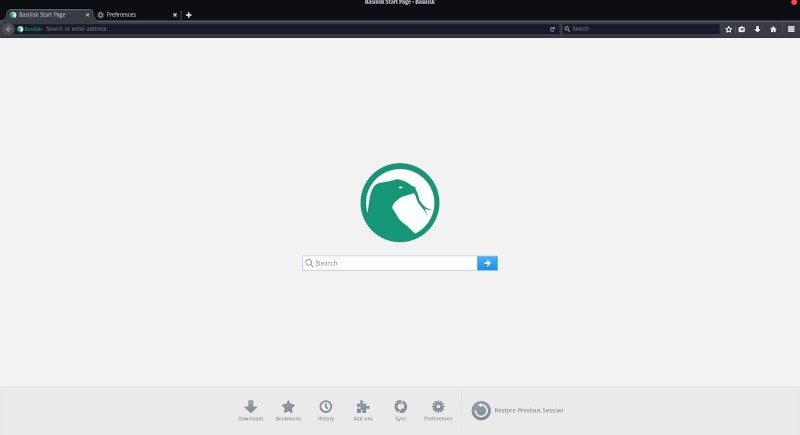 A classic Firefox fork that supports legacy extensions. This may not be a great pick for modern web browsing but if you want the classic Firefox experience and a basic web browser, this should be a decent pick.
We have a separate article on basilisk browser if you want help installing or explore more about it.
3. Falkon Browser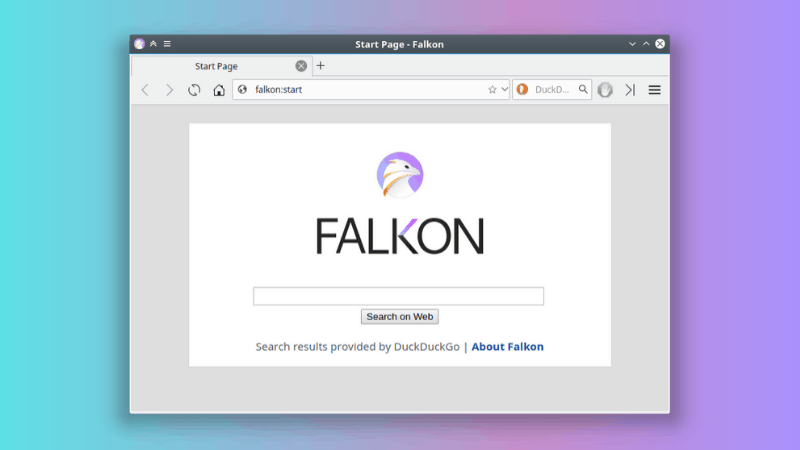 Falkon browser was previously known as Qupzilla. It is based on QtWebEngine.
If you are looking for something different, Falkon browser should be a refreshing experience with an in-built ad blocker and DuckDuckGo as its default private search engine.
It supports limited extensions but checks out the essentials. If you want to explore more about it, feel free to go through our article on Falkon Browser.
4. Tor Browser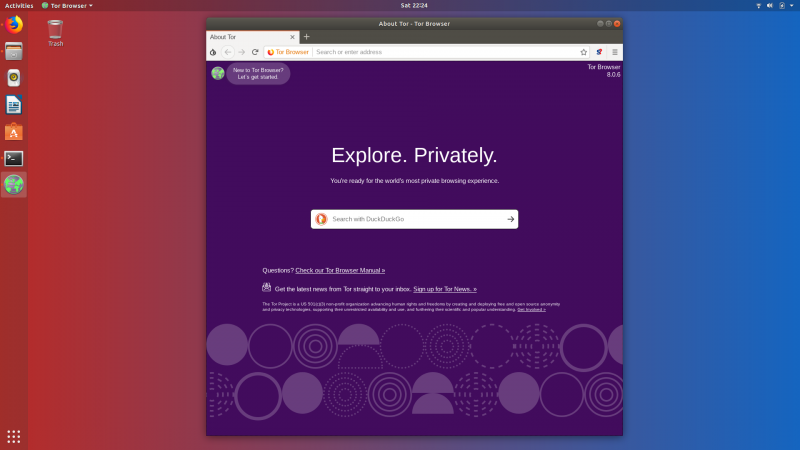 The Tor Browser is a special version of Firefox browser specially designed to use the TOR anonymity network. This network is used to avoid tracking and to get to information that is blocked.
The Tor Browser does not use the regular Firefox browser as its base. Instead, it uses the Extended Support Release version. Unlike the typical Firefox release, ESR versions only receive security fixes and major stability releases instead of new features every six weeks. This allows it to be more stable.
Besides the browser, the Tor Browser includes several tools to ensure connection to the TOR network and total security. It's not recommended that you install extra extensions because they could compromise the security of the browser.
5. NetSurf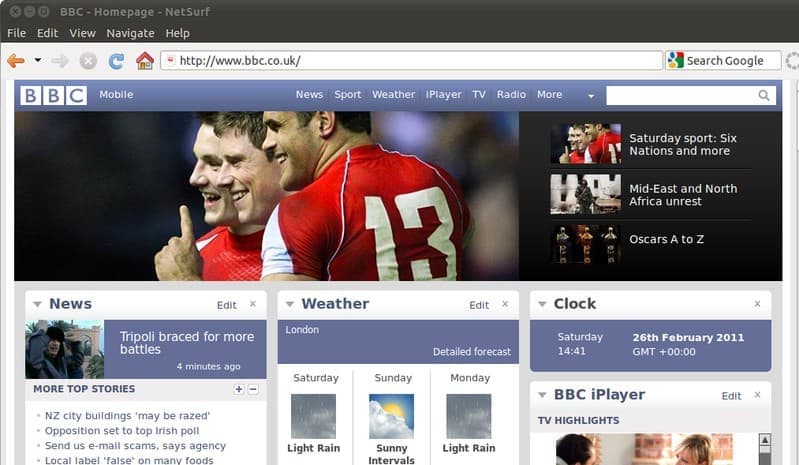 While it may lack some features that we expect from modern browsers, the NetSurf browser is impressive in its own right. Originally released in 2007, NetSurf was created to fill a need in RISC OS. Since then it has been ported to Linux, BSD, Haiku, AmigaOS, Atari, and MacOS.
Unlike most of the other browsers on this list, NetSurf has its own layout engine. According to the project's website, NetSurf can run on anything from "a modern monster PC to a humble 30MHz ARM 6 computer with 16MB of RAM". While they might not have CSS3 or HTML5 support, the team behind it have done quite a bit.
If you have an old or aging computer, this is the browser for you.
6. Pale Moon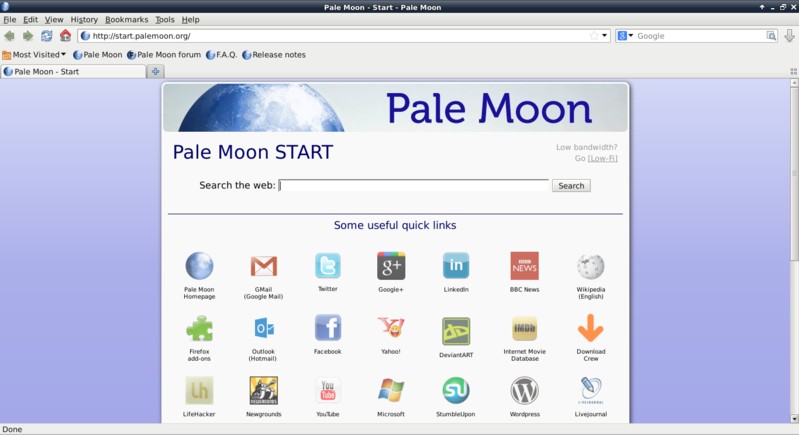 While it may look like a slightly older version of Firefox, Pale Moon is much more. Pale Moon is a fork of Firefox maintained by Dutch developer M.C. Straver, also known as Moonchild. Pale Moon's goal is to "create a full-featured, optimized browser derived from the code behind the popular Firefox browser".
This is accomplished by removing support for older hardware and operating systems. Like NetSurf, Pale Moon has its own layout engine named Goanna, which is a fork of Gecko. Pale Moon is built with C and C++.
Pale Moon supports Firefox extensions, but also provides its own themes and extensions. Pale Moon is available for Windows and Linux.
7. GNOME Web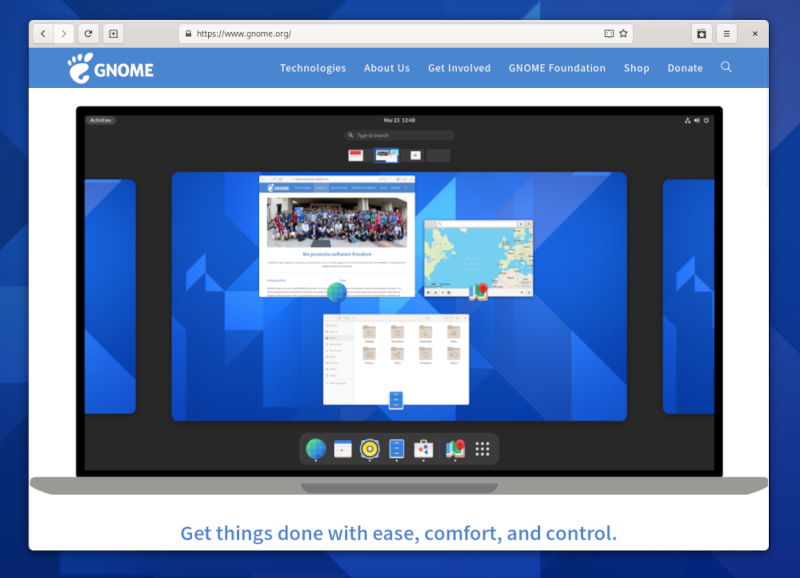 Next in our list of non-Google alternative web browsers for Linux is GNOME Web. It is a simple, and clean browser built for the GNOME desktop environment but works across multiple distros.
Originally called Epiphany, Web is the default browser for GNOME. It started out using the Gecko layout engine created by Mozilla but switched to WebKitGTK+.
In fact, it is the default browser on elementary OS.
Web is tightly tied to GNOME, using GNOME frameworks and settings. It also provides support for mouse gestures, GreaseMonkey, ad-blocker, and more. Web offers a minimal look and feel, like Midori. It is only available on Linux.
Honorable Mentions
QupZilla (Discontinued and revived as Falkon)

QupZilla Speed Dial in KDE

QupZilla was a nice, lightweight browser built with C++ and the Qt Framework. It originally utilized the QtWebKit, but later used QtWebEngine. It started as an educational project, but It's grown into a full-fledged browser complete with tabs, bookmark manager, download manager, and built-in ad-blocker.

QupZilla also comes with a couple built in extensions including GreaseMonkey, the tab manager, and a reverse image search.

While it might not have as many features as the top three, QupZilla does what a browser should: display web pages competently and block ads. I like using QupZilla on low powered machines instead of Chrome or FireFox. It is available for Windows, Linux, MacOS, FreeBSD, Haiku, and OS/2.
Midori (Discontinued)

Midori is another fast, lightweight browser. It is built with Vala and C and takes advantage of GTK. Midori uses the Webkit rendering engine. It has a spell checker and ad-blocker, but they have to be manually enabled. Private browsing and Unity integration are both supported. Midori can run on either Linux or Windows. To extend the browser's capabilities, there are a small number of extensions and support for user scripts.

Even though it has a few more features than Qupzilla(whi , Midori feels lacking. Maybe it has something to do with the layout. It's meant to be sleek and clean, but I can't help feeling that it looks empty.
3. rekonq (Discontinued)

rekonq was a lightweight web browser for Linux that was a part of the KDE project. It is written in C++ and Qt. Like Midori, rekonq used the Webkit rendering engine. Obviously, rekonq only runs on Linux and is integrated into KDE. It comes with ad-block support. It also uses a system of web shortcuts to navigate the web using keywords.

rekonq takes advantage of KDE tools. Unfortunately, this means that it install a bunch of KDE dependencies, thus taking up more space than other browsers on this list. When I installed it on my Manjaro laptop from AUR, it installed 45 packages, many KDE specific.

rekonq has not bee updated since January 2014, so use at your own peril.
What are your favorite non-Chrome browsers for Linux? Let me know in the comments below. If you found this article interesting, please take a minute to share it on social media.