Brief: The Linux Foundation is offering a whopping 40% discount on its Linux training courses.
Open Source jobs are in demand. Cloud technologies are in demand.
Put two and two together and you can guess that having open source cloud skills will easily land you a job in DevOps or help your career as a developer and system administrator.
If you have been thinking of learning some cloud technologies such as OpenStack, Kubernetes and Cloud Foundry, you are in luck.
The Linux Foundation, a non-profit organization that employs Linux creator Linus Torvalds, has several courses to train you on Linux related technologies that could help you build a career.
You can follow these online courses in your free time. When you purchase a course, you can access the course material for one year. You can also opt for a certification exam that is more valuable in job hunts.
Huge discount on various training courses from The Linux Foundation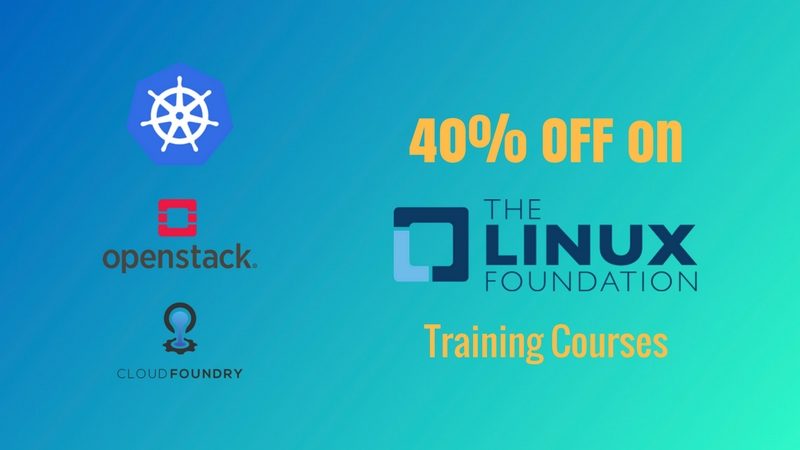 Linux Foundation has three courses on Cloud related technologies. And the good news is that you can get 40% off for a limited time. Which means you can save up to $300.
All you have to do is to use the code APRIL40 at the checkout time. The offer ends on 27th October so hurry up!!
[irp posts="15429″ name="9 Free Training Courses to Learn Linux Online"]
Cloud Foundry for Developers
This course provides an introduction to foundational concepts, principles and best practices in Cloud Foundry and cloud-native architecture.
You should be an active developer, have basic knowledge of Linux command line and have familiarity with basic cloud computing concepts. Java/Spring, Node.js and/or Ruby is a plus.
You can opt just for the online course or you can add a certification exam as well. Pricing details can be found on the link below:
Cloud Foundry for Developers (LFS232)
Kubernetes
This online course is designed to help you start designing application orchestration solutions and know how they will work with Docker images.
It is suitable for both developers and sysadmins willing to learn how to deploy and administrate Kubernetes.
You can choose only the course, only certification exam or both of them. More details on the link below. If you are getting it, don't forget to use the code APRIL40.
Kubernetes Fundamentals (LFS258)
Open Stack administrator
This course intends to build the skills and knowledge necessary to effectively administer an OpenStack instance.
It is primarily focused on system admins but even developers responsible for deploying applications and infrastructure on OpenStack will benefit from it.
You can either get the course or double it up with the certification exam. More details on the link below:
Essentials of OpenStack Administration (LFS252)
Remember to use the coupon code APRIL40 at the checkout time. And don't forget that this offer expires on 20th April. So better hurry up!