Linux Foundation is the non-profit organization that employs Linux creator Linus Torvalds and manages the development of the Linux kernel. Linux Foundation aims to promote the adoption of Linux and Open Source in the industry and it is doing a great job in this regard.
Open Source jobs are in demand and no one knows is better than Linux Foundation, the official Linux organization. This is why the Linux Foundation provides a number of training and certification courses on Linux related technology. You can browse the entire course offering on Linux Foundations' training webpage.
Linux Foundation Cyber Monday Sale
This has to be the best offer for anyone serious about making a career in Linux.
Linux Foundation, the official non-profit organization behind Linux, offers several certifications and training courses. These certifications are trusted in the job market and they give your resume a boost, landing you a job or career change.
The training include hands-on labs & assignments, video content, 12 months of access to online course, discussion forums, PDF certificate, digital certification badge.
If you are opting for a certification, you'll have to appear for an exam. These certifications are highly valued in the job market.
You can get trained and certified on Linux, Kubernetes, Node.Js and more cutting edge technologies.
You'll also get a stuffed Tux merchandise for free.
There are instructor-led classes as well and you can get 40% off on that as well. They will teach you some real complex topics like Kernel debugging, security, embedded kernel development, Linux performance tuning, enterprise automation, high availability and a lot more.
You'll find more details on their deals page below. Different course bundles may have different coupons so please pay attention to that. You'll have to add the coupon on the checkout page to get the discount.
Here's what you'll get:
Hand-on labs and assignments
12 months access to the online courses and downloadable materials
Retake for certification exams within a period of a year
Offer is valid till 8th December 2020.
Linux Foundation Discount Coupon [Valid all the time]
You can get a 15% off on any training or certification course provided by The Linux Foundation at any given time. All you have to do is to use the coupon code ITSFOSS15 at the checkout page.
Note that it might not be combined with other offers.
This article contains affiliate links. Please read our affiliate policy.
Should you get certified?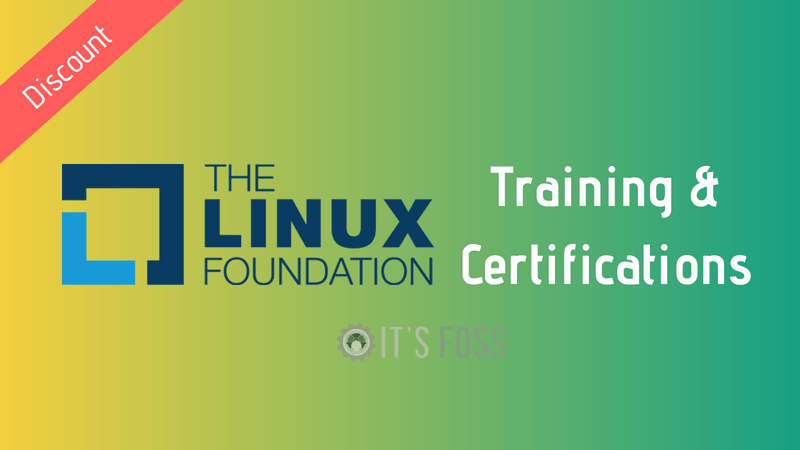 This is the question I have been asked regularly. Are Linux certifications worth it? The short answer is yes.
As per the open source jobs report in 2018, over 80% of open source professionals said that certifications helped with their careers. Certifications enable you to demonstrate technical knowledge to potential employers and thus certifications make you more employable in general.
Almost half of the hiring managers said that employing certified open source professionals is a priority for them.
Certifications from a reputed authority like Linux Foundation, Red Hat, LPIC etc are particularly helpful when you are a fresh graduate or if you want to switch to a new domain in your career.