Schools in Ithe ndian state of Kerala are expected to save ₹3000 crore (roughly $428 million) by choosing Linux as their operating system for school computers under a state-wide project.
The Southern Indian state of Kerala is known for its beautiful backwaters. Kerala is also known for its education policy. The first 100 percent literate Indian state has made IT classes mandatory in schools since 2003 and around 2005 they started to adopt free and open source software. It was a long term plan to boot out proprietary software from the education system.
As a result, the state claimed to save about $50 million per year in licensing costs in 2015. Further expanding their open source mission, Kerala is going to put Linux with open source educational software on more than 200,000 school computers and 'claims' save around $428 million in the process, reported Financial Express.
Linux all the way!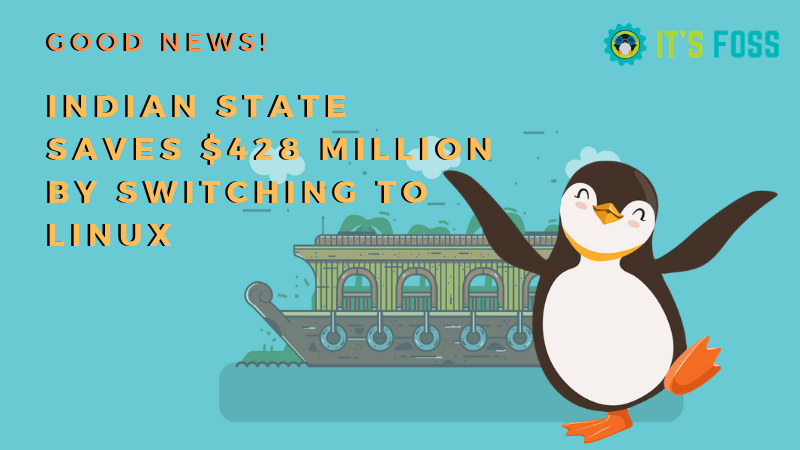 Preparation is ongoing for country's largest ICT (information and communication technology) training for teachers is in full-swing. Over 150,000 primary teachers will be trained to use educational software running on Linux under this training.
K Anvar Sadath, vice-chairman and executive director of KITE (Kerala Infrastructure and Technology for Education), disclosed that from the next academic year, more than 200,000 computers in schools will be running Linux.
If we had gone for applications of proprietary nature, each computer would have incurred at least Rs 1.5 lakh (~$2200) in licence fees…

K Anvar Sadath
KITE has created their own distribution named IT@School GNU/Linux based on Ubuntu. The latest version of this custom distribution runs on Ubuntu 18.04 LTS version, has several free and open source applications specially customized for the state school curriculum.
More institutions worldwide use Linux
It's not just Kerala, the neighboring state of Tamil Nadu also uses Linux in schools and other public institutions. Many other states are also deploying Linux and open source software under the nation wide open source policy of the Digital India program.
It's not just India that is going open source. A number of schools and public offices worldwide use Linux with open source software. If you follow It's FOSS on Instagram or other social media platform, you might remember that I have shared images of Indonesian schools and offices using Linux Mint.
A few schools and institutions in developed nations have adopted Linux or open source software. Schools from Pennsylvania in the US to Spain have done this in the past. I hope this trend continues.
Have your schools or institutions have opted for Linux and/or open source software over their proprietary alternative? How was the response and experience with it? What do you think of such moves to Linux and open source software in general?
[interaction id="5cda5f72fd3c1b0ec1eb6148″]