Brief: In this beginner's tutorial, you'll learn to download and install GIMP editor on Ubuntu and other Linux distributions.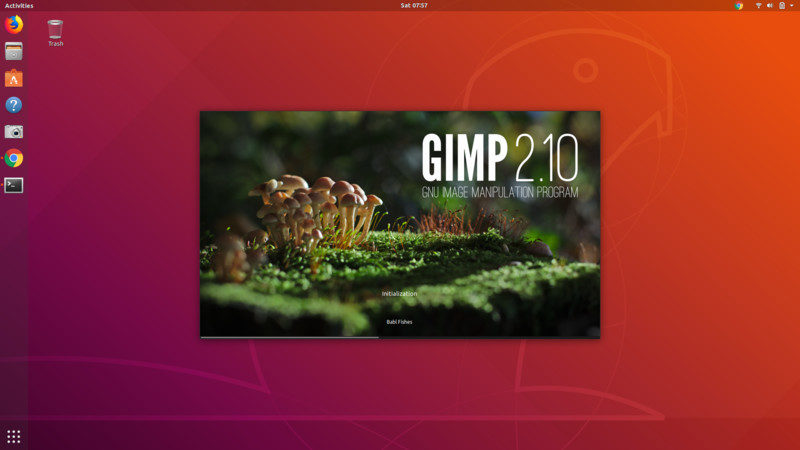 It won't be an exaggeration if I say that GIMP is the most popular image editor in Linux world and perhaps the best open source Photoshop alternative. The project was first started in 1996 and in the last 22 years, it has become the default image editor on almost all major Linux distributions. It is also available on Windows and macOS.
GIMP released GIMP 2.10, six years after the last major release of version 2.8. Version 2.10 is still the major release, with minor point releases being added to it. The next major release will be GIMP 3.0 but it is still under development.
Install GIMP 2.10 in Ubuntu and other Linux distributions
Since it has been some time from the release, GIMP 2.10 should be now available for most Linux distributions.
In Ubuntu, you can find the snap version of GIMP 2.10 in the Software Center and install it from there.

I advise checking the software center or package manager of your Linux distribution and see if it provides GIMP 2.10 or not. If it does not use either Snap, Flatpak, PPA or source code methods to install GIMP.
Method 1: Installing GIMP 2.10 via Snap Packages
You can use Snap for installing GIMP 2.10. If you are using Ubuntu, you are good. For other Linux distributions, please make sure that you have Snap support enabled.
With Snap installed, all you have to do is to use the Snap command:
sudo snap install gimp
That's it. GIMP 2.10.x will be installed.
Method 2: Installing GIMP 2.10 via PPA in Ubuntu-based Linux distributions
Do not like Snap? No worries. Just install it using apt package manager:
sudo apt install gimp
It might not be the latest GIMP version. If that's the case, there is an unofficial PPA available that you can use to install the latest GIMP ersion on Ubuntu, Linux Mint and other Ubuntu based Linux distributions right now.
Note that the PPA is available for Ubuntu 18.04 and higher supported versions. You can also use it on Linux Mint 19 and 20 series:
sudo add-apt-repository ppa:ubuntuhandbook1/gimp
sudo apt update
sudo apt install gimp
If you already have GIMP installed, it will upgrade to the latest version provided by the PPA.
Revert the updated GIMP version installed using the above method with the help of PPA Purge tool:
sudo apt install ppa-purge && sudo ppa-purge ppa:ubuntuhandbook1/gimp
Method 3: Installing GIMP 2.10 with Flatpak in Ubuntu-based Linux distributions
You need to enable Flatpak support first. Use the commands below to install Flatpak in Ubuntu.
sudo add-apt-repository ppa:alexlarsson/flatpak
sudo apt update
sudo apt install flatpak
You can refer to this page to know how to enable Flatpak support in other Linux distributions.
Once you have Fltapak support, use the command below to install GIMP 2.10:
flatpak install https://flathub.org/repo/appstream/org.gimp.GIMP.flatpakref
Once installed, if you don't see it in the menu, you can run it using the command below:
flatpak run org.gimp.GIMP
Method 4: Get GIMP source code
Alternatively, you can always install from source code. You can download the source code from the link below:
GIMP is undoubtedly an essential tool for graphic designers using Linux. It is capable of doing everything you can expect from a professional photo editor. It requires learnin, of course.