Earlier, Abhishek wrote an article about lesser known Ubuntu based Linux distributions. There was a 'Christan Linux distribution' in it. Recently, we were notified of a similar distro.
Linux to Fill a Specific Need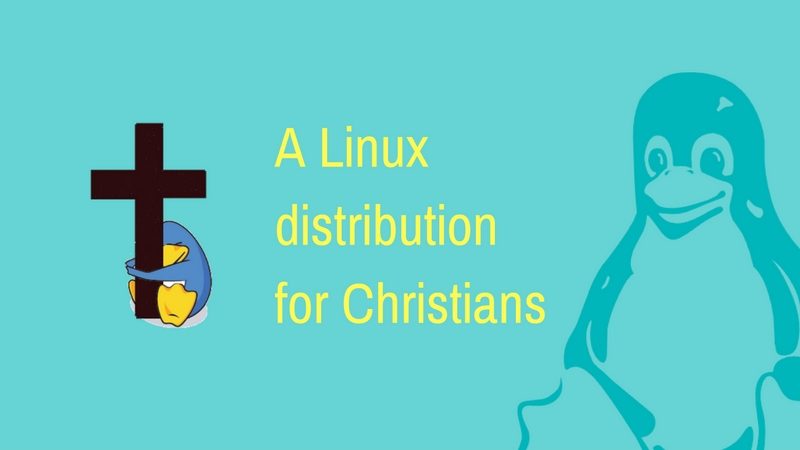 Five years ago, Eric Bradshaw and two other Christian computer geeks created the Computers4Christians Linux Project. They started the project to fill a need they had in own ministry. The group takes donated computers, wipes them, installs Linux and give them to the community. They have given away about 500 computers since they started.
Part of their mission was to load Christian software on these systems, making each one a giant, digital tract. They originally tried Ubuntu Christian Edition but found it lacking for their needs. The worked with vanilla Ubuntu for a while but soon discovered that Ubuntu was demanding more resources than their donated computers could dish out. So, they switch to Lubuntu and created their own spin of it. Their most recent release is 16.04.2.
What Comes in the Box?
The team behind the Computers4Christians Linux Project made several changes to the standard Lubuntu install. They removed Sylpheed, Audacious, GNOME MPlayer, Abiword, and Gnumeric. They also added the following packages:
Christian games including 12 Apostles, Bible Knowledge Games, Bible Verse Maze Quest, Flash Bible Games, and a number of online games
Several Bible study programs including Bible Desktop, Wide Margin, Xiphos and Verse
Graphic editing software including GIMP, gThumb, Inkscape, mtPaint, and Scribus
Internet software including FoxFilter, FileZilla, Gufw, Pidgin, Thunderbird, and Transmission. They also included a bunch of Christian bookmarks in Firefox.
Office software including GnuCash, LibreOffice, and Xpdf
Multimedia software including GUVCView, PulseAudio Volume Control, VLC, Xfburn, Ardour, and Audacity.
They also added a number of songs donated by Christian groups including: After the Chase, ApologetiX, Beth Champion Mason, Brenda James, B-Shoc, Chad Overman, Christ Our Life, Ethos Worship, Faithland, KC & Julie Clark, Mike Ellis, Morris Mott, Perry and the Poorboys, Pete Buchwald, Reverent Worship, Scott Krippayne, The Indelible Project, and Yancy.
Final Thoughts
When I asked Eric to sum up the mission of Computers4Christians in one sentence, he replied: "As one part of the Body of Christ, we seek to lead unbelievers to an authentic relationship with Jesus Christ and to nurture believers in discipleship." As a Christian myself, I agree with and approve of this sentiment.
Computers4Christians is not designed to be for everyone. It was created to fulfill one specific goal and in my opinion, it succeeds. It has all the tools that a person needs to communicate in the modern world. It also has tools to help strengthen the Christian in his Faith and to help find answers for those looking for answers.
If you are in the Cheyenne, WY area, the people behind Computers4Christians will be glad to help you out if you need a computer. If on the other hand, you would like to help them out in their mission, I'm sure they would appreciate that.
If you found this article interesting, please take a minute to share it on social media.