Office Suites are a mandatory part of any operating system.  It is difficult to imagine using a desktop OS without office software. While Windows offers Microsoft Office Suite and macOS got iWork.
What about Linux? There are ways to use Microsoft Office on Linux, however, it is not a native Linux app.
So, do we have open-source replacements for Microsoft Office? I'll answer that questions in this article.
Best open source alternatives to Microsoft Office for Linux
Before we see the MS Office alternatives, let's first see what you look for in a decent office suite:
Word processor
Spreadsheet
Presentation
I'm aware that the Microsoft Office suite includes more tools as part of its offering, like OneDrive (cloud storage), and Outlook (email client).
However, you can choose to use a different mail client and cloud storage service. So, we shall focus only on the basic offerings, i.e., Word, Excel, and PowerPoint open-source replacement.
Let's see what office suits for Linux have we got here:
6. Apache OpenOffice

Apache OpenOffice or simply OpenOffice has a history of name/owner change. It was born as Star Office in 1999 by Sun Microsystems, which later renamed it OpenOffice to pit it against MS Office as a free and open-source alternative. When Oracle bought Sun in 2010, it discontinued the development of OpenOffice after a year. And finally, it was Apache that supported it, and it is now known as Apache OpenOffice.
Apache OpenOffice is available for many platforms that include Linux, Windows, macOS, Unix, BSD. It also includes support for MS Office files, apart from its own OpenDocument format. The office suite contains the following applications: Writer, Calc, Impress, Base, Draw, Math.
Installing OpenOffice is a pain as it doesn't provide a decent installer.
Unless you rely on OpenOffice and do not want to break compatibility or any modern features, there may not be enough reasons to use OpenOffice.
5. Feng Office

Feng Office was formerly known as OpenGoo. It is not your regular office suite. It is entirely focused on being an online office suite like Google Docs. In other words, it's an open-source collaboration platform.
There is no desktop version available, so if you are looking to use it on a single Linux desktop, you are out of luck here. On the other hand, if you have a small business, an institution, or some other organization, you may attempt to deploy it on the local server.
4. CrypPad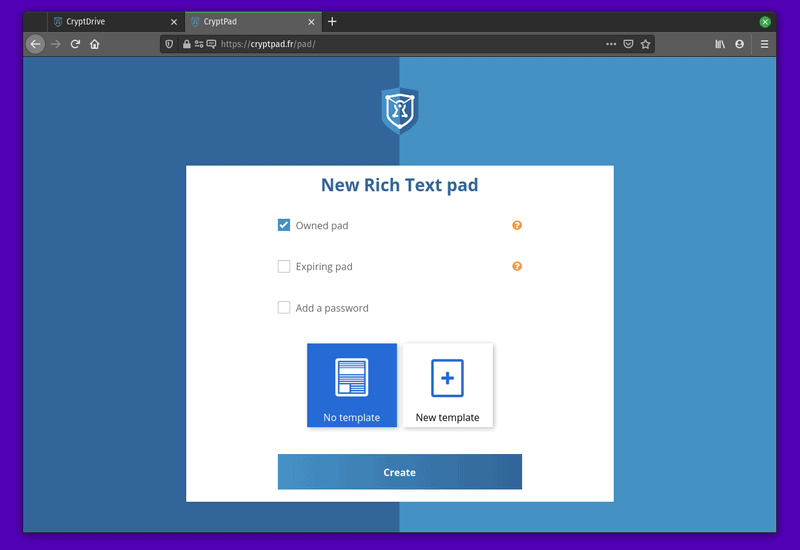 CryptPad is an end-to-end encrypted collaboration suite that features a word processor, spreadsheet, and slides as well. Not just as an encrypted alternative, but it also focuses on privacy, meaning, the service does not record any of your activity, unlike the Office 365 service by Microsoft.
It may not be as feature-rich as you'd expect, but it should be a good pick for basic usage.
You can sign up for an account and use it for free, or opt to self-host an instance if you require. There are no desktop clients for this. For more information, you can head to its GitHub page or the official website.
3. Calligra Suite

Calligra, formerly known as KOffice, is the default Office suite in KDE. It is available for Linux and FreeBSD systems with support for macOS and Windows. It was also launched for Android. But unfortunately, it's not available for Android anymore. It has all the applications needed for an office suite along with some extra applications such as Flow for flow charts and plane for project management.
Calligra offers some useful features that make it an interesting alternative to LibreOffice.
2. ONLYOFFICE

Relatively a new player in the market, is an office suite more focused on the collaborative part. Enterprises (and even individuals) can deploy it on their server to have a Google Docs-like collaborative office suite.
Don't worry. You don't have to bother about installing it on a server. There is a free and open source desktop version of ONLYOFFICE. You can even get .deb and .rpm binaries to easily install it on your desktop Linux system. A flatpak package is also available on Flathub.
If you are using Nextcloud as a collaboration platform, you can also use OnlyOffice as an online office suite.
1. LibreOffice

When Oracle decided to discontinue the development of OpenOffice, it was The Document Foundation who forked it and gave us what is known as LibreOffice. Since then, several Linux distributions have replaced OpenOffice for LibreOffice as their default office application.
It is available for Linux, Windows, and macOS, making it easy to use in a cross-platform environment. Same as Apache OpenOffice, this too includes support for MS Office files apart from its own OpenDocument format. It also contains the same applications as Apache OpenOffice.
You can also use LibreOffice as a collaborative platform using Collabora Online. Basically, LibreOffice is a complete package and undoubtedly the best Microsoft Office alternative for Linux, Windows, and macOS.
What do you think?
If you only want an application to write documents, not spreadsheets and presentation slides, you may check out the list of open source word processors. It has some additional options that have not been mentioned here.
I hope these Open Source alternatives to Microsoft Office save your money. Which open source productivity suite do you use?
Interested in DevOps and Cloud Career? Don't miss this 👇