Remote working culture has been booming for the past few years in coding, graphics, and other IT-related fields. But the recent Coronavirus pandemic has made it mandatory for the companies to work from home as much as possible.
While there are tons of tools to help you and your organization work from home, allow me to share one open-source software with the features of several such tools combined into one.
Nextcloud Hub: A Suite of Essential Tools for Remote Collaboration
Nextcloud is an open-source software that can be used to store files, photos, and videos for personal usage like Dropbox. But it's more than just a private cloud service.
You can add more than one user in Nextcloud and turn it into a collaboration platform for editing files in real-time, chatting with users, managing calendars, assigning and managing tasks, and more.
This video gives a good overview of its main features:
Main Features of Nextcloud
Let me highlight the main features of Nextcloud:
Sync files and share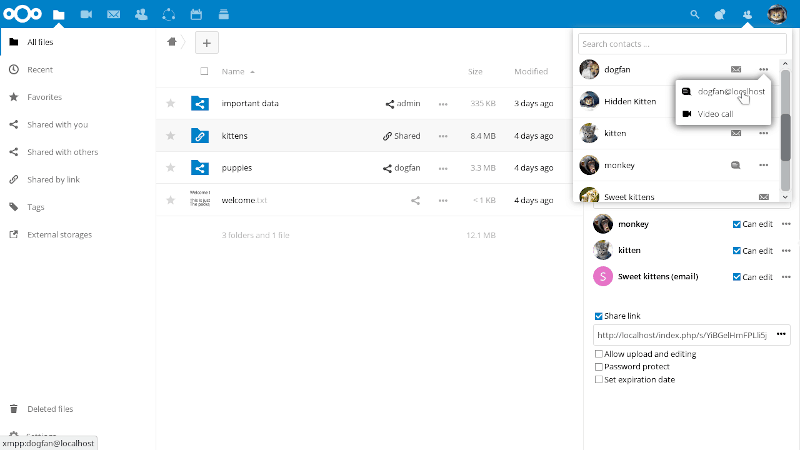 You can create workspaces based on user groups and share files in those folders. Users can create private files and folders and share them with selected users internally or externally (if they are allowed to). You can lock files in read-only mode as well.
It also has a powerful search feature that lets you search files from their names or tags. You can comment on files to provide feedback.
Text files can be edited in real-time thanks to its built-in markdown editor. You can use OnlyOffice or Collabora to allow editing of docs, spreadsheets, and presentations in real-time.
It also has version control for the files so that you can revert changes easily.
You can also upload numerous files in bulk (considering they are not too big) which works quite fast.
Text Chat, Audio Chat, Video Chat and Web Meetings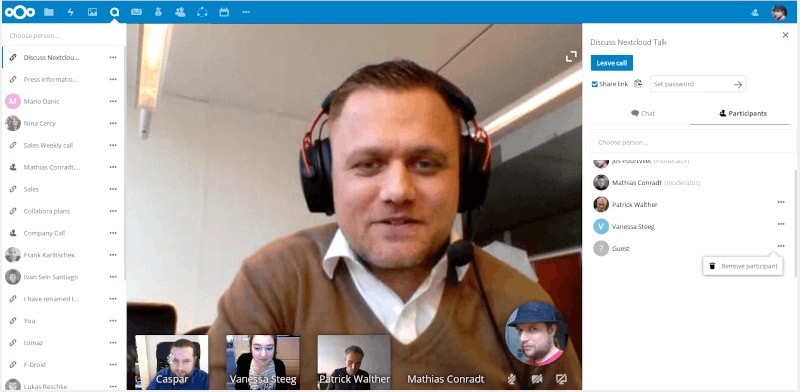 With Nextcloud Talk, you can interact with other users by text messaging, audio calls, video calls, and group calls for web meetings. The chatting feature also includes reacting to any message.
You can take meeting minutes during the video calls and share your screen for presentations. There is also a mobile app to stay connected all the time.
Slack-like channels (known as circles) can be created to communicate between members concerned with a specific topic.
It does support quality optimization to help you make calls even with a poor network and integrates with the desktop for message/call notifications.
Calendar, Contacts & Mail
You can manage all of your organization's contact, and divide them into groups based on departments.
With the calendar, you can see when someone is free or what meetings are taking place, as you do on Outlook.
You can also use the Mail feature and import the emails from other providers to use them inside the Nextcloud interface.
Some exciting features include converting an email message into a calendar event and tags being compatible with Apple Mail, Thunderbird, and more email clients.
Real-time document collaboration with ONLYOFFICE
By integrating ONLYOFFICE Docs with Nextcloud, you can enable document editing and real-time collaboration. This integration allows you to create and edit text documents, spreadsheets, presentations and fillable forms. Also, you can open and view PDF files.
In addition to the standard Nextcloud access rights, you are allowed to share files for real-time co-editing using extra access permissions, such as Commenting, Reviewing and Custom filter for spreadsheets.
The built-in collaborative features include two co-editing modes (Fast and Strict), Track Changes, Version History, comments and a chat. Importantly, co-editing is also available between several federated Nextcloud instances that are connected to one ONLYOFFICE Document Server.
This integration also comes with a conversion feature, so you can easily convert popular formats to Office Open XML.
Last but not least, the ONLYOFFICE and Nextcloud integration make it possible to protect documents with passwords and watermarks.
Kanban project management with Deck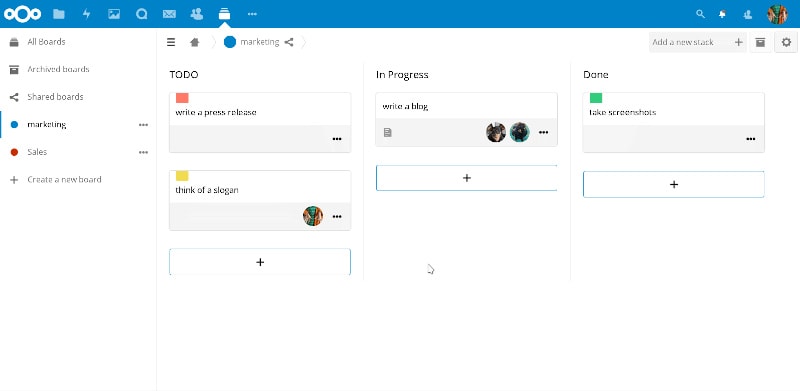 Like Trello and Jira, you can create boards for various projects. You can create cards for each tasks, assign them to users and they can move it between the list based on the status of the task. It's really up to you how you create boards to manage your projects in Kanban style.
Plenty of add-ons to get more out of Nextcloud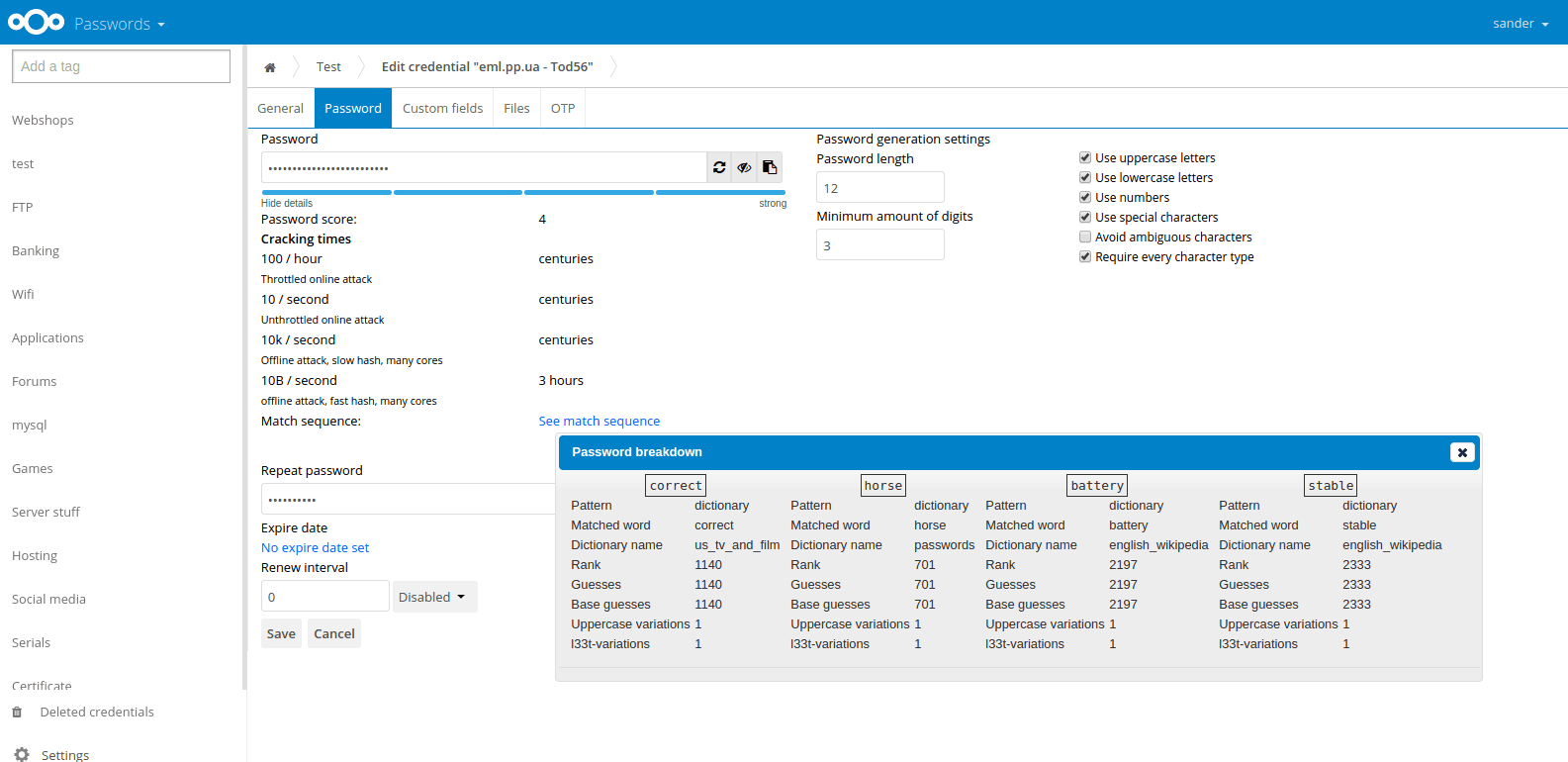 Nextcloud also has several add-ons (called apps). Nextcloud teams develop some, while some are from third-party developers. You may use them to extend the capability of Nextcloud.
For example, you can add a Feedly style feed reader and read news from various sources. Similarly, the Paswords addon lets you use Netxcloud as a password manager, and you can even share common passwords with other Nextcloud users.
You can explore all the apps on its website. You'll also notice the ratings of apps that will help you decide if you should use an app or not.
Many more features
Let me summarize all the features here:
Open source software that lets you own your data on your own servers.
Seamlessly edit office documents together with others.
Communicate with other members of your organization and do audio and video calls and held web meetings.
Calendar lets you book meetings, brings busy view for meetings and resource booking and more. You can also allow users not in your workspace to schedule a meeting with you.
Manage users locally or authenticate through LDAP / Active Directory, Kerberos and Shibboleth / SAML 2.0 and more.
Secure data with powerful file access control, multi-layer encryption, machine-learning-based authentication protection, and advanced ransomware recovery capabilities.
Nextcloud backup is a peer-to-peer backup solution helpful for private users.
Access existing storage silos like FTP, Windows Network Drives, SharePoint, Object Storage and Samba shares seamlessly through Nextcloud.
Automation: Automatically turn documents in PDFs, send messages to chat rooms and more!
Built-in ONLYOFFICE makes collaborative editing of Microsoft Office documents accessible to everyone.
Nextcloud Office is also available, developed together with Collabora.
Easy user migration through import/export archive feature.
Users can install desktop and mobile apps or simply use them in the web browser
How to get Nextcloud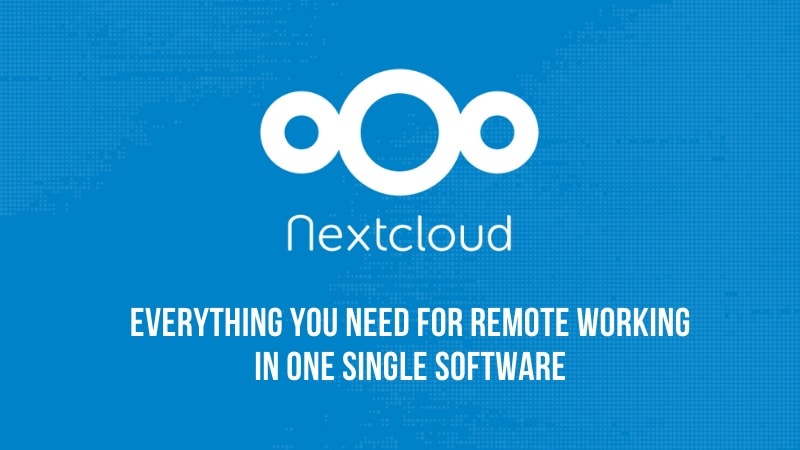 Nextcloud is free and open-source software. You can download it and install it on your server.
You can use cloud server providers like Linode or DigitalOcean that allow you to deploy a brand-new Linux server within minutes. And then you can use Docker to install Nextcloud. At It's FOSS, we use Linode for our Nextcloud instance.
If you want to avoid doing that, you can signup with one of the Nextcloud partners that provide you with a configured Nextcloud instance. Some providers also provide a few GB of free data to try it.
Nextcloud also has an enterprise plan where the Nextcloud team itself handles everything for the users and provides premium support. You can check their pricing here.
If you decide to use Nextcloud, you should refer to its documentation or community forum to explore all its features.
Conclusion
At It's FOSS, our entire team works remotely, and we have no centralized office anywhere, and all of us work from our homes. Initially, we relied on non-open source tools like Slack, Google Drive, etc. but we have migrated to their open-source alternatives.
Nextcloud is one of the first software we tried internally. It has features of Dropbox, Google Docs, Slack, Trello, Google Hangout, all combined in one software.
Nextcloud works for the most part,, but it could struggle with video calls on an underpowered server. So, you may choose a server with decent specifications per your requirements.
Since the entire world is still dealing with the Coronavirus pandemic, using a solution like Nextcloud could be helpful for you and your organization in working from home.
How are you coping during the Coronavirus lockdown? Like Linus Torvalds' advice on remote working, do you also have some suggestions to share with the rest of us? Please don't hesitate to use the comment section.