Can you call Gmail, Outlook, Yahoo! Mail etc. as secure email services?
Well, yes, in the way that your data is (usually) safe from outside attackers. But when we talk of secure email service, the focus is on data security and privacy.
No matter what. If you are concerned about the privacy and security of your email conversation and want them to be as private as possible – this article will help you find the best email services for the job. You may also like our recommendations for tools to protect your privacy coupled with the options listed here.
Do keep in mind that we have compiled this list by judging their privacy policies, and what many users have to say about them. However, we still advise you should always be cautious with your data.
Our list includes paid and free secure email providers, which may offer standalone applications for multiple platforms or the usual web-based platforms.
📋
The list is in no particular order of ranking, meaning the service listed first is not necessarily better than 2. Evaluate the options as per your requirements.
1. Proton Mail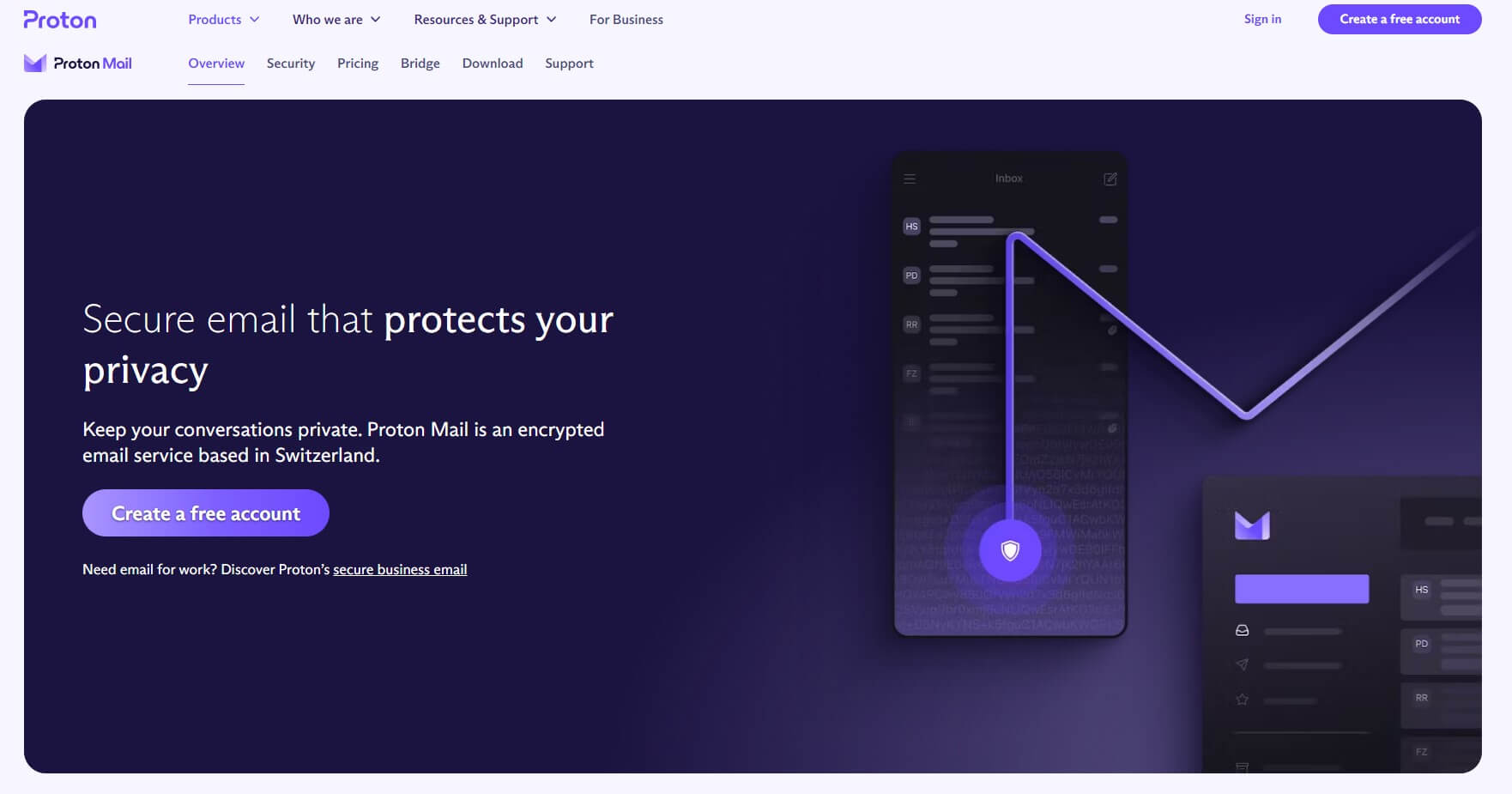 Proton Mail is a very popular Swiss-based email service that follows an ad-free model to protect your privacy. It is protected by many layers of security, with strong encryption at all times.
Proton Mail apps are open-source, so you can review its code to make sure that it is up to the task.
You can get started for free but with paid options, you get more perks and better features for its VPN and email alias services.
Key Highlights:
End-to-end encryption.
Free & Paid options are available.
2FA with hardware security keys.
2. Tutanota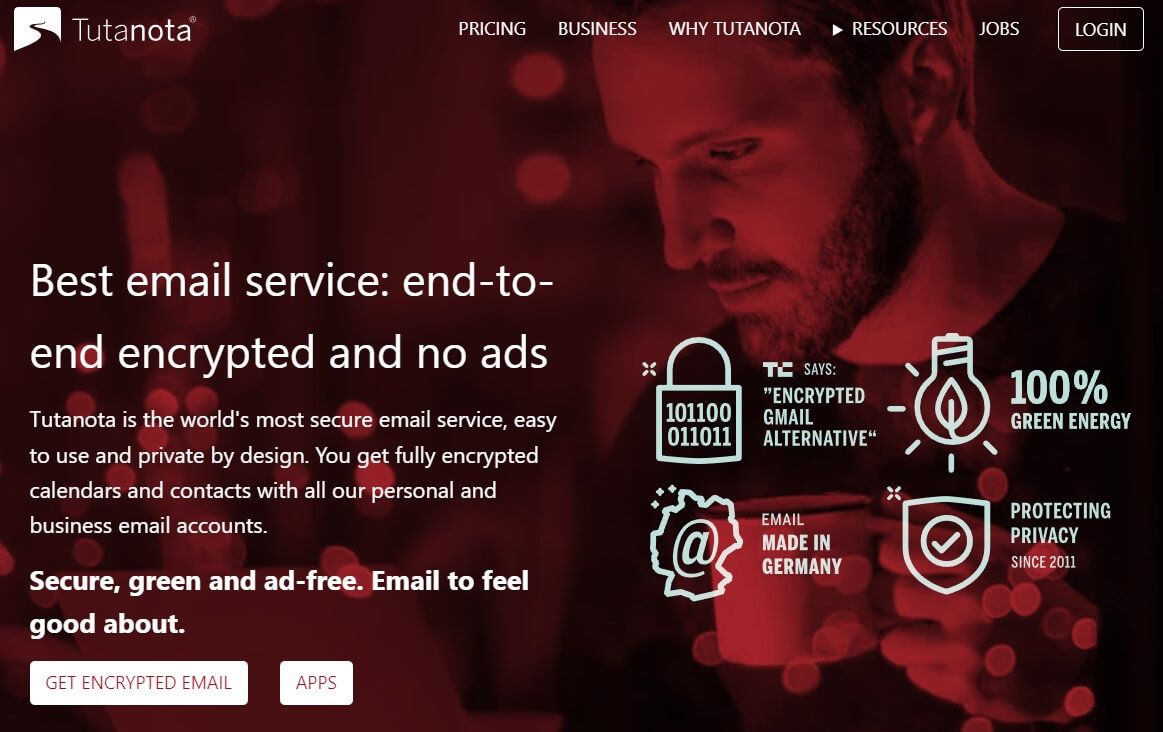 Tutanota is an encrypted email service provider fit for both personal and business use. You will need a premium subscription for access to its features such as extra email addresses, custom domains, more storage, etc.
At the time of updating the article, they hit a milestone of 10 million users on the platform, which shows it is a suitable option for many privacy-focused users.
Tutanota is among the first to start working on quantum-resistant cryptography. So, it is definitely an email service to keep an eye on.
Key Highlights:
End-to-end encryption.
Free & Paid options available.
All their email clients are open-source.
3. Librem Mail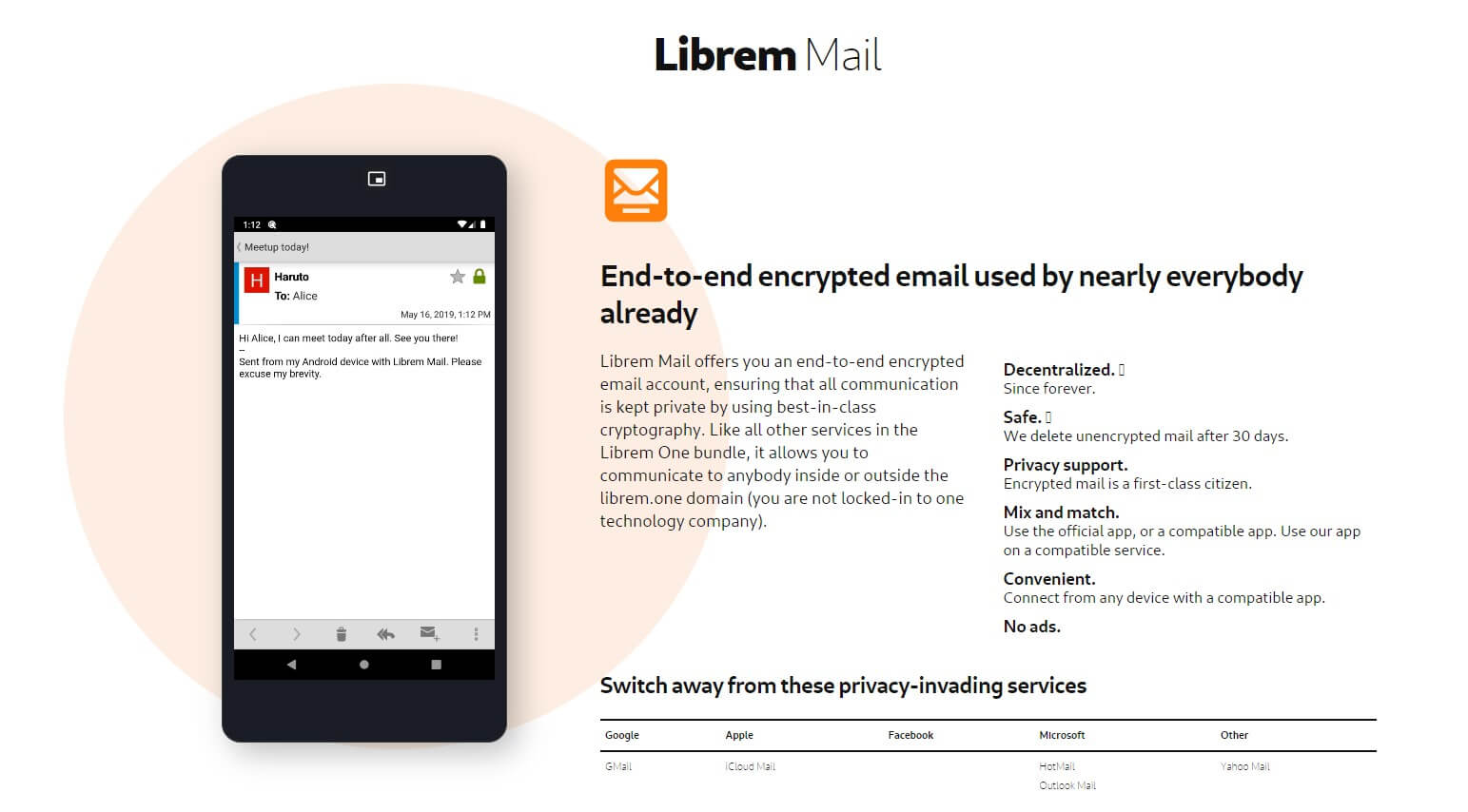 This is part of the Librem One suite by Purism. Unlike others, it isn't free. You need to opt for the premium subscription to get access to their private email service, Librem Mail.
Personally, I haven't used it. But, it looks like a decent end-to-end encrypted, ad-free email service, and given the history of Purism to protect users' privacy, it should be a good pick.
Key Highlights:
Decentralized
End-to-end encryption
Ad-free
4. Mailbox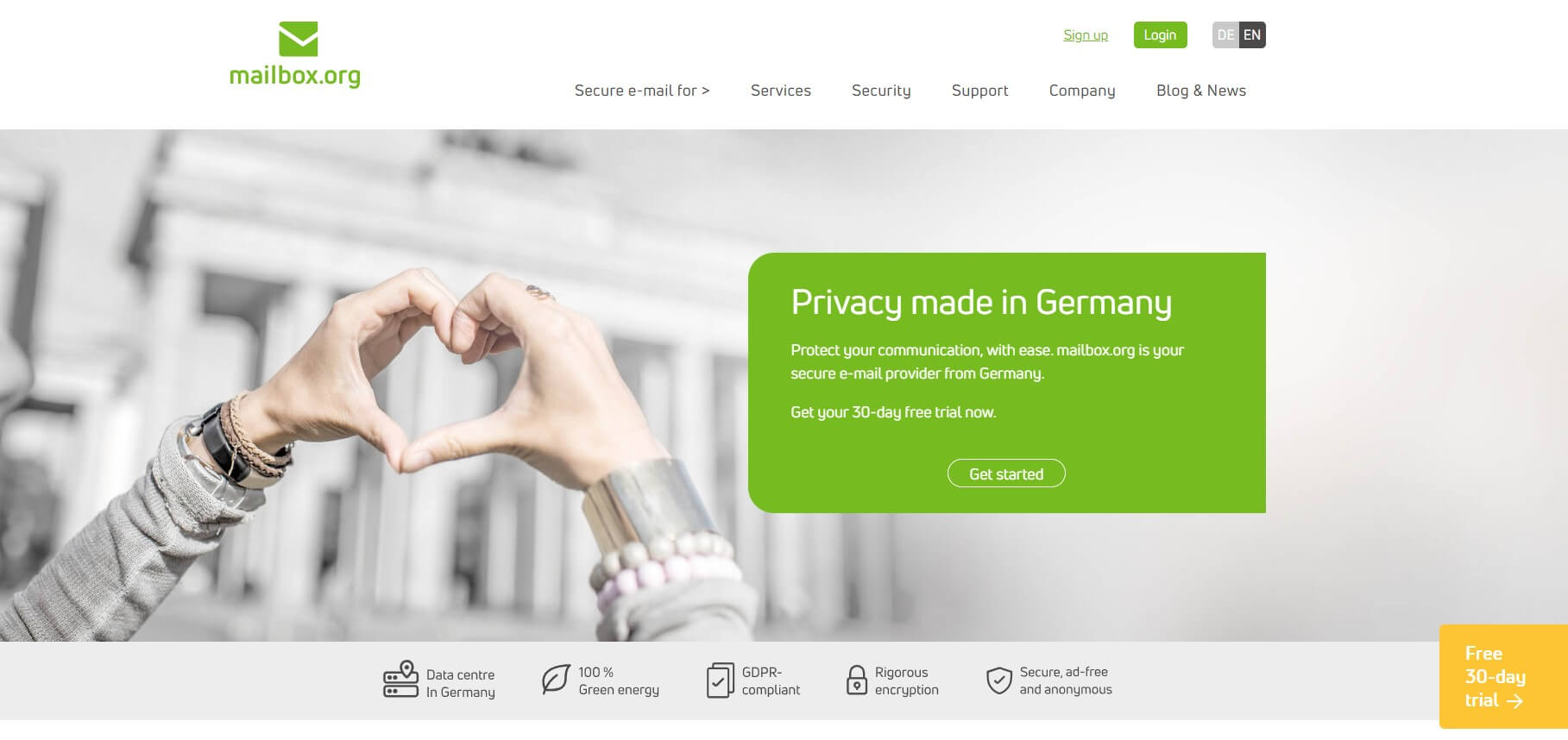 Mailbox is an impressive secure email service that is powered by green energy. The data centers are located in Germany, which makes it quite privacy-friendly.
It will cost you 1 Euro/month, which includes 2 GB of secure cloud storage. The idea of having cloud storage along with your email isn't new — but not all privacy-focused email providers offer that.
In addition, it provides many security features to help you keep your emails private.
Key Highlights:
Privacy-focused
Cloud storage offering
End-to-End encryption
5. Mailfence

Mailfence is a decent privacy-focused email service that enforces OpenPGP end-to-end encryption. You can use it for free with limited storage (500 MB) and features. In either case, you also get the ability to upgrade your subscription to increase the storage space, unlock the ability to use a custom domain, and so on.
The only downside that can be seen here is the lack of mobile apps. So, you need to launch a browser and sign-in in order to use across multiple devices.
Key Highlights:
End-to-end encrypted
Free & Paid options
Custom domain support available
2FA Available
Browser-based only (no mobile apps)
6. TorGuard's Private-Mail

Key Highlights:
OpenPGP end-to-end encryption
Standalone Desktop app (Windows for now)
Free and paid options
Custom domain option available with premium subscription
🚧
The email clients available for download are not actively maintained. You should remain cautious if you are using this in combination with TorGuard's VPN service.
Private-mail ticks all the points that you normally look for in a private email service. It no longer offers free access to service, paid only.
If you want to access the service across multiple devices (that includes your smartphone) – you may want to upgrade your subscription. For now, a desktop client for Windows is available.
7. Hushmail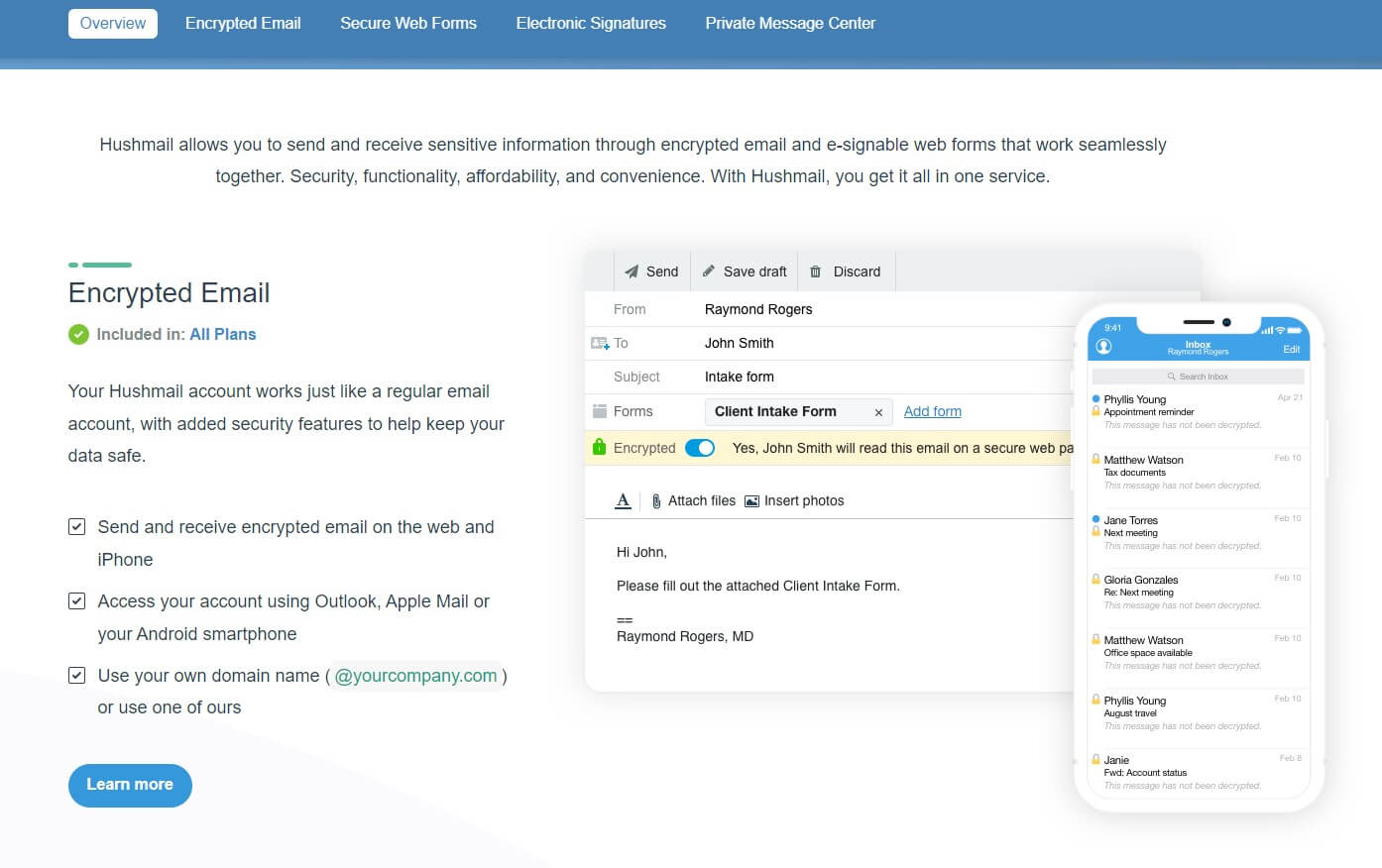 Hushmail is an encrypted email service provider for privacy concerned users that provides a plethora of security features.
In the case of businesses – it categorizes them and offers different pricing.
For example, if you want to utilize Hushmail for your Healthcare company – they will offer you HIPAA-compliant service.
Similarly, different plans are made available for law firms, enterprises, and small businesses.
Key Highlights:
Separate plans & pricing for business users (small businesses, healthcare, law, non-profits, & enterprise).
OpenPGP end-to-end encryption.
Ability to create secure web forms and e-signatures.
8. CounterMail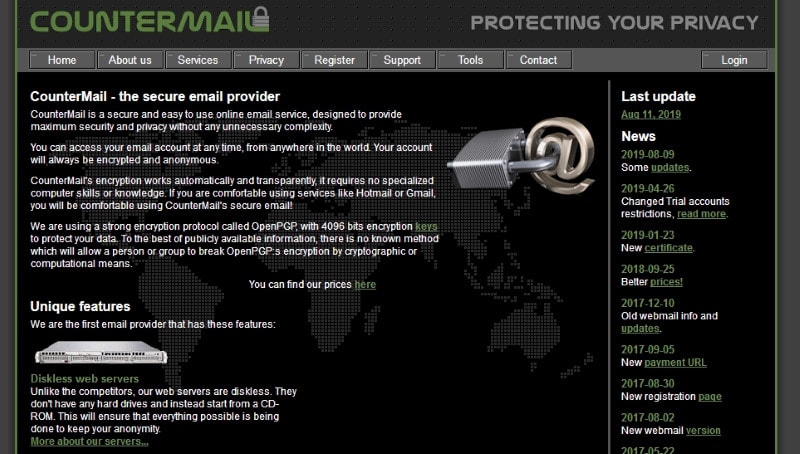 Key Highlights:
OpenPGP end-to-end encryption
Custom domain support
Web form support
Windows, Linux, & MacOS X support
CounterMail is yet another alternative as a secure email service to the others mentioned above. It lets you try the service for one week absolutely for free. In addition to the encryption, it lets you have your own domain and create web forms.
The more you spend, the more storage you get. The features remain the same – which is a good thing. If you know someone using the service, you can try it for free up to 10 days; otherwise, it is a paid-only option.
9. StartMail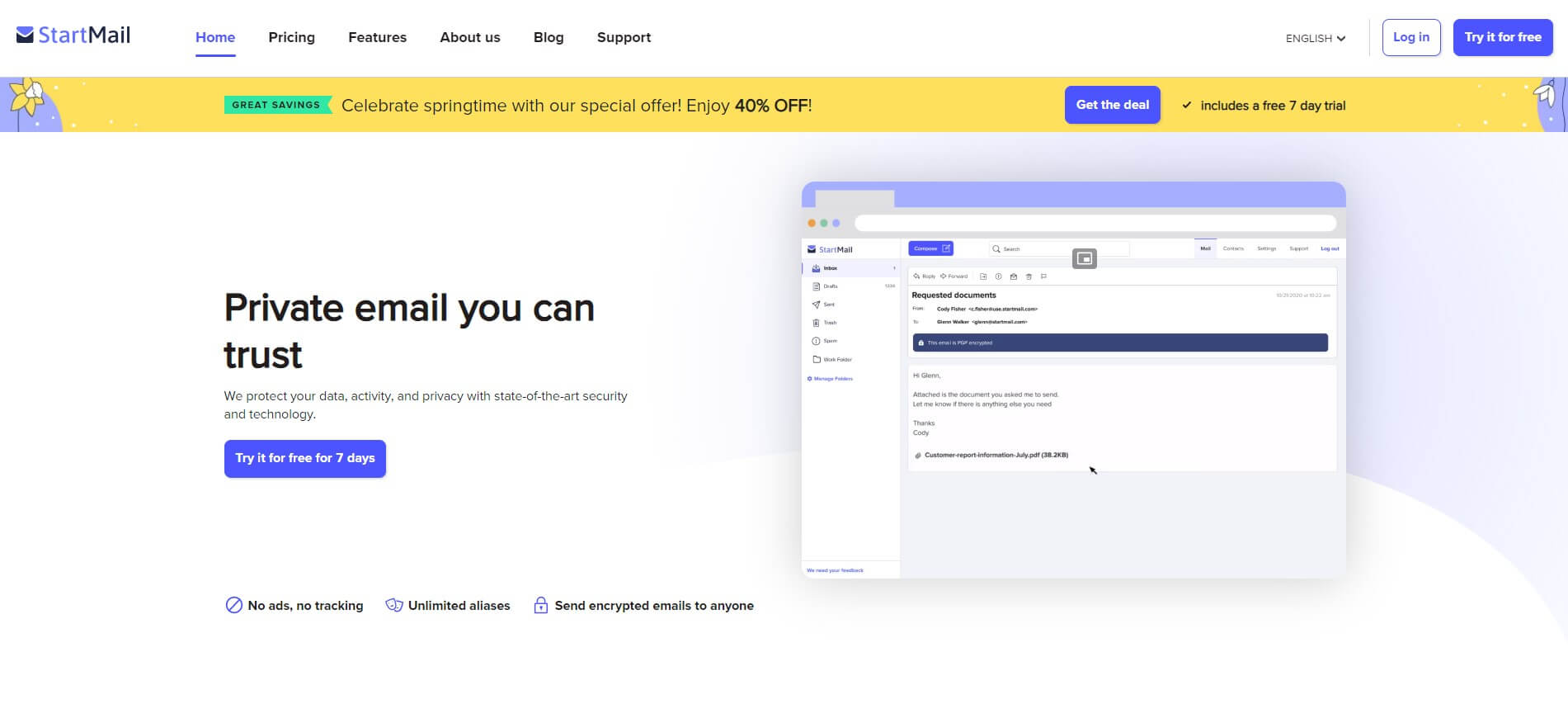 An email service by Startpage.com (one of the best google alternatives), StartMail is a good choice for being one of the best private email services available.
It offers a free 7-day trial, and if you like the service, you can then upgrade to a paid plan.
Key Highlights:
Disposable email aliases.
PGP email encryption.
Custom domain option available with upgrade.
10. POSTEO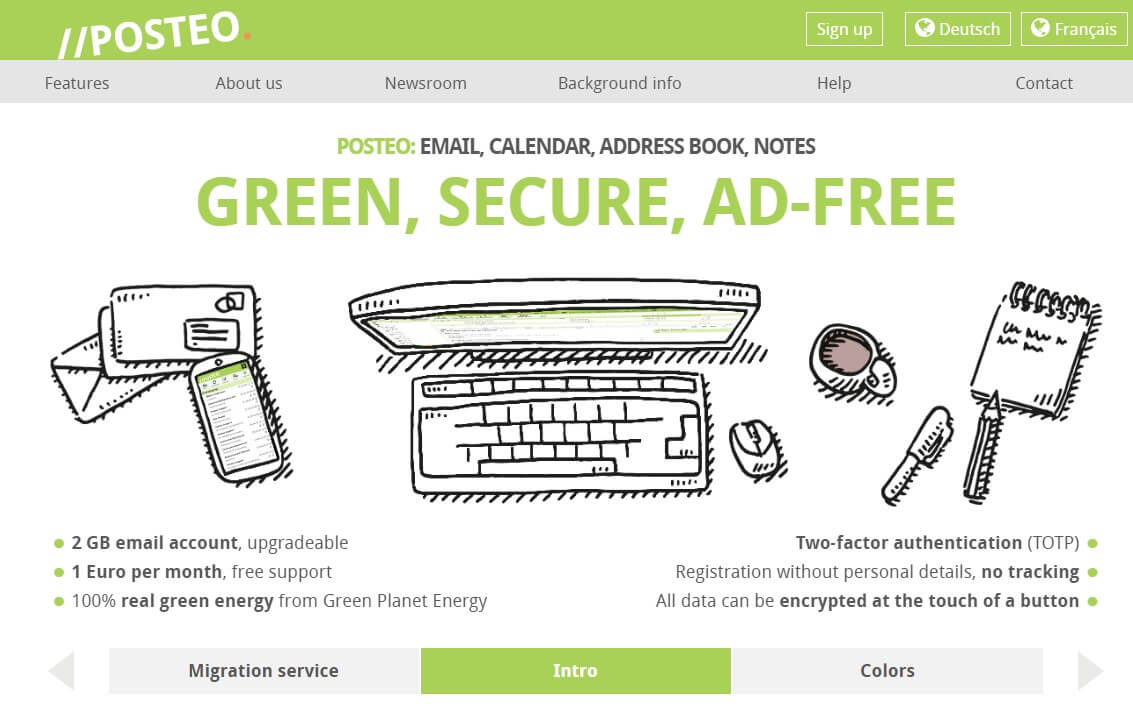 Posteo.de is an interesting email service that focuses on privacy and security while also running on green energy, like Mailbox.
It's an affordable solution – for just 1 Euro/month (billed annually). However, they do not support adding a custom domain – even if you want to pay more.
Fortunately, you do get email aliases. You can upgrade the storage space along with email aliases, and calendars for an additional fee.
Key Highlights:
Open-Source
Runs on green energy.
OpenPGP encryption support.
11. Skiff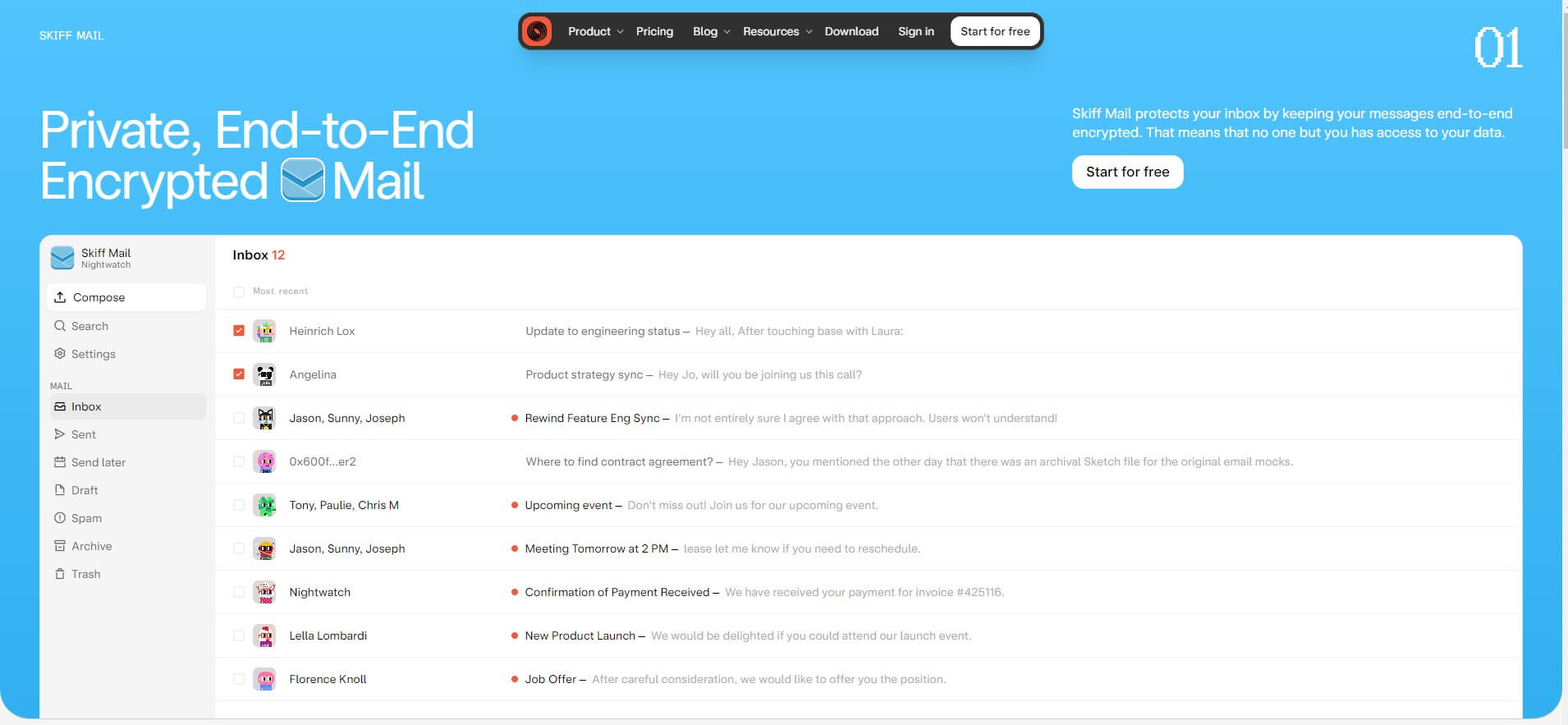 Skiff is a relatively new player in the secure email market, but nonetheless they provide some pretty neat features with their service.
They provide 10 GB of cloud storage for free, with more features being unlocked with their paid plans.
Key Highlights:
End-to-end encryption.
Custom domain support.
Email aliases.
12. Fastmail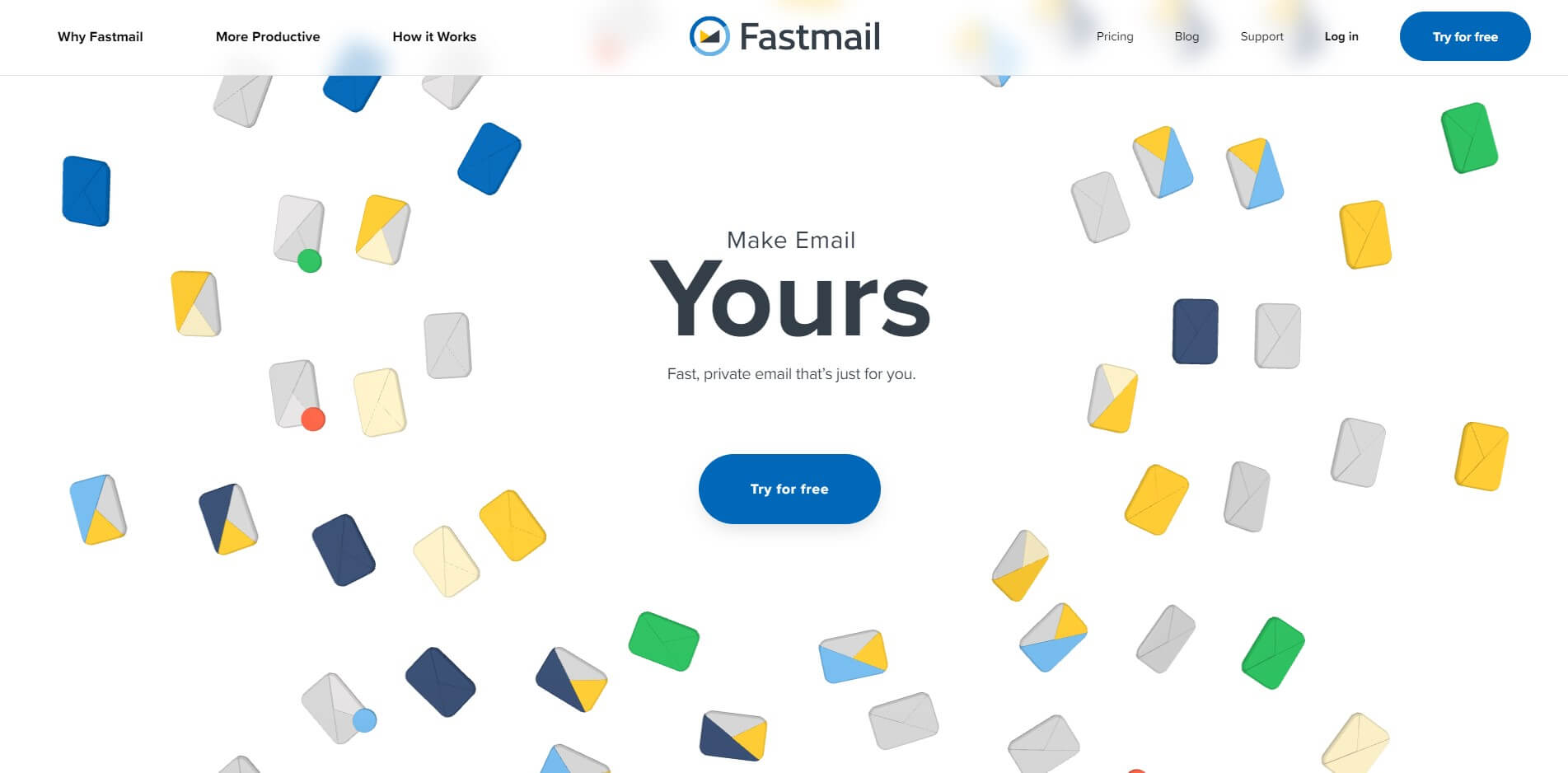 Fastmail is an interesting option offering integration with the 1Password password manager for masked emails. So, you may no longer need to use extra tools to protect your email addressthe .
They offer a 30-day trial, after which you can opt for one of their paid plans that start at $3/month.
Key Highlights:
Strong data protection standards.
Email aliases.
Feature-rich platform.
Suggested Read 📖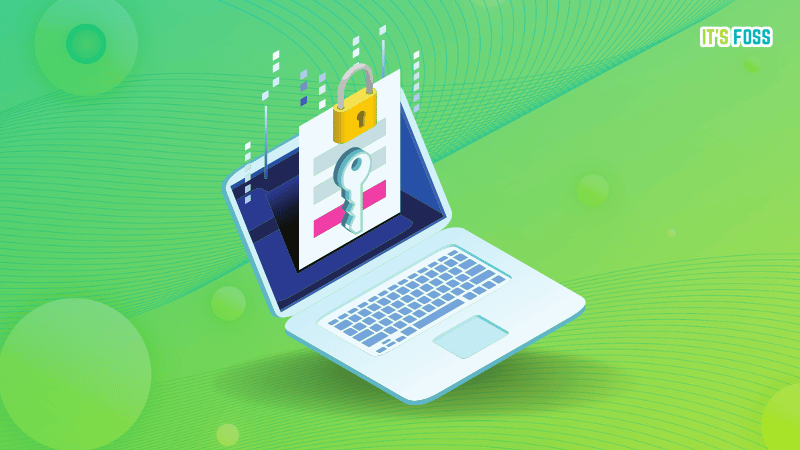 Some readers mentioned Lavabit as another option, if you want to explore something else, you can take a look at it.
💡
Some of you may be skeptical about some of the email services which are end-to-end encrypted.
Well, to clear things up right off the bat, by default, not all the emails you send are not "end-to-end" encrypted but secure. When we mention end-to-end encrypted – it means, only the receiver can decrypt (or access) the message. You can learn more about it in Proton's
blog post
.
Such privacy-focused email services are the need of the hour, seeing that big tech is just toying around with user data for their gains.
💬 Did we miss any of your favorites? Let us know below!