Brief: Remember The Milk is a to-do app available for Linux with free and paid plans. You'll learn its features and the installation steps in this article.
Remember The Milk is not an open source software. We have covered it here because the developers made an effort to bring their application to Linux.
Remember The Milk: An Effective To-Do App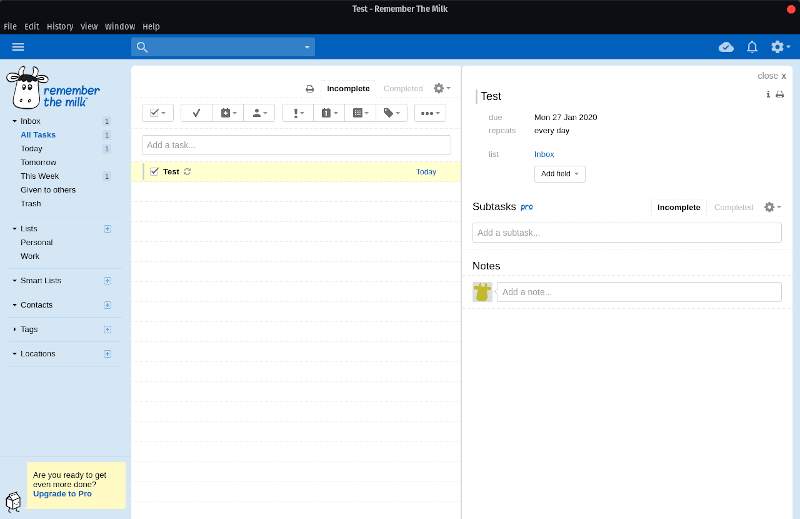 Remember The Milk is a to-do app that includes a bunch of essential features required to manage your daily tasks. In addition to the mobile apps (and the support for Apple Watch), it also offers desktop counterparts (electron-based) and the ability to integrate with various services like Gmail.
No matter whether it's your personal set of routines or just work – you can use it for almost anything you want.
It is worth noting that is not an open-source solution. However, it does provide a Linux package if you do not want to utilize the web browser. So, if you are looking for some other solutions that are potentially open-source, you can take a look at our list of Evernote alternatives as well.
Features of Remember The Milk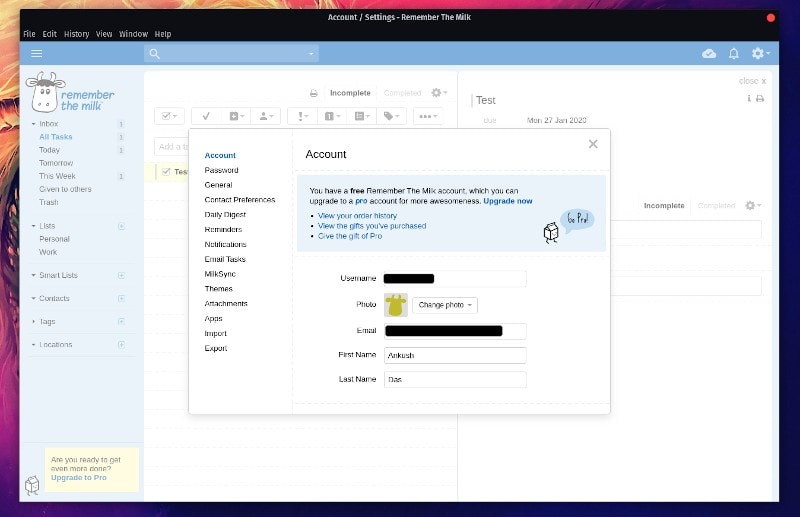 To mention a few highlights, you can add tasks, remove them, share them, attach files, and do a lot more things. Hence, let me breakdown the features list it as follow:
Gmail integration of Tasks
Add tasks using Google Assistant, Siri, or Alexa
Share tasks
Set a due date for a task
Ability to create sub-tasks
Mobile apps available for BlackBerry 10, Android and iOS along with the support for tablets (and Amazon Fire too!)
Apple Watch support
Microsoft Outlook sync support
Themes available to customize the look and feel of the app
IFTTT supported
Advanced sharing and sorting options
Color tags to easily identify or filter the tasks
Ability to add locations to the tasks
Work offline in the web app
Badges and widgets for mobile apps
And, this doesn't stop here, under-the-hood, you will find a lot of useful tweaks/options to manage your tasks/lists.
It is also worth noting that if you are on a free account, keep in mind that you can only have an archive of completed tasks for the last 7 days.
While it offers a lot of features for free, you will be missing out on some of the essentials unless you upgrade it to the paid plan.
Installing Remember The Milk On Linux
You can find both .deb (for Debian/Ubuntu/Linux Mint) and .rpm (for Fedora) files on its official website when you download it. You can also check out their troubleshooting/FAQ page to get help if needed.
Wrapping Up
Of course, it is a bummer that it isn't an open-source solution. However, it works quite well on Linux and on the web browser.
If you are in need of task management services (or to-do list apps), this is a potential option that offers an offline experience with the premium plan. Nevertheless, it all comes down to your preferences.
What do you think about "Remember The Milk" to-do app/service? Even though it takes a while to spell it out, it is indeed a decent solution to manage tasks.
Feel free to share your thoughts in the comments below.