Brief: This article is primarily focused on gamers who play on Linux and grew up with games which we call "retro" in today's times.
A new era has dawned for Linux gaming. We now have amazing games on Linux with stunning visuals that are a feast for every gamer's eye. But who can forget those nostalgic games which made us gamers in the first place? Those were the days when we loved more than anything to stay hooked to our Nintendo consoles.
In this article, we make an attempt to refresh your childhood memories by showing you how to install and run some amazing retro games from those times.
To play the exact versions, you can install a Nintendo Emulator like ZSNES. It's Free and Open Source Software! SNES stands for Super Nintendo Entertainment System. Z apparently refers to the developer aliases: zsKnight and _Demo_. Debian based users can install ZSNES with apt-get by using the command, "sudo apt-get install zsnes".
After installation, you can launch the ZSNES emulator from the application menu or with the terminal with command "zsnes". By using the game menu, you can then load the ROM of your choice you downloaded from the list. Don't worry, I'll show you how it's done.
How to install and run SNES games
1. From the command prompt run the following commands to install ZSNES:
sudo apt-get update

sudo apt-get install zsnes
2. Download game ROM. Here is a comprehensive list of Games' ROMs that you can use to download your favorite game.
3. Launch ZSNES from the terminal with command "zsnes" or via the Application Menu: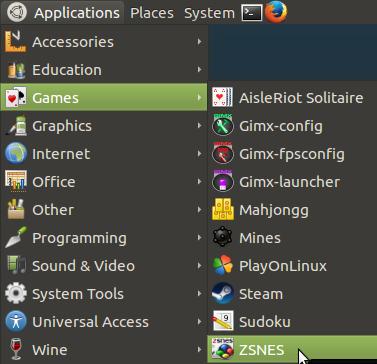 4. From the main menu, you can now load your game's ROM files. After you download the ROMs from the above links, make sure you extract it to find a .smc file. This is the file you need to run. Here I have loaded and run the SWATKats game.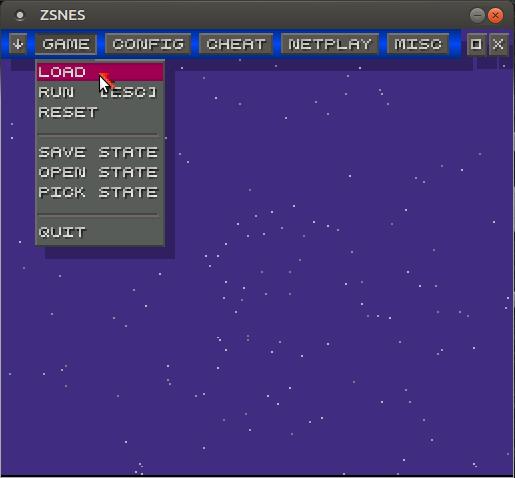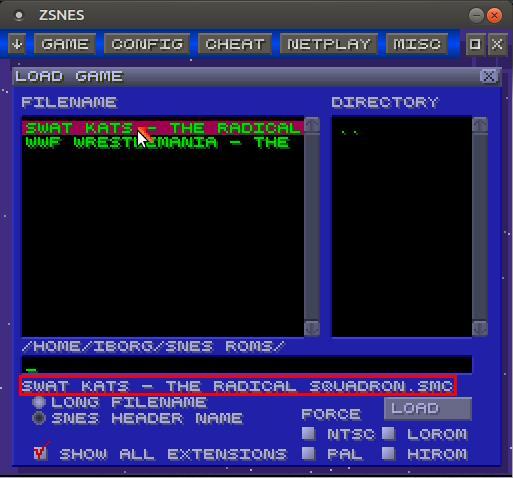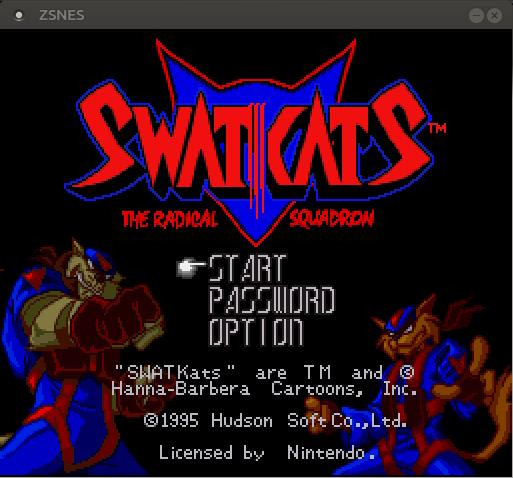 You can also go into full-screen mode with the keyboard shortcut: "Alt+Enter".
I have used ZNSES emulator in the article but there other emulators that you can use to play retro games in Linux. In fact, there is Linux distribution Lakka that can turn your PC into a retro gaming console.
17 Retro games for Linux
Let's look at some versions that have been made natively for Linux or can be run using WINE/emulators.
Undoubtedly one of the most legendary characters in video game history, Mario has conquered a forever place in our hearts! We looked up various places on fan forums and threads and found that there are various different versions of Mario available to play now…some are Windows executables (can be easily be configured with Wine/PlayOnLinux) and some are Linux native versions! Many original Mario games are there in the SNES and NES rom list.
A highly nostalgic and an extremely popular video game title, Road Rash has unforgettable kicks, slaps, chain shots and some undeniably hilarious moments!
This is another popular retro computer game developed by John Romero in 1988.
Dosbox and Wine are recommended for playing this game. You can get the exe file here. Make sure to set the path the game's location using the configuration file for Dosbox.
This used to be my childhood favourite. I used to play most of the time as Yokozuna as it felt kind of invincible and most of the attacking moves were pretty much hilarious! A whole lot of fun it used to be, from Undertaker's ghosts to Doink's electric shocks! I learned how to do the combo moves too further on. There was no stopping Yoko after that!
You can set up this game with the same method as the game "Dangerous Dave" discussed above. Get it here.
To play the original version, you can use an NES emulator as discussed in the beginning of this article. This list contains many NES games.
Contra is undoubtedly one of the most memorable action-arcade games for every passionate gamer. Contra is included in the NES games' list shared above. Contra III – The Alien Wars in the SNES list.
Mission Impossible can be run with the Nintendo 64 emulator called Mupen64 Plus. Get yours here. The ROM containing the game is here.
Remember the adventures of a gorilla called Donkey Kong? Well, you can try it on Linux with the JNES emulator. Included in the same NES list.
There is hardly anyone who doesn't know about Popeye the sailor man! Try it out on your Linux system with the VisualBoy Advance Emulator meant for Gameboy ROMs. Here's an Ubuntu version. The game is included in the comprehensive list of ROMs mentioned in the introduction.
This one is another NES classic from Konami. In the beginning it seems easy but gradually gets quite tough towards the end. Included in the mentioned list.
This will surely bring back some beautiful childhood memories. The legend of Kage is also another NES favourite from Taito Corporation.
This was definitely an adorable one(NES ROM).
That shiny little red car! Included in the NES ROM.
Quite a funny one if you crash! Included in the above mentioned NES ROM.
A nostalgic space adventure! Available in the NES ROM.
Relive as Judge Dredd, the law enforcement officer who always let justice prevail! Available in both the SNES and Gameboy lists.
Another memorable space adventure! Get it here. NES emulator required.
Hats off to nicoblog (discontinued) for preserving what would be called as the heritage of gaming in the far away future! Speaking of the future reminds me of the Back to the Future game (included in the listed NES ROM along with the sequels as well)!
Hope you will go ahead and relive some of those good old days.
As always, please leave your suggestions/feedback in the comments.