Pinebook Pro is an inexpensive Linux laptop with modest configuration and a price tag of just $200. You can now order this device.
Pine64 is a popular name among the single board computer enthusiasts. It gained its fame with its $15 PINE A 64 Raspberry Pi alternative device. Since then it has formed a substantial open source community around its products.
A couple of years ago, Pine64 launched a low-end Linux laptop called Pinebook. It was basically a single board computer inside a plastic laptop body. The experimental device cost just $89.
Pine64 has now improved the specification of this inexpensive Linux laptop with the launch of Pinebook Pro.
The new Pinebook Pro is capable of playing 4K videos and performs as a decent low-end desktop computer like Raspberry Pi 4. You can see a demo in this video:
Pinebook Pro specifications
Here's the specification for the Pinebook Pro:
64-Bit Dual-Core ARM 1.8GHz Cortex A72 and Quad-Core ARM 1.4GHz Cortex A53 CPU
Quad-Core MALI T-860 GPU
4 GB LPDDR4 Dual Channel System DRAM Memory
64 GB eMMC 5.0 Hard disk
WiFi 802.11AC
Bluetooth 5.0
One USB 3.0 and one USB 2.0 Type-A Host Ports
1 USB 3.0 Type-C ports with alt-mode display out and 15W 5V 3A charge.
1 MicroSD Card Slot
1 Headphone Jack and built-in Microphone
Full-Size Keyboard
Large Multi-Touch Touchpad
Lithium Polymer Battery (10000mAH)
14.1″ IPS LCD (1920 x 1080) display
2.0 Megapixels front camera
Dimension: 329mm x 220mm x 12mm (WxDxH)
Weight: 1.26 kg (2.78 lbs)
Pinebook Pro comes with a variety of Linux distributions with Debian being the default OS. Chromium OS and Android 9 are also available as an option.
Getting Pinebook Pro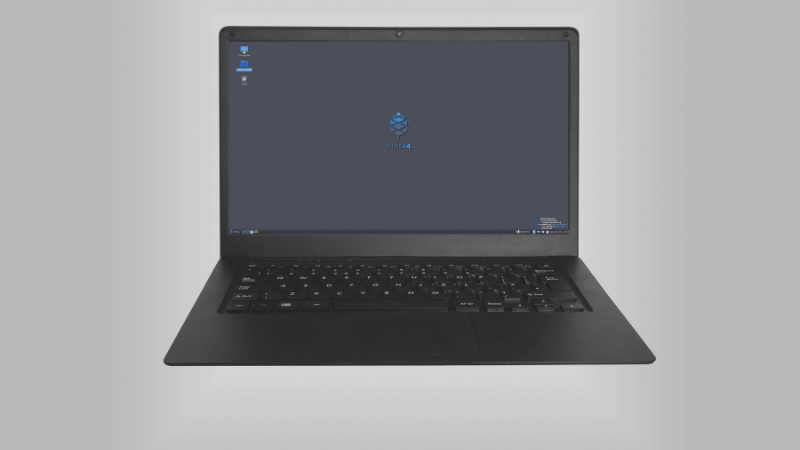 The Pinebook Pro costs $199.99 with additional shipping charges. Its maker Pine64 focuses mainly on single-board computers. Both Pinebook and Pinebook Pro are created simply as a community service. They claim to make no profit from it.
For this reason, there is a limited supply of these devices and they get out of stock pretty soon. So if you want to buy one, hurry up.
Note: You will have to pre-order before the Chinese New Year if you want to get your hands on it as soon as possible. In either case, you will have to wait till March 2020 at least for the next batch of pre-orders.
You also have an option to choose between an ISO (UK) or ANSI (US) keyboard layout from the PINE store.
Pine64 warns that there could be a few dead pixels on the screen but that are characteristics of LCD screens. So do keep this in mind if you are ordering one as this won't be counted as defect and refunds won't be initiated.
I believe Pinebook Pro is a decent entry level Linux laptop. The pricing is great. If only they could mass produce it and make it available to a large userbase worldwide.
What do you think of Pinebook Pro? Are you going to order one for yourself?