The open-source community produces a large amount of software for different uses.

Writers are no exception here. Let me highlight some of the best open-source tools to help authors be creative and productive.
Why Open-Source tools for Writers?
When we think of the software we use to write, most people think of programs written by big corporations, like Microsoft Word or Scrivener. These programs cost money and are built by large teams of programmers.
However, these companies and products could disappear and be unavailable at any time, leaving you stranded in between your work.
Moreover, the commercial/proprietary tools may have many features you do not need. Not to forget, they could also introduce changes that you never wanted.
Open-source programs are a little different. The vast majority are free. The code used to create them is freely available and provides transparency with privacy practices. And, it is here to stay with the help of the community forks, even if the developer quits.
Furthermore, the open-source options may not include as much bloat as the proprietary options. And they respect the user preferences more than anyone else.
All things considered, using open-source software has plenty of benefits. So, let us take a look at some of the best open-source tools for writers.
📋
The list is in no particular order of ranking.
1. Bibisco

Bibisco is an application designed to help you write stories, mainly novels, and where it shines is in character creation.
Bibisco asks you a series of questions about each character in your story. The questions help you create a solid idea of what your character looks like, their motives, and their background. It also has a place to store images that help you create a mental picture of your characters.
It also comes with an interesting analysis feature that allows you to see at a glance what characters and locations appeared in different chapters. Likewise, it includes a decent looking text editor that has basic formatting features.
Bibisco is released under GPL. It is available for Linux, Windows, and Mac. You can explore more about it on its official website or GitHub page.
2. LanguageTool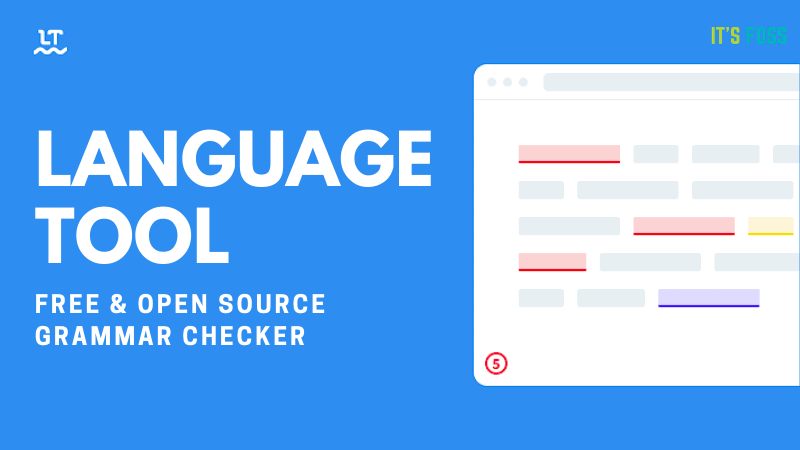 Are text editors enough to help you get a flawless writing experience?
If you want to avoid silly errors and make sure that your writing is as perfect as possible, you might want to try LanguageTool.
It is an open-source spell and grammar checker that can also work offline. It provides you with browser extensions, and add-ons for popular apps like Chrome, Firefox, Microsoft Word, LibreOffice, etc., and you also get a desktop app if needed.
You can refer to our LanguageTool review if you are keen on exploring more about it.
Suggested Read 📖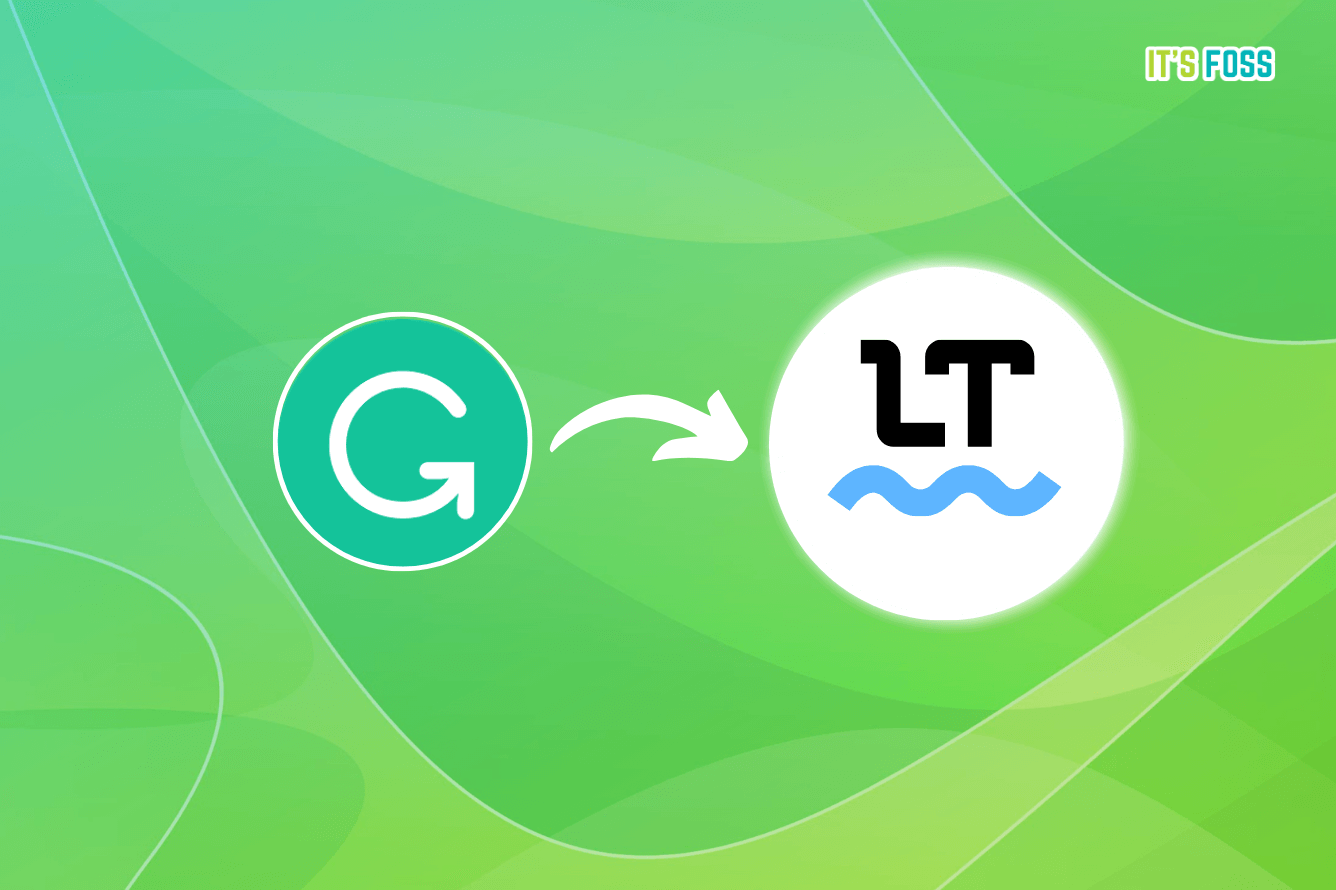 3. espanso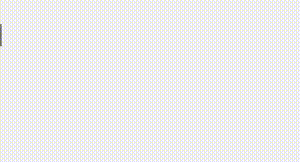 If you're looking to crunch more words quickly, you might want to use an open-source text expander tool like espanso.
It works offline, and you can create custom keywords to expand texts you use frequently. I am sure you can figure out ways to make the most out of it to speed up your writing tasks. It supports various extensions to enhance what you can do with it.
Moreover, I would suggest you refer to our article on espanso to learn how to set it up and get started.
4. GitBook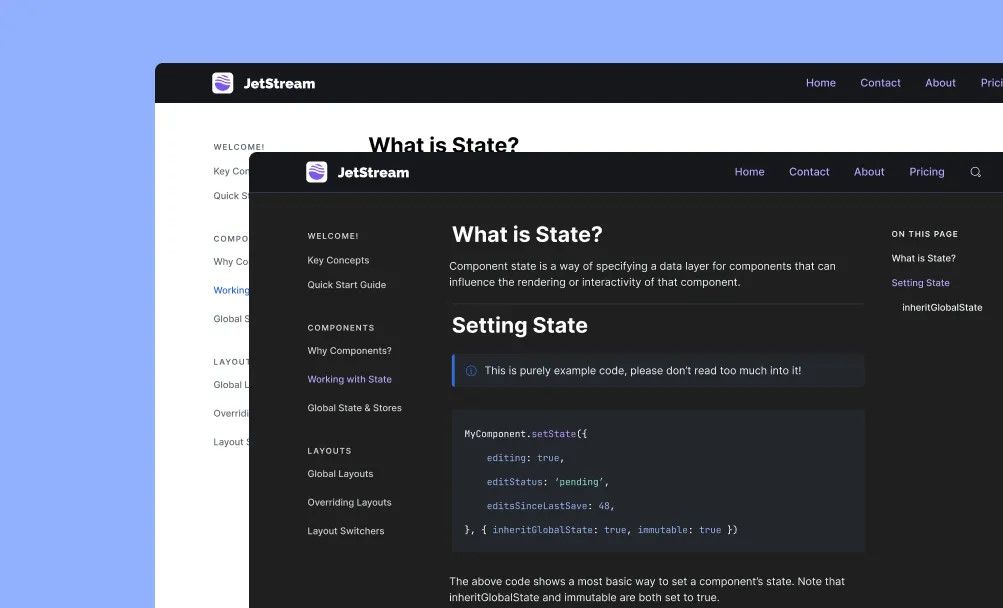 GitBook is a service mainly used for technical writing, but I don't see why it would not work for a fiction writer or someone else.
GitBook uses the git version control system to keep track of changes in the document you are writing. It also enables several users to collaborate on a book and import data from Canva, Figma, Google Docs, and more.
You can choose a free account or pay $8 per user monthly. You may not require the paid plans unless you have a team to collaborate with.
Not only that, but you can choose to create a public space or a private space, depending on how you want to provide access to the information you're working on. If it's private, only your team members or collaborators can access it (if any).
The GitBook Editor lets you edit/create pages online on the web browser without needing a separate desktop application. So, you can use it on most popular platforms such as Linux, Windows, or macOS.
5. STARC (KIT Scenarist Successor)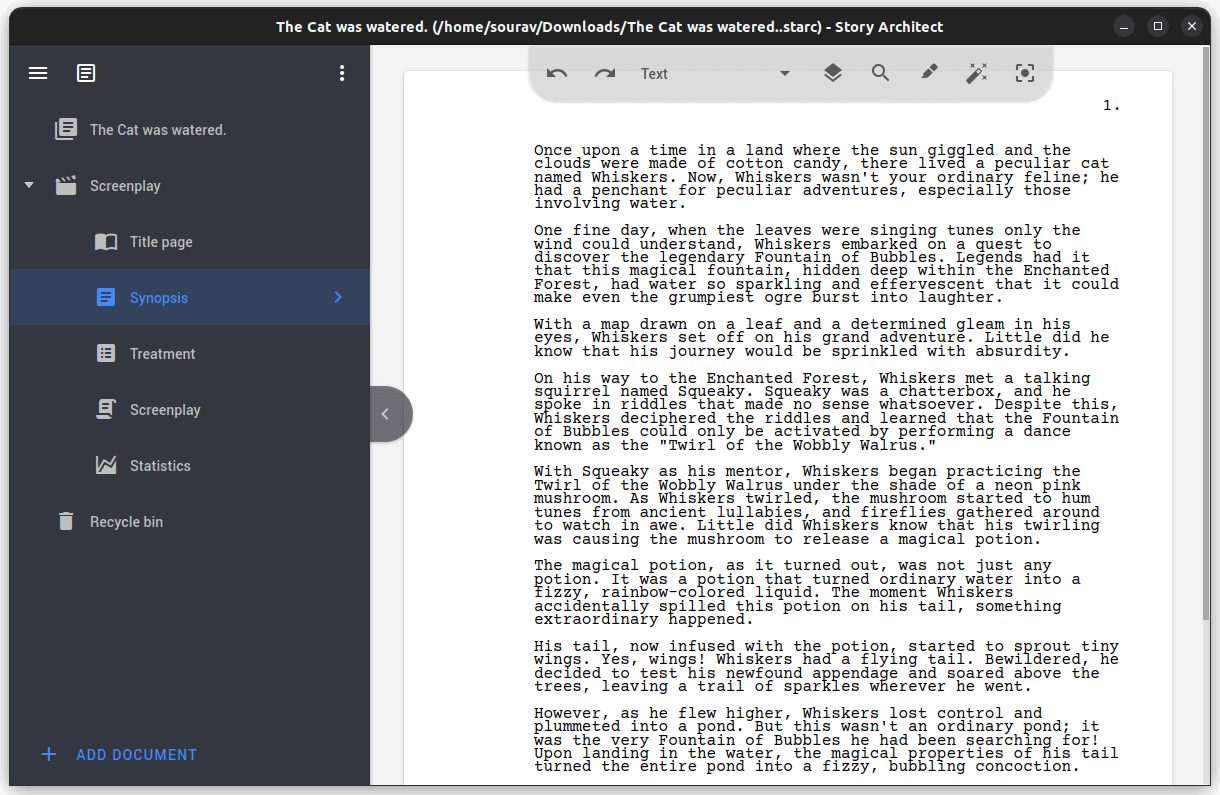 If you're into screenwriting (or scriptwriting), KIT Scenarist used to be the full-fledged solution for casual and professional use that one could opt for.
However, KIT Scenarist has since been replaced by STARC, short for "Story Architect".
STARC offers many features that include the ability to create/manage cards, get statistics about your project, and organize all your research materials to comfortably work on your script with an easy-to-use GUI (Graphical User Interface).
It is distributed under the "Open Core" model, with some parts of the source code being closed and distributed under a commercial license.
6. ghostwriter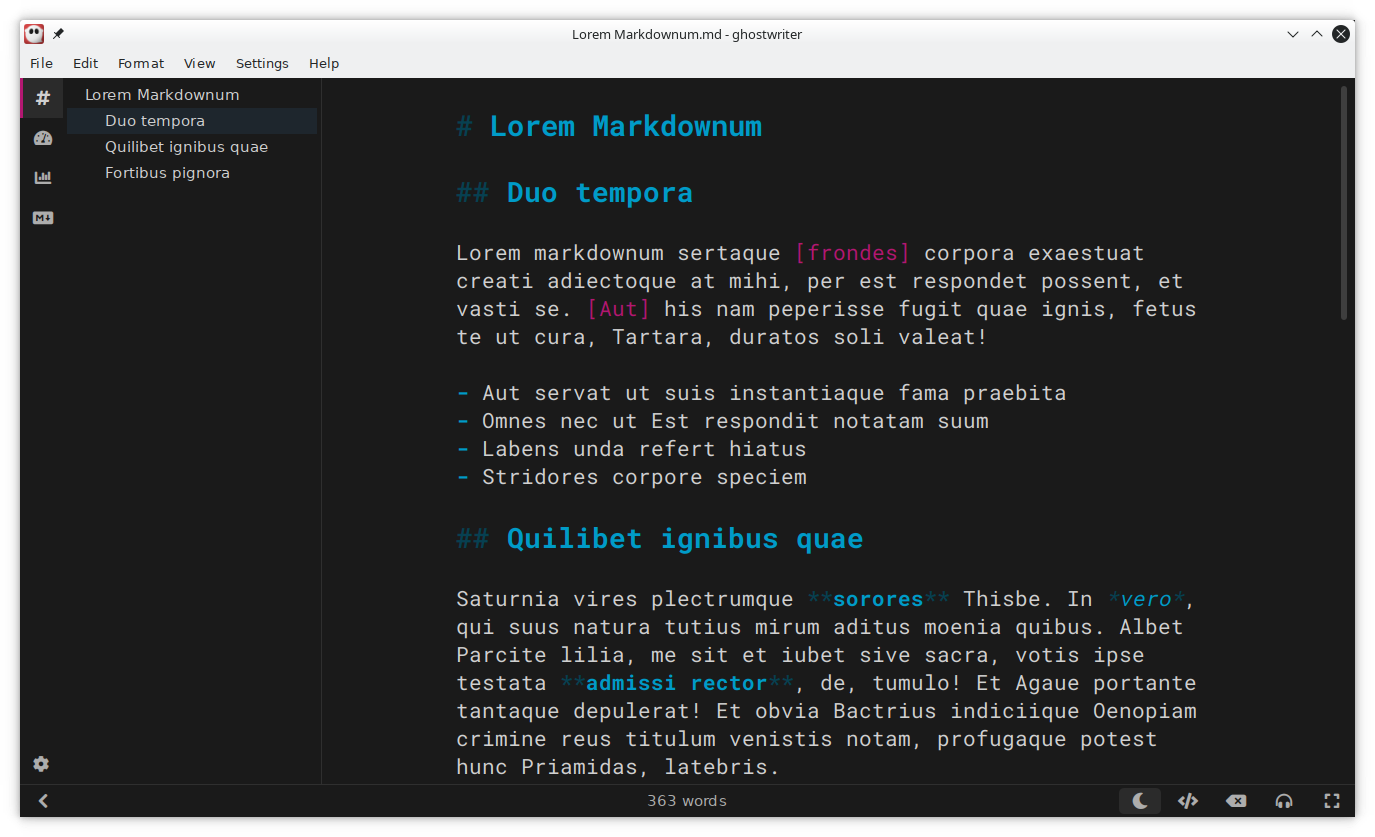 Ghostwriter is a personal favorite of mine. (I used to do all my writing in it). The project is now under KDE's umbrella. So, it can be an exciting option to use.
This application allows you to use the Markdown language to create documents. It is a distraction-free markdown editor by design. It can export to HTML, Word, ODT, PDF, EPUB, and more.
One nice feature that I like is that it will convert headings to chapters if you export to EPUB. It also provides different light and dark themes to help you get comfortable writing or editing.
Ghostwriter is licensed under GPL v3. It can run on Linux and Windows.
7. Scribus

Scribus is a free and open-source desktop publishing application. While it's not designed to help you write the next big novel, you can use Scribus for the layout or work on publishing a print-ready magazine.
It has support for powerful vector drawing tools, a huge number of file types via import/export filters, emulation of color blindness, and the rendering of markup languages like LaTeX or Lilypond.
Scribus can run on a wide variety of systems such as Linux, FreeBSD, PC-BSD, NetBSD, OpenBSD, Solaris, Windows and more. It is released under GPL.
8. Markdown

Markdown is more than a tool, it is a formatting syntax. This means that you can write your stories in a plain text editor and then convert it to any document format, or use it to convert text to HTML.
This is great because it prevents you from being locked into one program or file format only to see it die. To use Markdown, you typically need to use a text editor that supports Markdown.
You may refer to our list of the best Markdown editors for a head start.
Ghostwriter, as mentioned above, is one such useful editor for it. Markdown is released under a custom license.
9. AsciiDoc

AsciiDoc is yet another document formatting syntax. AsciiDoc has support for several options, such as footnotes, tables, cross-references, embedded YouTube videos, and more.
It can be used to create notes, documentation, articles, books, e-books, slideshows, web pages, man pages, and blogs.
AsciiDoc files can be converted to HTML, PDF, EPUB, and man pages. It is released under GPL v2.
AsciiDocFX is a useful editor that supports AsciiDoc. In either case, you might refer to one of our existing guides on getting started with AsciiDoc.
10. Manuskript

Manuskript is another novel creation tool. This application focuses on outlining, and by looking at the detailed outline tool, you can see each chapter's stage and the characters involved. You can also easily rearrange chapters. It uses the snowflake method to help you build your novel.
Manuskript includes a frequency analyzer to see which words or phrases you repeat and how often. It also includes a distraction-free writing mode and is released under GPL v3.
Even though it has been in development for a while, it is still in its early stages. So, you can expect a few hiccups your way. It worked fine in my case, but you should keep that in mind and go through its GitHub page if needed.
It is available for Linux, Windows, and Mac.
11. LaTeX

LaTeX is a human-readable document preparation system. While this system was created for scientific papers, it can be used to create beautifully formatted books.
You use a series of markup cues to set the structure of your document and also add citations and cross-references. The end product can be converted into several file formats.
There are many LaTeX editors for Linux and other platforms that you can use. Just to test LaTeX, I suggest you give Lyx a spin.
LaTeX is released under the LaTeX Project Public License.
12. novelWriter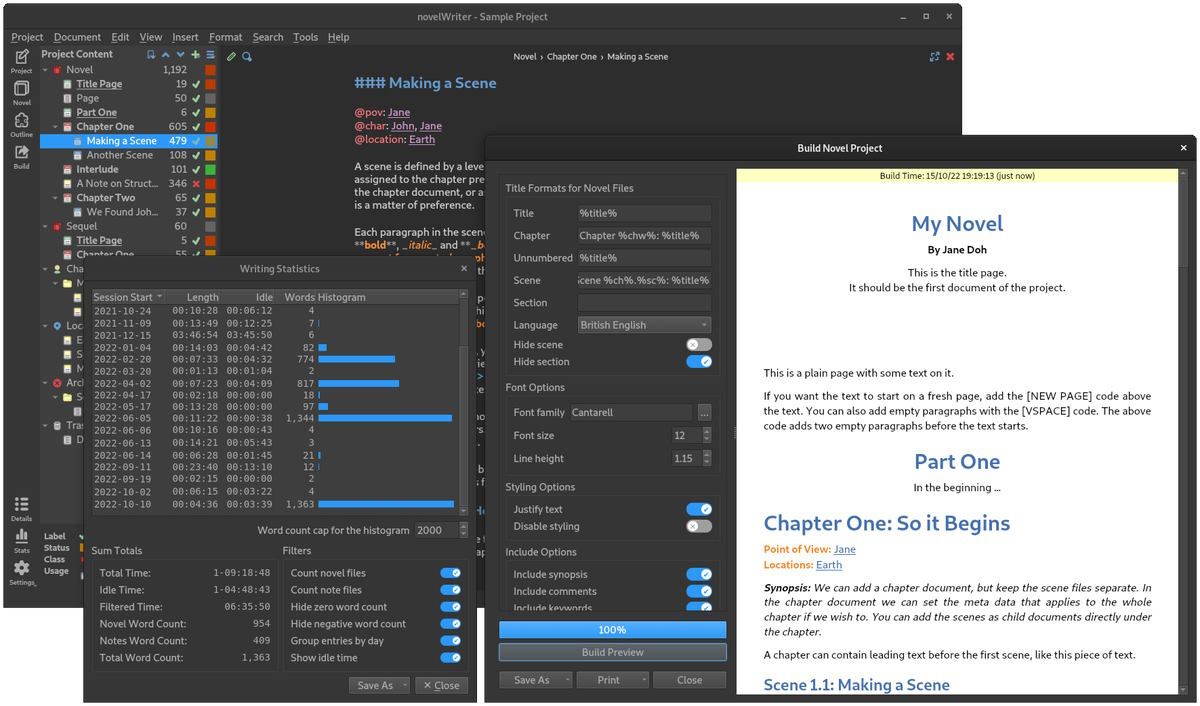 novelWriter is a markdown-like text editor specially crafted to help you write novels and work with larger projects.
You get a wide range of features to organize what you write, export them, use focus mode, enable dark theme, and many other useful things.
It supports Linux, Windows, and macOS. To explore more, head over to its GitHub page.
Honorable Mentions that have been Discontinued
Continue the Discussion
If you're curious, you should also read how to create ebooks in Linux with Calibre.
💬 Have you ever used one of the tools on this list? What is your favorite open-source tool as a writer? Please let us know in the comments below.
Also, if you found this article interesting, please take a minute to share it with fellow writers and authors!