Simplicity is a feature. Perhaps this is the motto for the note taking application, Notes.
Notes is a free and open source note taking app with a clean interface. Its looks are clearly inspired from Mac OS X's Notes application.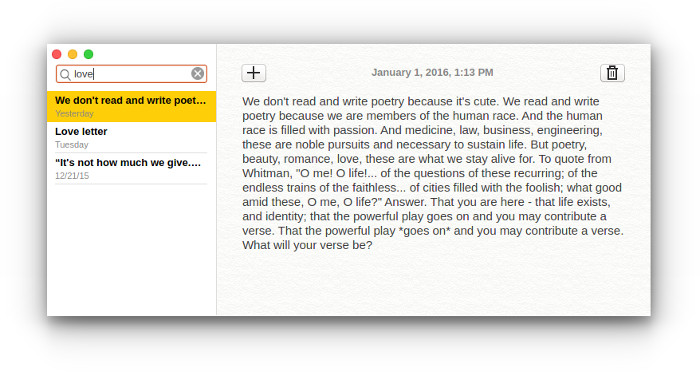 It is designed to quickly scribble thoughts. In one window, you can see all your saved notes and quickly access them. I won't call it Evernote for Linux, but it is pretty decent note taking app for Linux.
The search feature is powerful. You can search among the contents of saved notes. This small, lightweight app also supports all popular shortcuts such as Ctrl+S for save and Ctrl+N for a new note. There is also an auto-save feature.
If you have ever used the good old Tomboy, you might like Notes as well.
Features of Notes
To quickly summarize its features:
Free and open source
Clean interface
Cross platform app available for Linux, Mac OS X and Windows
Fast and lightweight
Fast search
Keyboard shortcuts
Auto save enabled
Shortcomings
Notes is not an Evernote alternative for Linux. It doesn't intend to be as featureful as Evernote, not at present, at least. It's a simple app to jot down quick notes and it does it pretty well.
But, there is one big problem with it. You see, it is cross platform but it doesn't have a smartphone app. Personally, I like my notes to be accessible all the time, everywhere. A companion mobile app would be appreciated.
Also, there is no synchronization option. Your notes are saved locally. It would have been useful if cloud integration was included, like what Papyrus notes manager do.
Install Notes in Linux
Notes has binaries available for Ubuntu, Fedora and OpenSUSE distributions. You can download the binaries from the link below:
You can also download the source code or contribute to the project on GitHub:
If you try Notes, do share your experience with it in the comment section.