Ubuntu 15.04 Vivid Vervet was a short term release. This release reached its end of life in July 2016. You MUST NOT use Ubuntu 15.04 anymore.
Ubuntu 15.04 is releasing tomorrow on 23 April. Wondering what's new in Ubuntu 15.04? Here, I have compiled a list of new features in Ubuntu 15.04.
I did the upgrade from Ubuntu 14.10 to Ubuntu 15.04 few days back and have been using it since. I must say there are not many new features in 15.04, specially in terms of 'looks'. Things remain mostly the same considering that Canonical has been focusing on Ubuntu Phone lately. But it doesn't mean there is no difference between Ubuntu 15.04 and its predecessors.
New features introduced in Ubuntu 15.04
Before you see what's new in Ubuntu 15.04, let me tell you about (perhaps) the biggest feature which is NOT there in Ubuntu 15.04. Contrary to the anticipations, Unity 7 is still the default desktop environment in Ubuntu 15.04. More touch friendly Unity 8 is still not arrived in 15.04. Unity 8 was supposed to be coming with Ubuntu 15.04, as guessed by many, but alas! it will be few more months before we can get our hands on it.
Now when you know you are not getting Unity 8, let's see what new features we will have in Ubuntu 15.04.
Ubuntu introduces its own web browser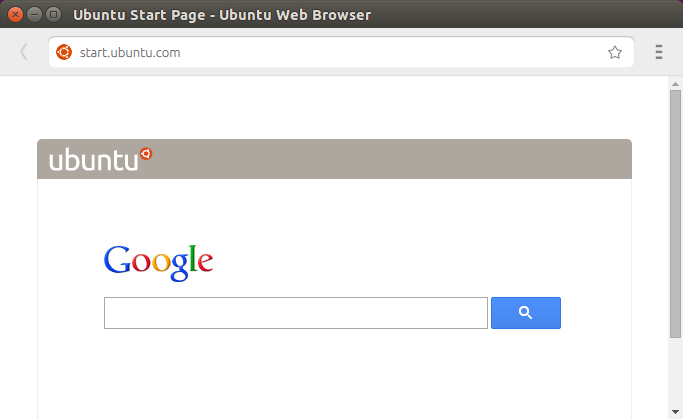 Though Mozilla Firefox is still the default web browser in Ubuntu 15.04, the latest release introduces Ubuntu's very own web browser. If you are using Ubuntu Phone, you might be familiar with Ubuntu web browser. But this is the first time that it has been ported to the desktop version. For the time being, there is no synchronization between the mobile and the web version but I guess that it could be a feature in near future.
systemd is replacing Upstart
Yes! systemd is replacing Upstart in Ubuntu 15.04 and no matter what your feeling is about systemd, you'll have to live with it. systemd is going to be there on the desktop, server and cloud version of Ubuntu except Ubuntu Touch.
Linux kernel
Ubuntu 15.04 will not be using the latest stable Linux kernel 4.0 (codenamed 'hurr durr i'ma sheep'). Don't be disappointed as it will be using Linux kernel 3.19.3 which has better graphics support.
GTK 3.14 support
Ubuntu 15.04 brings GTK 3.14 supports. Which means you can install various newly developed applications such as Vocal in Ubuntu without using a staging PPA (used as a workaround in earlier versions).
More development tools
With Ubuntu 15.04, Ubuntu Development Center has been transformed into Ubuntu Make. For developers of mobile apps, web applications and games, it provides support for 14 new platforms including Android NDK, Android Studio, IDEA (ultimate and community editions), pycharm (professional, educational and community editions), webstorm, rubymine, phpstorm, eclipse, Stencyl game development platform.
'Snappy' Ubuntu Core
Not exactly a feature but still worth mentioning. Internet of Things is the latest fad in the technological world and Ubuntu developed 'Snappy' Ubuntu Core keeping that in mind. It is
..the smallest and most secure edition of Ubuntu. It is a super-lean, transactionally updated version of Ubuntu, perfect for inventors, technologists and the active and growing Ubuntu developer community, for cloud container hosts and smart, connected devices. It powers drones, robots, network switches, mobile base stations, industrial gateways, and IoT home hubs.
Ubuntu 15.04 brings the first stable version of 'Snappy' Ubuntu Core.
Local menus are back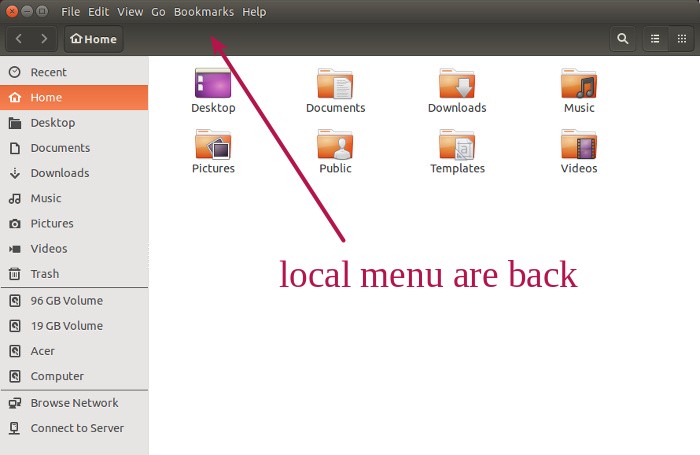 Local menus are coming back as default in Ubuntu 15.04. It's not that you could enable local menu in Ubuntu 14.04 but it was not enabled by default. It also means that global menu won't be enabled by default in 15.04. You can enable the global menu in System Settings -> Appearance -> Behaviour tab -> 'In the menu bar' option.
Files (Nautilus) 3.14 brings couple of new features
15.04 also has the latest version 3.14 of Files (previously known as Nautilus) file manager. You can notice a minor change in the look in the left sidebar where mounted drivers are segregated in a cleaner way: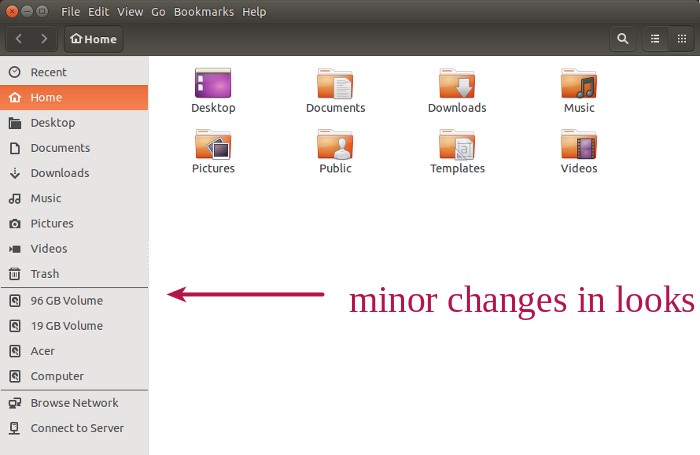 The new version of Files also has the option of Open in Terminal option in the right click menu.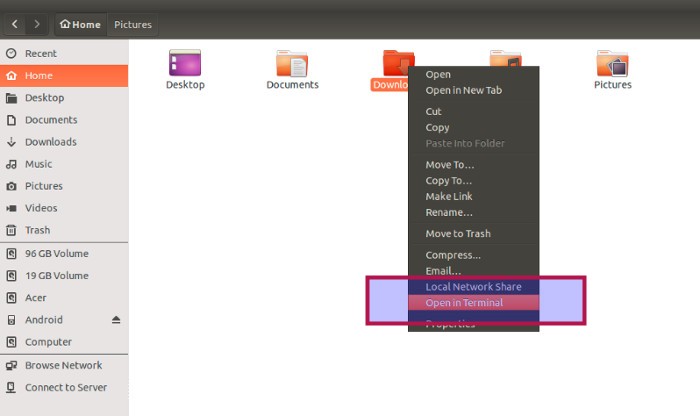 Option to save WiFi password
Another minor change you might notice is that Ubuntu 15.04 provides you option to save the WiFi password either for the current user or for all the users. A very minor change but might be useful for some.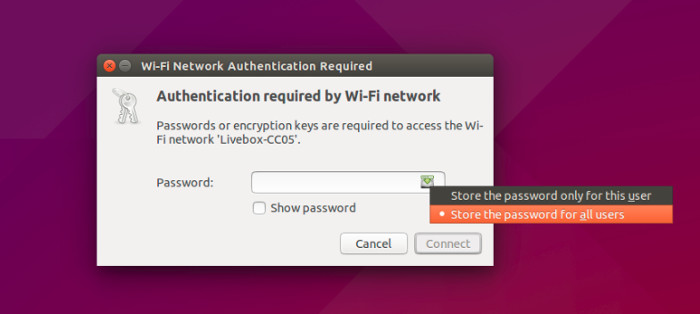 Updated applications
Needless to mention that Ubuntu 15.04 has updated versions of most of the applications such as LibreOffice, Totem etc.
This is more or less the changes you'll notice in Ubuntu 15.04. What do you think of Ubuntu 15.04 features? Are these good enough to make you switch to it?