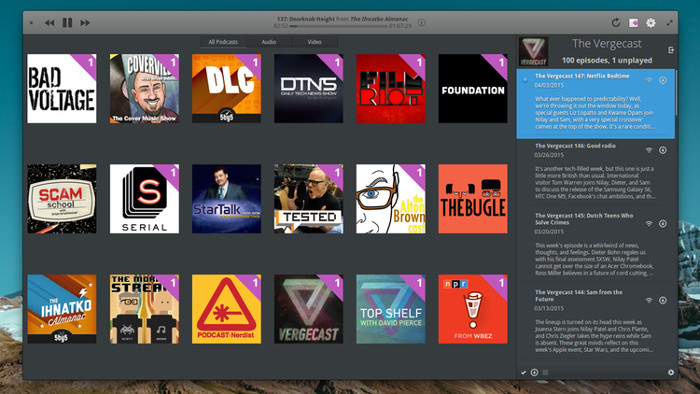 Rejoice podcast fans! A dedicated podcast app Vocal for Linux has just reached its first stable version. Vocal is a podcast app designed specifically for elementary OS Freya and available for all other Linux distributions. It has a UI which resembles Popcorn Time which is a good thing to navigate and easy browse through available content.
Now if you wonder why do one needs to have a dedicated podcast app when all major music player already handle podcast, I suggest that dedicated apps for specific needs are very important for a health desktop experience. One needs not to be overwhelmed by the abundance of features when only certain elements are required. For example, if you need to concentrate or relax, a tiny Ambient Noise music player can be more useful than a full-fledged music player.
If you like listening to podcasts and you love Linux, you should take a look at this list of
best Linux podcasts
.
Features of podcast app Vocal
Main features of Vocal can be summarized as following:
Audio and video podcast support
Streaming as well as offline support
Automatic download of new episodes to keep your library updated
Desktop integration to provide you with desktop notification, system media key and sound menu integration
Import existing podcast library from iTunes, gPodder and other podcast clients. Similarly, export podcast to other clients
Plays from where you left it the last time
Smart library management to show you the freshest content
Install Vocal in elementary OS, Ubuntu and Linux Mint
Please note that Vocal won't work in Ubuntu 14.04. But it should work in Ubuntu 14.10, Linux Mint 17.1. Since it's been designed specifically for elementary OS Freya, needless to say that it will work without issues in elementary OS Freya.
There is an official PPA that you can use to install Vocal. Open a terminal and use the following commands:
sudo apt-add-repository ppa:nathandyer/vocal-stable
sudo apt-get update
sudo apt-get install vocal
If you want installation files, you can download the .deb files from the links below:
Download .deb installer for Vocal
How do you find it?
Did you try Vocal already? How is your experience with it? What do you think of dedicated apps focusing on specific needs? Is it a good idea or app developers should focus on issues which have not been addressed at all? Do share your views.