MX Linux 18 has been one of my top recommendations for the best Linux distributions, specially when considering distros other than Ubuntu.
It is based on Debian 9.6 'Stretch' – which was incredibly a fast and smooth experience.
Now, as a major upgrade to that, MX Linux 19 brings a lot of major improvements and changes. Here, we shall take a look at the key highlights.
New features in MX Linux 19
Debian 10 'Buster'
This deserves a separate mention as Debian 10 is indeed a major upgrade from Debian 9.6 'Stretch' on which MX Linux 18 was based on.
In case you're curious about what has changed with Debian 10 Buster, we suggest to check out our article on the new features of Debian 10 Buster.
Xfce Desktop 4.14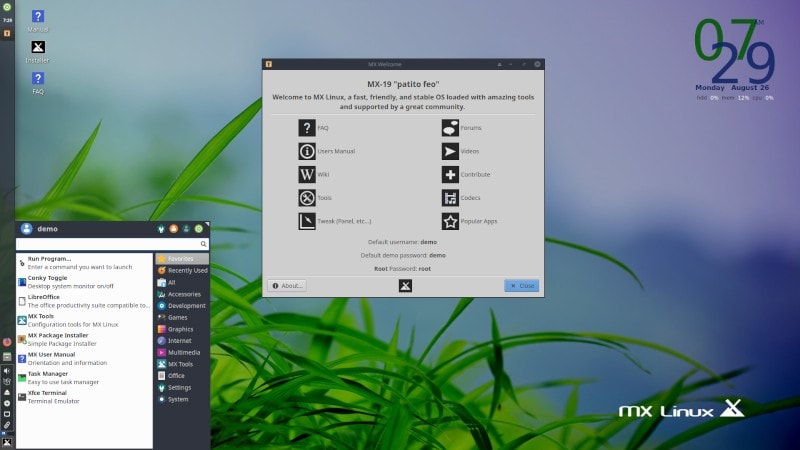 Xfce 4.14 happens to be the latest offering from Xfce development team. Personally, I'm not a fan of Xfce desktop environment but it screams fast performance when you get to use it on a Linux distro (especially on MX Linux 19).
Interestingly, we also have a quick guide to help you customize Xfce on your system.
Updated Packages & Latest Debian Kernel 4.19
Along with updated packages for GIMP, MESA, Firefox, and so on – it also comes baked in with the latest kernel 4.19 available for Debian Buster.
Updated MX-Apps
If you've used MX Linux before, you might be knowing that it comes pre-installed with useful MX-Apps that help you get more things done quickly.
The apps like MX-installer and MX-packageinstaller have significantly improved.
In addition to these two, all other MX-tools have been updated here and there to fix bugs, add new translations (or simply to improve the user experience).
Other Improvements
Considering it a major upgrade, there's obviously a lot of under-the-hood changes than highlighted (including the latest antiX live system updates).
You can check out more details on their official announcement post. You may also watch this video from the developers explaining all the new stuff in MX Linux 19:
Getting MX Linux 19
Even if you are using MX Linux 18 versions right now, you cannot upgrade to MX Linux 19. You need to go for a clean install like everyone else.
You can download MX Linux 19 from this page:
Wrapping Up
With MX Linux 18, I had a problem using my WiFi adapter due to a driver issue which I resolved through the forum, it seems that it still hasn't been fixed with MX Linux 19. So, you might want to take a look at my forum post if you face the same issue after installing MX Linux 19.
If you've been using MX Linux 18, this definitely seems to be an impressive upgrade.
Have you tried it yet? What are your thoughts on the new MX Linux 19 release? Let me know what you think in the comments below.