Microsoft has shocked the entire tech world by announcing a new Linux OS ahead of Windows 10 release.
Few months back when Microsoft CEO Satya Nadella said that Microsoft loves Linux, it created quite a stir. But no one could have guessed that Microsoft's love interest in Linux will go to the extent of announcing its own Linux distribution.
Speaking at Microsoft Ignite event in Chicago, Nadella unveiled the plan for entering in to desktop Linux world. The new Linux OS has been named as "Miux" (pronounced as mix), which is quite evidently a mix of Microsoft and Linux. Nadella threw lights on the purpose of Miux and termed it an "experiment":
"…this should not come as a surprise. Microsoft has always been one of the biggest contributor to Linux kernel. At Microsoft, we are trying to get rid of viruses and malware in Windows OS while Linux is struggling to get a decent share of desktop market share. I think this experiment will be a win-win for both Microsoft and Linux. Windows 10 has already taken several features from Linux, so we decided that it is time to move to next level and have a Linux distribution of own…"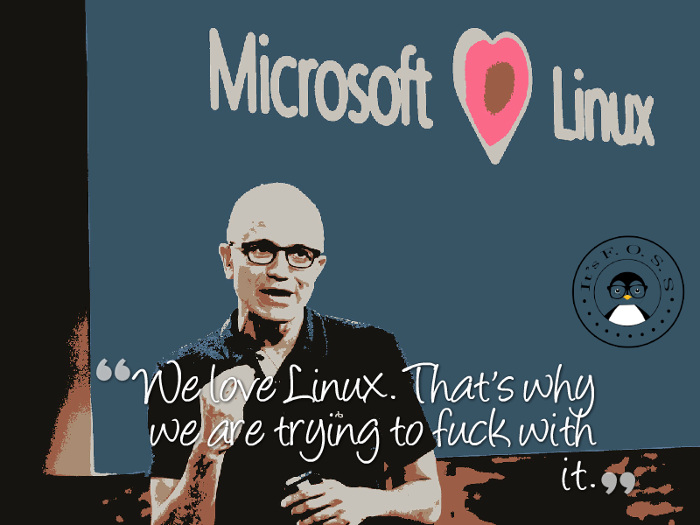 Miux features
Miux will have a new desktop environment which will make its look as close to Windows 10 as possible. It is supposed to work seamless with Windows mobile OS. In other important features, Miux will not hold you up while installing and configuring the updates at each start or shutdown. It will not have either of IE 11 or Spartan as default browser, instead Microsoft is working on a new web browser named Asterix for Miux.
Miux will cost 50% less than the usual Windows 10 price for individuals while it's enterprise version will have a yearly subscription which can be bought on per user basis.
Know more about Microsoft's Linux OS