I know Ubuntu 18.04 was released a few months ago but it's never too late to explore various official Ubuntu flavors. Earlier we reviewed Ubuntu 18.04 Budgie and Kubuntu 18.04 and today, we will take a look at the latest Long-Term Support (LTS) release of Lubuntu: Lubuntu 18.04.
Lubuntu 18.04 Review: Still the savior of older computers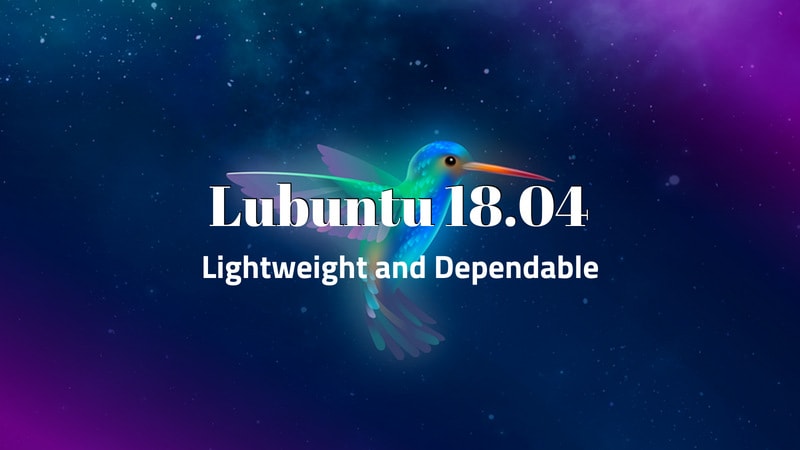 Lubuntu is one of many official flavors of Ubuntu. Lubuntu uses LXDE (Lightweight X11 Desktop Environment), which is designed to be light on resources. This flavor is often used to resurrect old PCs because of the low system requirements.
Lubuntu can be installed on a Pentium II or Celeron system with 256MB – 384MB of RAM but 512MB is the recommended RAM.
Included Applications in Lubuntu 18.04
The following applications are included in Lubuntu:
Abiword word processor
Audacious music player
Evince PDF reader
Firefox
GDebi – package installer
GNOME Software
Gnumeric
Guvcview
Htop
MPlayer player
MTPaint
PCManFM file manager
Pidgin
Sylpheed
Synaptic package managers
Transmission BitTorrent client
Startup Disk Creator
Wget
XChat
Xfburn
Xpad
Installation
My installation of Lubuntu 18.04 went smoothly, as would be expected of any Ubuntu-based system. It was exactly the same as my previous experiences, except for the new option to select a normal or minimal install. (Lubuntu doesn't come with a lot of extra software, so it would be interesting what would be left out in the minimal install.) All updates and extra multimedia codecs were installed at the same time as the system installation, so everything was ready to go upon reboot.
[irp posts="15088″ name="9 Lightweight Linux Applications to Speed Up Your System"]
Experience
When I first started using Linux six years ago, Lubuntu was one of the first distros I ever tried. Looking at the 18.04 release, it doesn't look like much has changed in the meantime.
The Lubuntu desktop has the same layout that everyone had been familiar with since Windows 95. There is a taskbar at the bottom of the screen with a menu on the left end and a system tray on the right end. The majority of the screen is free for a user to fill with hundreds of application icons or a witty wallpaper.
The one major differences between my installation of Lubuntu six years ago and 18.04 is the loss of the Lubuntu Software Center. Back then, the team behind Lubuntu had created their own software center to replace the buggy and slow Ubuntu Software Center. I liked the Lubuntu Software Center because it was fast and simple to use. I'm sad to see that it had been replaced by Gnome Software. According to its Launchpad page Lubuntu Software Center is no longer being maintained. In fact, it was last updated in 2015. Thankfully, Gnome Software doesn't seem to be hard on resources.
The only "problem" that I ran into was when I inserted an audio disk into my laptop, two icons appear on the screen. Certainly, a system breaking bug.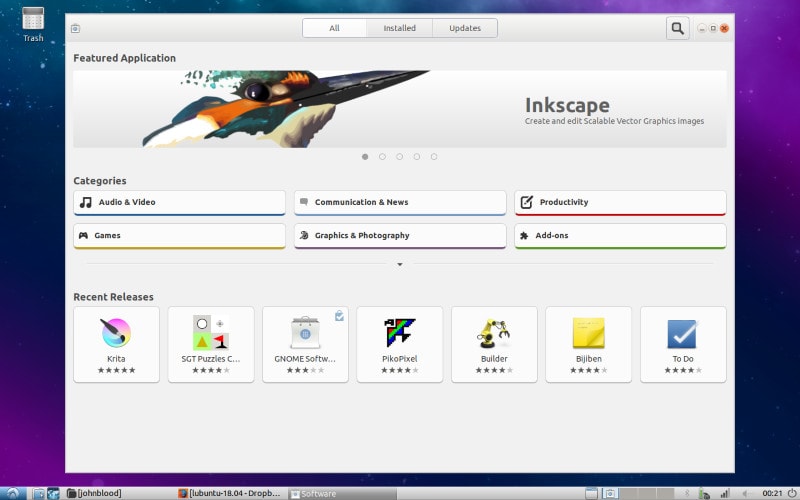 Future of Lubuntu is LXQt
Back in 2013, the team behind LXDE started to work on the next version of the project. LXDE is based on GTK+ 2. The team lead decided that instead of trying to upgrade to GTK+ 3, the next version would be based on Qt. Later that year, the LXDE and Razor-qt teams merged to created LXQt.
The Lubuntu team has been watching the LXQt project progress while sticking with LXDE. However, that has all changed. The Lubuntu lead dev, Simon Quigley, announced that the next release of Lubuntu (18.10) would have LXQt 0.13.0 as it's default desktop. This would make Lubuntu the first distro to adopt LXQt as its default desktop environment.

Final Thoughts on Lubuntu 18.04
I stated earlier that 18.04 looks pretty much the same compared to when I first installed it. This is not a bad thing. Lubuntu is not designed to be flashy or to have the latest cutting-edge features. It is designed to use few resources and run well on a wide variety of computers. It does that very well. You could set anyone who ever used Windows in front of a Lubuntu box and they would be good to go. I would certainly recommend it for beginners and older computers
One thing that was confusing when I was researching this article was the existence of more than one site for Lubuntu. When I searched for Lubuntu, one of the first search result entries was for lubuntu.net. I thought it was the project's official website. Then, I was surfing through Lubuntu's Wikipedia entry. It listed lubuntu.me as the official site. Both look very official. It's only after you dig that you discover that lubuntu.net was created by "Free and Open Source contributors from Asia, Linux Fans and the Lubuntu Meilix community". It's essentially a fan site. They had better let people know that they are not the official site before they get in trouble with someone.
Have you ever used Lubuntu? What is your favorite Ubuntu flavor? Please let us know in the comments below.
If you found this article interesting, please take a minute to share it on social media.