Linus Torvalds has announced the release of Linux Kernel 5.0.
Don't get too excited thinking it's a major new release because it's called 5.0 instead of 4.22.
It's just that the major bump in the version number gives the impression that there might be a huge number of major new changes but that's not the case here.
I'd like to point out (yet again) that we don't do feature-based releases, and that "5.0" doesn't mean anything more than that the 4.x numbers started getting big enough that I ran out of fingers and toes.

Linus Torvalds
Of course, it doesn't mean Kernel 5.0 doesn't have new features. In fact, the "overall changes for all of the 5.0 release are much bigger."
New features in Linux Kernel 5.0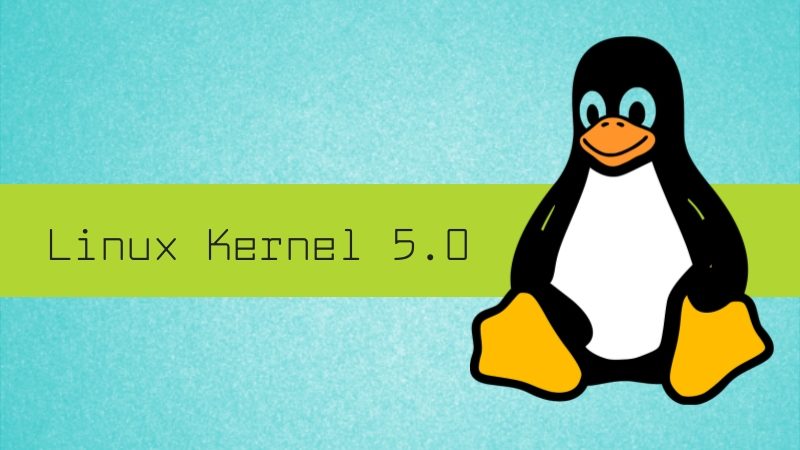 Here are some of the major new changes in Kernel 5.0:
AMD Radeon FreeSync support
Support for a new VegaM
NVIDIA Xavier display support
Continued work on Intel Icelake Gen11 graphics
Initial support for the NXP i.MX8 SoCs
Support for the Allwinner T3, Qualcomm QCS404, and NXP Layerscape LX2160A
Intel VT-d Scalable Mode support for Scalable I/O Virtualization
New Intel Stratix 10 FPGA drivers
Fixes for F2FS, EXT4 and XFS
Btrfs file-system restores support for swap files
Fscrypt Adiantum support for helping with fast data encryption on low-end hardware. This replaces the infamous Speck algorithm by NSA.
Realtek R8169 driver improvements
Logitech High Resolution Scrolling support
Raspberry Pi Touchscreen driver
x86 laptop drivers improvement
Thunderbolt security enhancement
Support for the Chameleon96 Intel FPGA board
Improved power management
If you want to know more, you can refer to this excellent compilation of Kernel 5.0 features by Phoronix.
Getting Linux Kernel 5.0
Some rolling release distributions like Arch Linux will start to provide Kernel 5.0 in a few days (or hours perhaps). Check your Linux kernel version and see if it's already updated to the new kernel with the last system update.
But most other distributions like Ubuntu, Linux Mint, Fedora, Debian etc won't provide this release anytime soon (or ever).
If you are an average desktop user, don't go after chasing Linux kernels unless you have a strong reason to install it manually. For example, if the new kernel provides a crucial update for certain hardware you use. Otherwise, don't try to upgrade kernels manually because it's a risky business.
If you really want to use the new kernel, you may try Ukuu. It's a GUI tool that lets you easily install other kernel versions. The older versions of the tool are still free and open source but you need to buy licenses for the newer version, unfortunately.
This article was originally published earlier and anticipated Kernel 5.0 release in summer'18. Linux Kernel 5.0 was actually supposed to be released after 4.19. But apparently, a few people really liked to see the Linux Kernel 4.20 purely for the number 4.20. Pun intended.