Have a Merry Christmas or other holiday of your choice.

Linus Torvalds
Christmas comes early. Linus Torvalds plays Santa and releases Kernel 4.20 just before Christmas. Torvalds sees no point in delaying the 4.20 release because everybody is already taking a break
I encouraged people to get it over and done with, so that people can just relax over the year-end holidays.
How thoughtful of Linus Torvalds! Let's see the high points of this 'special' release.
In case you didn't know, in popular culture, the terms 420, 4:20 4/20 are related to the consumption of cannabis. You'll see a lot of 'weed jokes' around this number.
New features in Linux Kernel 4.20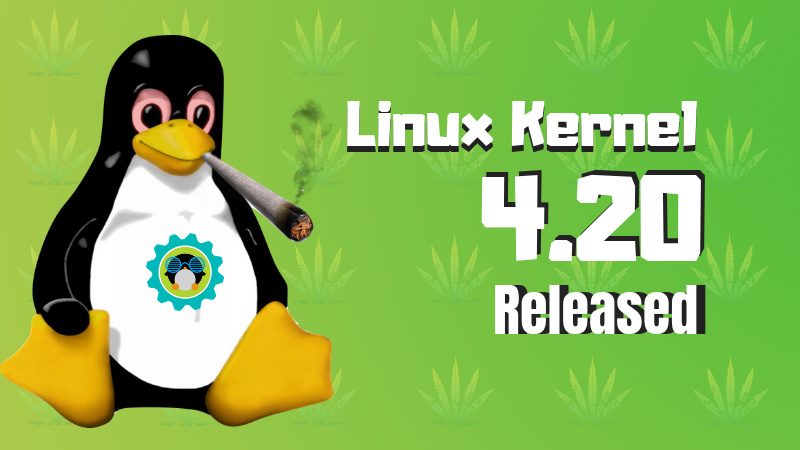 Here are the major new features added by the 350,000 new lines of code in the Linux kernel 4.20. As you can see the changes are mainly around improving support for Graphics, CPUs and other hardware.
The release also removes the controversial Speck algorithm.
AMD Picasso & Raven 2 APU support.
The AMD Vega 20 7nm workstation GPU support is ready for the graphics card release.
VCN JPEG acceleration for Raven Ridge APUs in conjunction with Mesa 18.3 user-space code.
GPUVM performance improvements for the AMDGPU kernel driver.
Continued work on the Intel Icelake "Gen 11" graphics support.
Full PPGTT support for Haswell/Ivy/Valley View hardware.
Initial HDMI 2.0 support for the open source NVIDIA Nouveau driver and initial display support for NVIDIA Xavier "Tegra194" SoC.
Virtual KMS (VKMS) has the initial cursor and GEM support.
Qualcomm Snapdragon 835 SoC support.
Linux x86/x86_64 optimizations.
Early work on AMD Zen 2 CPU enablement
Many other DRM changes.
Removes NSA's Speck crypto algorithm from the Kernel.
Continued fixings for the Year 2038 problem
USB drivers updates
You can see the detailed list of Linux Kernel 4.20 features at Phoronix.
Getting Linux Kernel 4.20
If you are a regular/average Linux user, you should not try to manually install a new kernel. No matter how tempting Kernel 4.20 smell like, you don't want your system stoned by attempting a manual kernel upgrade.
There are ways to easily upgrade kernel in Ubuntu based distributions though I'll still highly recommend sticking with the kernel provided by your distribution.
For users of rolling release distributions like Arch Linux, kernel 4.20 should be available soon.
For the rest of the advanced Linux users, Kernel 4.20 is not a long term support release. So make your choice wisely about upgrading to kernel 4.20.