No matter whether you prefer keeping things in the cloud, it is what we all rely on in some way.
Whether you store documents or sync pictures or videos, cloud storage services make it convenient to back up data. You do not need to maintain your NAS setup or acquire technical knowledge to set up an offline backup server for your storage needs.
Unfortunately, popular cloud storage services like Google Drive and OneDrive still do not provide a Linux native desktop client. So, how can you sync your files from your Linux computer?
Insync is a premium GUI program that allows you to seamlessly use Google Drive, OneDrive, and Dropbox on Linux (and Windows/macOS).
🚧
Insync is a proprietary program but rather a popular one for Linux. Hence, we cover it here. This is not an endorsement or a sponsored post, we only share our experience with it.
Insyc and Linux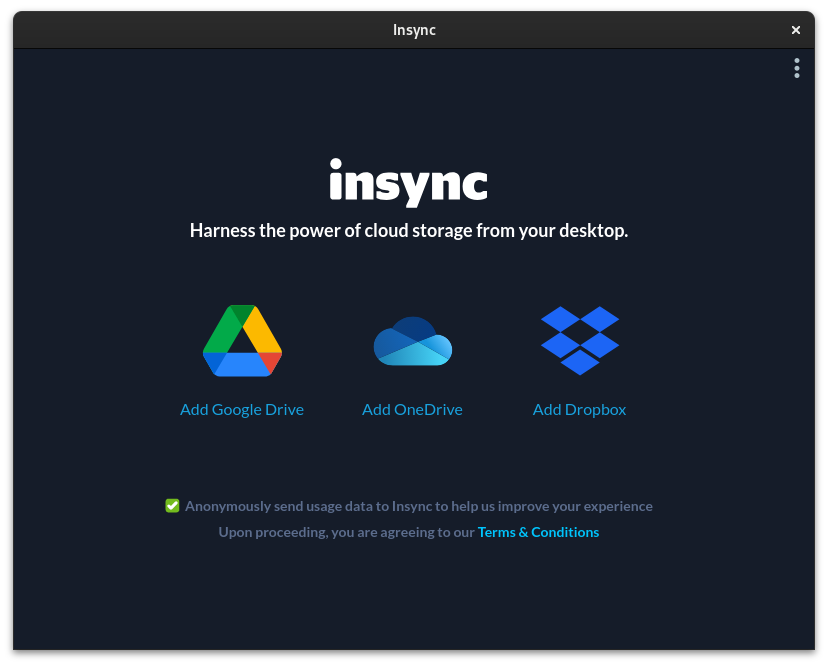 Insync is not just another cloud sync tool for Linux.
Insync is one among the first to provide a hassle-free way to sync your files from a Linux computer to Google Drive, OneDrive, and Dropbox.
Personally, I find it a very convenient option. Users who have used it before may agree as well.
Here's what the feature set looks like:
Cross-platform support (Linux, Windows, and macOS)
Ability to add multiple Google Drive/OneDrive accounts
Selective sync (local and cloud)
Two-way sync and one-way sync support
Merge folder
Docs conversion (for Google Drive users)
Add rules to exclude certain files and folders
Getting Started With Insync on Linux
To get started with Insync for Linux, you need to download the compatible package for your distro from its official website.
You get official support for Ubuntu, Debian, Linux Mint, and Fedora. So, you should be fine installing Insync on any Debian-based or Ubuntu-based distros among others.
Once you download the package, install the deb file or install the rpm package as applicable.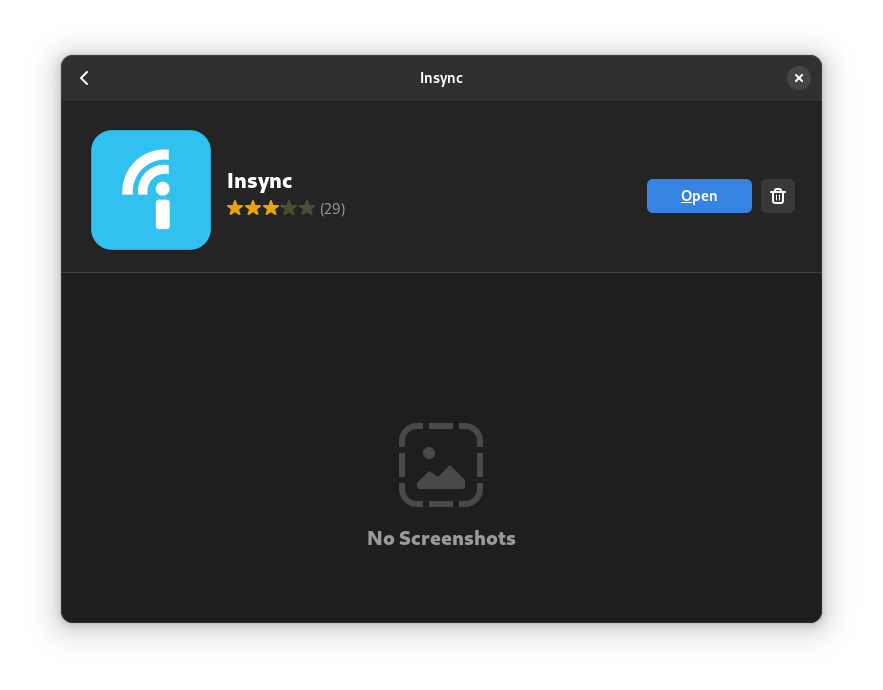 You can also install it on Arch-based distros as well via Arch User Repository. I have tried it on Manjaro Linux in the past, and it worked for me.
Additionally, to integrate it with your system (to get status icons on your folders), you can install a separate package for the file manager from its download page. It supports Nautilus, Dolphin, Nemo, Caja, and Thunar.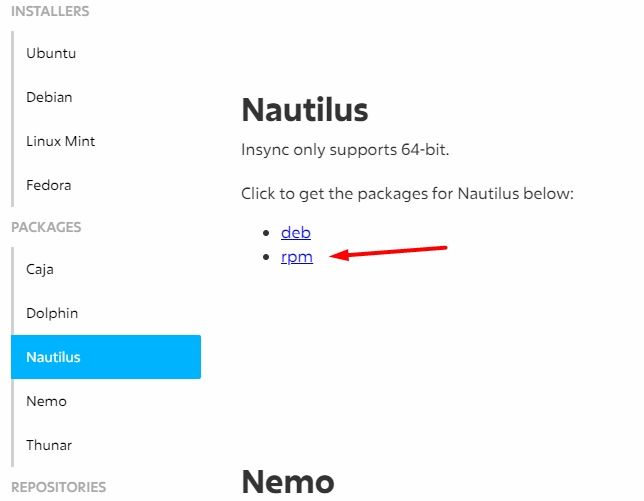 📋
For this review, I installed Insync on Fedora 38 with a OneDrive account synced. The file manager in the distro is Nautilus.
Before I give you a good look at the Insync experience, allow me to share you the specifics on its pricing.
Insync Pricing
Insync charges you based on the number of accounts, and it is a one-time fee.
For instance, you need to sync one Google Drive and an OneDrive account, you pay for 2 x one-time fee. The one-time fee for a cloud account is $39.99. It may display regional currency on its pricing page.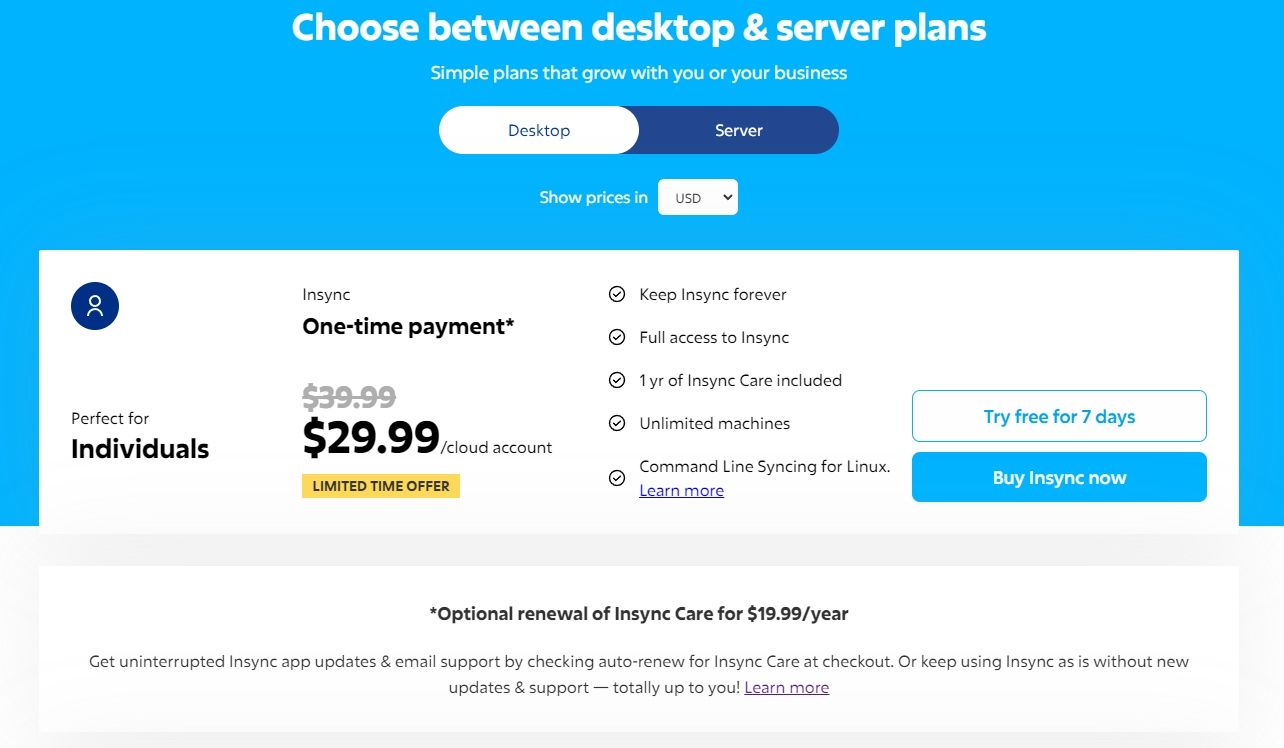 At the time of writing this, the discounted pricing is $29.99 per account. I am uncertain if you get this discounted price for a long time, but hopefully, you save a few bucks when you purchase it.
You can also use it for a 7-day free trial period without requiring payment details.
The perks that you get with the premium license include:
Unlimited machines
Access to Insync forever
1 year of Insync Care
Command-line sync support
Insync Care is an optional subscription for you to get email support, and get access to the automatic updates to the app.
The pricing that I mentioned is only for individuals. If you want Insync for servers and your business, you can opt for the "Insyc Office" plan that costs $159.99/year.
Insights on Insync Usage
When you sign in using any of your cloud accounts, it first gives you the option to select the files (on cloud) you would like to sync to your computer.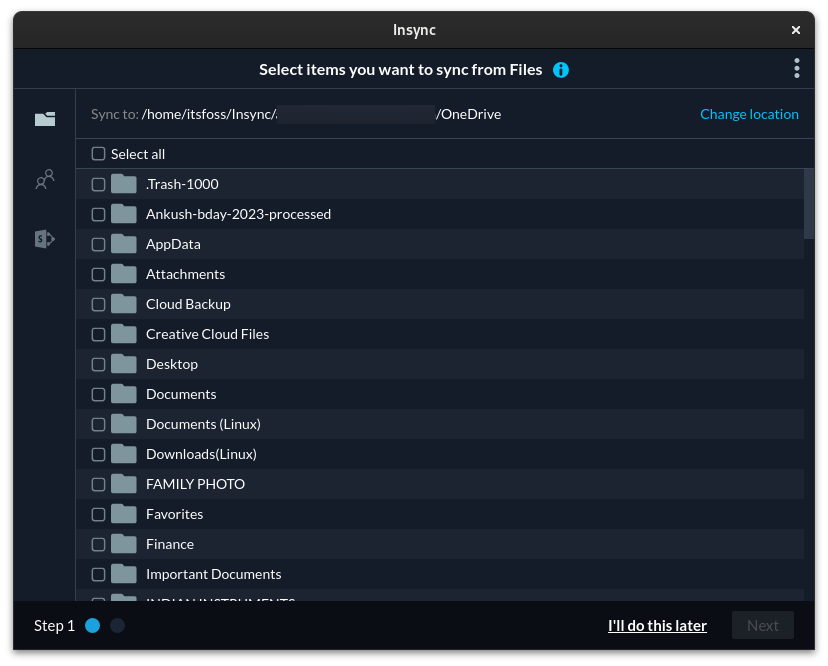 You can always do this later by clicking "I'll do this later" and then you will be greeted with the sync preferences.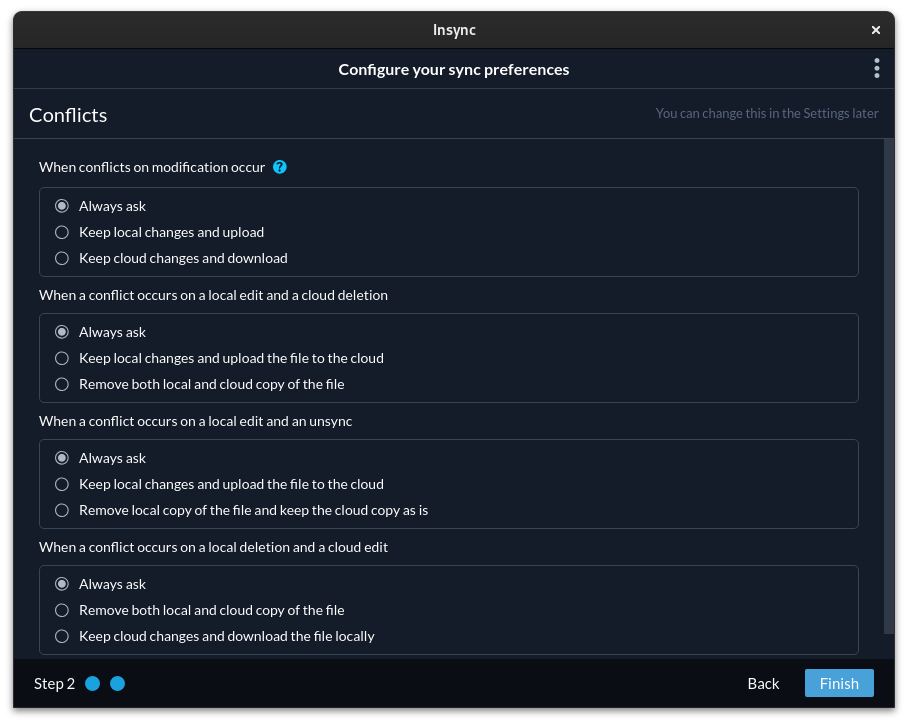 This is important, as you should customize it as per your requirements. For me, it is the default that works, i.e., setting everything to "Always ask", so I always get a confirmation before any important action takes place via the tool.
Once you hit "Finish", you will be greeted with the home screen of Insync where your cloud files show up.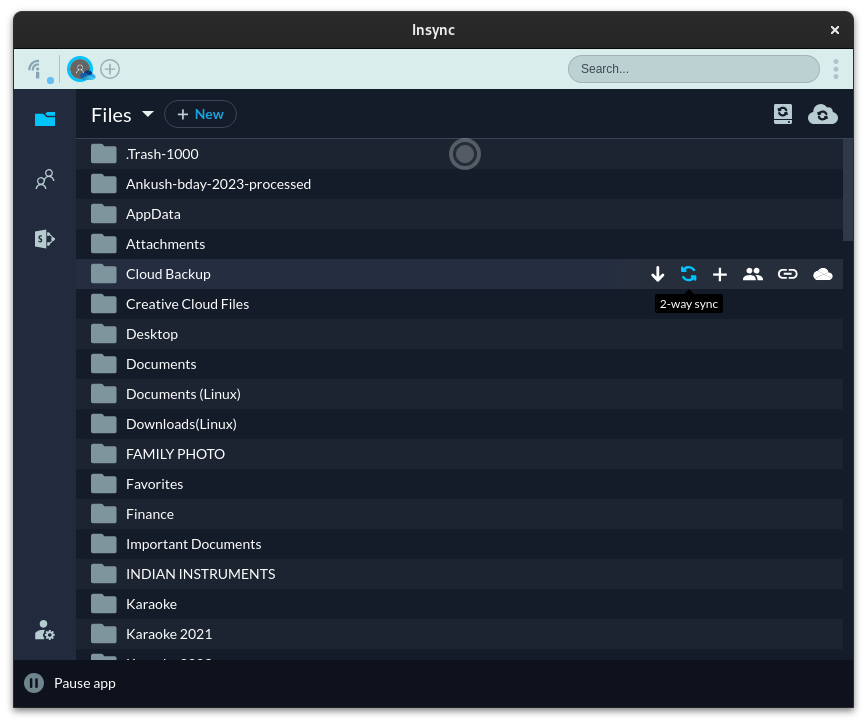 In the user interface, you have a couple of options available. The left sidebar includes a button to your files, what's shared, "SharePoint" (available for business/company plan), and the account preferences in the bottom-left corner.
💡
Click on the Insync logo icon in the upper-left corner to check the status/logs of your syncs.
There are two types of sync available:
Local Selective Sync (LSS) → the storage icon in the upper-right corner
Cloud Selective Sync (CSS) → the cloud icon in the upper-right corner
You need LSS if you want to select local files to sync to the cloud. And, CSS when you want the files on your cloud synced back to your local storage path.
Furthermore, you have two sync modes, which are two-way and 1-way.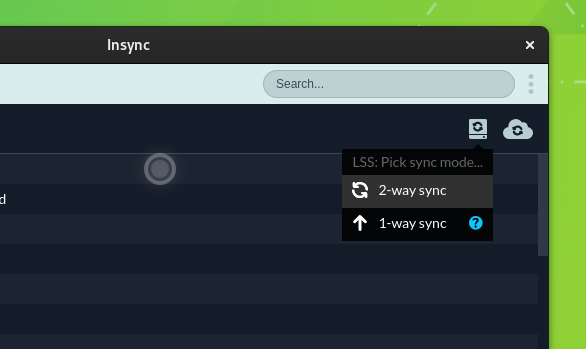 In the two-way mode, both source and target get affected with change on either side.
With one-way mode, the source will not be affected by any changes to the target.
💡
You need to keep in mind the sync modes before setting up any syncs. So, you do not accidentally lose any of your important files.
By default, all the 2-way Cloud Selective Sync will reside in the default base folder, which you can find at:
/home/username/Insync/[email protected]/OneDrive
You can change it by clicking on "Files" and then hit "Change" to select or create a new destination for your synced files from the cloud.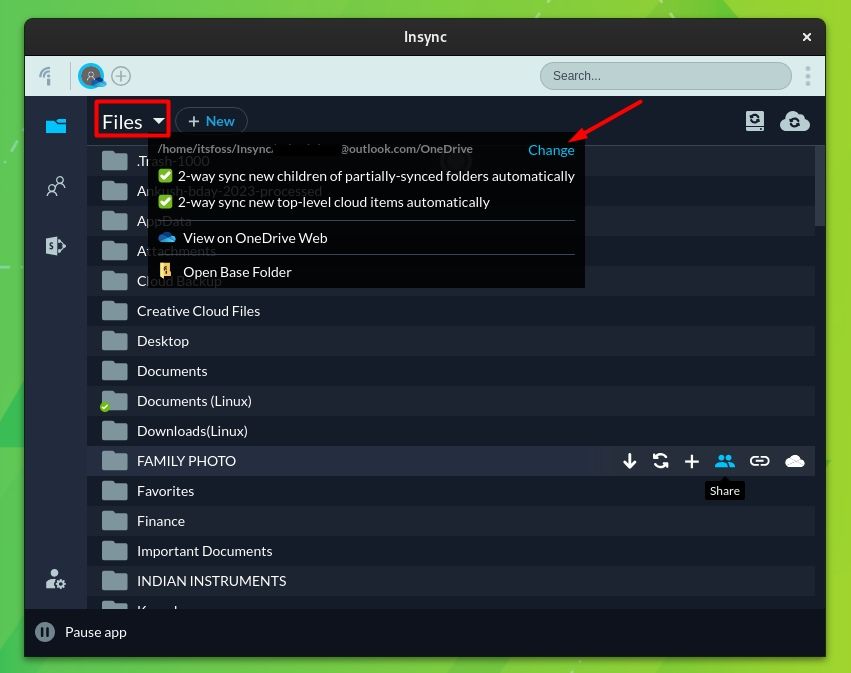 Now that you know the essentials of syncing files/folders, you should decide if you want Insync to start after boot, show notifications, etc.
To configure such options, head to the app settings from the three-dotted menu in the upper-right corner (as shown in the image below):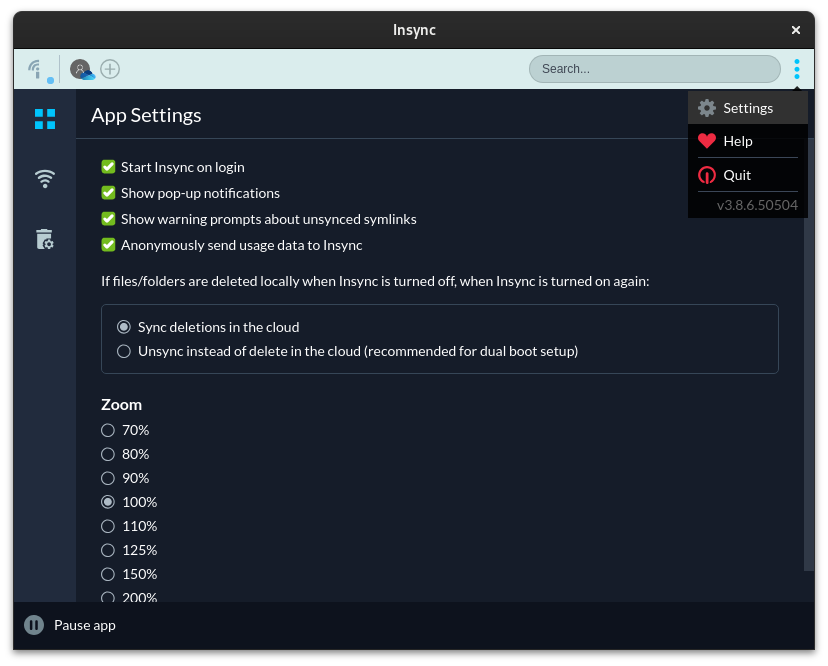 Not to forget, if you want to see the sync status of your folders right from your file manager. You should always install the integration package for it from Insync's download page, as mentioned above.
Once I installed the RPM package for Nautilus, I can see the sync status badges (green tick marks) on my file manager: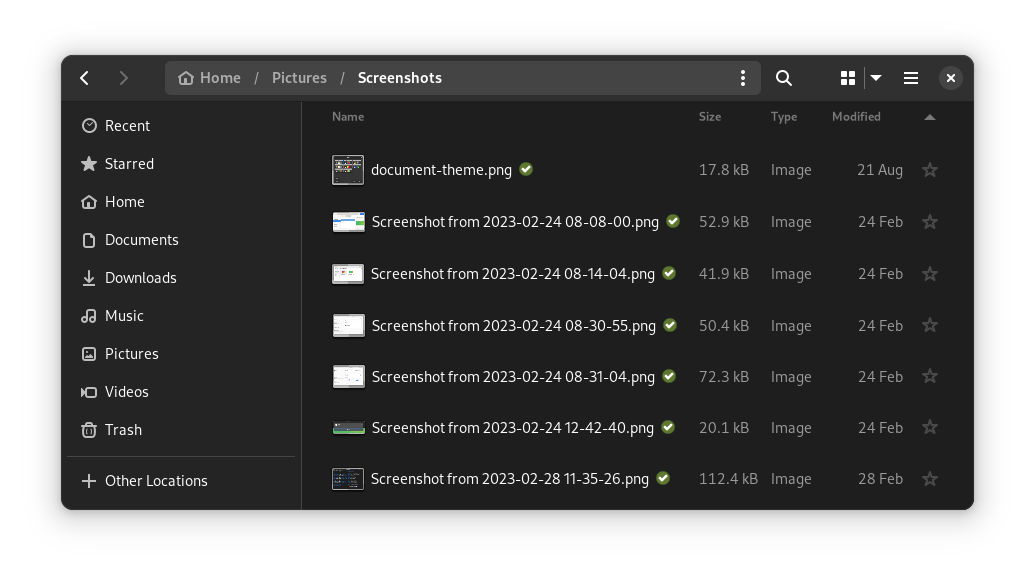 I have tested all the sync modes, and options available with Insync except "Ignore Rules" from the account preferences menu which lets you ignore files to sync. I have a legacy license which includes "unlimited accounts" but not the ability "ignore rules".
So, you can try that for yourself, if you require, rest of the things worked pretty well!
Overall, Insync is a solid option for Linux users and other platforms as well.
📋
As always, you should be careful with important files, and the sync settings that you configure.
💬 What do you prefer to use to sync cloud files to your Linux computer? Share your thoughts in the comments below.