Brief: One of the most popular notes organizing tools Evernote has a good news for Linux users. They will be releasing an Evernote desktop application for Linux this year.
If you are an Evernote fan, you probably have been missing it on Linux desktop. There is the web version available but you cannot use it offline if you are not a premium user.
Linux (almost) always has a way around. So, there are some third party applications that let you use Evernote on Linux. There are also some alternative applications to Evernote available on Linux.
A native Linux client for Evernote has been requested for a long time and the good news is that it should finally be coming to Linux in the year 2020.
Official Evernote client for Linux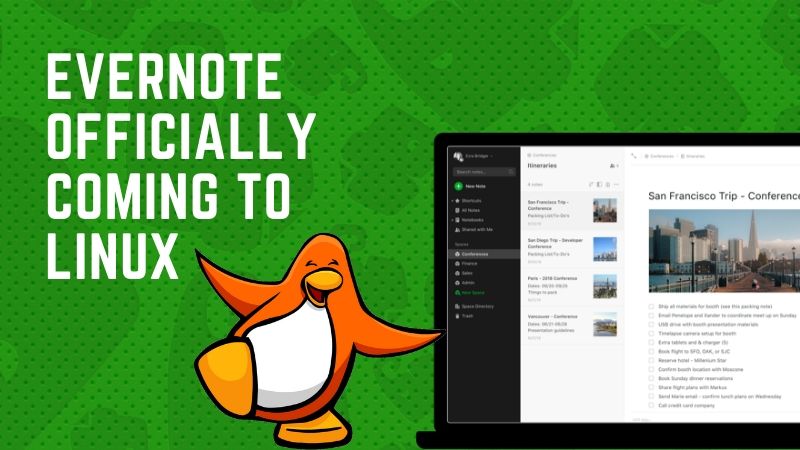 In a recent blog post, CEO Ian Small revealed the planned updates for Evernote for the year 2020.
Ian mentions that a new client for Windows, Mac and Linux is onto the launching pad.
The re-engineered web client (in limited release), the new mobile clients (in first preview), and the (as yet unreleased) new clients for Windows, Mac, and (yes!) Linux, along with the ongoing re-architecture and data migration we've been doing in the cloud, will set up Evernote to be able to innovate and ship with quality at a pace we haven't seen in a long time.

Ian Small
CEO, Evernote
It's not clear at this point if the official Linux client will be an Electron version of the re-designed web client or a native application.
In simpler terms, an Electron app uses Chromium and Node.js to create a desktop application. Sometimes developers just wrap the web version in the form of an Electron application. Which is somewhat like running the service in a web browser. For example, Slack on Linux is an electron application.
I would prefer that Evernote develops a native application for Linux rather than an Electron app.
There is no set deadline for the Evernote Linux client release though. Since it is mentioned in the roadmap of 2020, it should be coming this year. Fingers crossed!
Evernote is not an open source application. If you want an open source application with similar features as Evernote, I recommend using Joplin.
What do you think of this announcement? Will a Linux client for Evernote entice you enough to get their premium subscription? What do you think?