Where can I download open source software?
I have been asked this question several times and I usually have the same answer. So, I thought instead of replying to individual emails, I would put a list of sources in an article for everyone to check out.
You can always find apps in the software center of your Linux distributions, the description typically specifies whether it is open source. You can also explore available software on Flathub and Snapcraft.
But apart from the usual options, if you are looking for interesting software to download and explore, there are various websites that list and host open-source software.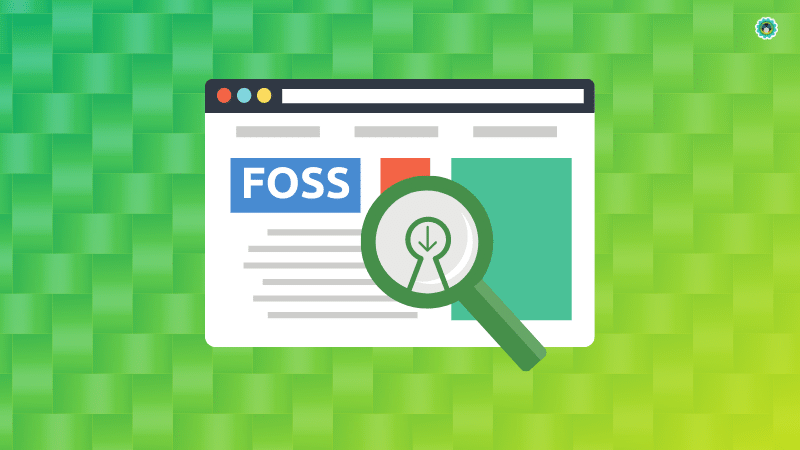 Some websites provide a way to effectively collaborate for open-source software development, but that is not our focus here. We will be focusing on web portals that host and distribute open-source projects.
📋
The list is in no particular order of ranking.
1. SourceForge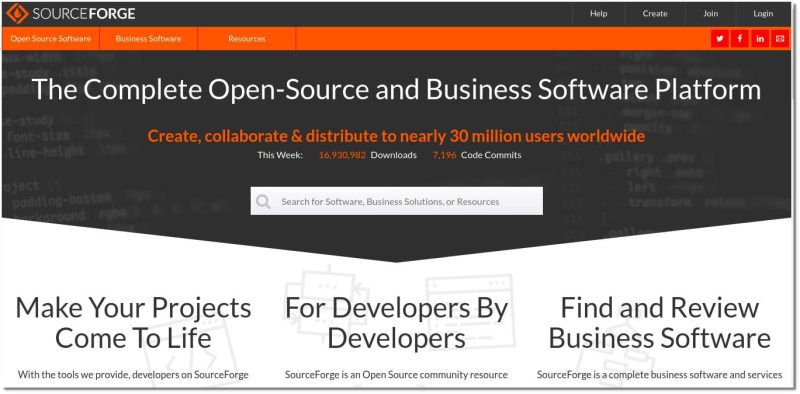 SourceForge is one of the earliest portals to host and distribute open-source software. Over the years, SourceForge has become one of the premier resources for open-source projects.
The platform boasts hosting over thousands (could be close to a million or more) of projects and has millions of registered users. You can find featured open source projects on its homepage, along with the editor's choice projects. In addition, you can go on exploring yourself, navigating throughout the site.
SourceForge provides stats on downloads along with other essential details (like license), so you can evaluate the project before wanting to try it out.
Registered members can also rate and review software, similar to what you see on the Play Store and App Store.
2. OSDN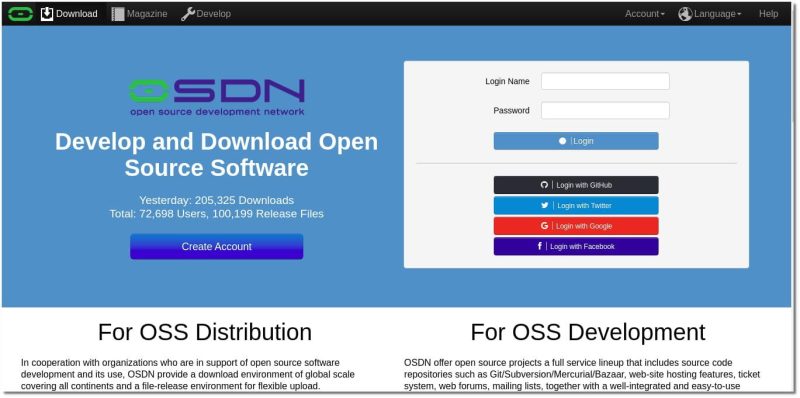 OSDN stands for Open Source Development Network. It provides several free-of-charge services for open-source software developers. These services include SVN/Git/Mercurial/Bazaar/CVS repositories, mailing lists, bug tracking system, bulletin board and forum, website hosting, release file download service, file archive, complete backup, shell environment, etc.
Over 55,000 projects use OSDN services. As an end-user, you can use OSDN for finding and downloading open-source software. The download page has a list of software categories you can browse through and download.
3. FossHub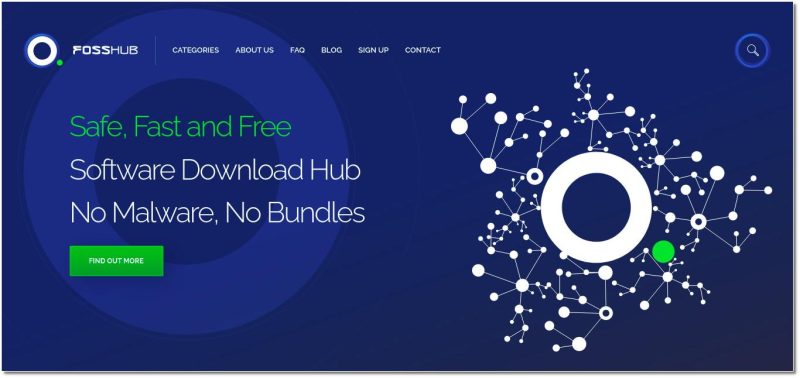 FossHub was founded in 2007 with the goal of becoming a "reliable place for users who wish to download their favorite software titles and as a trustworthy partner for certain free projects".
It provides fast worldwide servers and optimized pages for good user experience and fast download speeds. They provide you with direct download links without needing to redirect to multiple pages.
ℹ️
FossHub also hosts a selected few closed-source freeware (like Paint.NET). This may confuse some people, as they might expect FossHub to host only free and open-source software. It would be better if they clearly mention whether the concerned software is FOSS or not on each project page.
The project page lists the total number of downloads. It also shows the supported operating systems. You can also rate and review the software, even if you are not a registered member. Overall, it is a pretty nice portal to look for a wide range of software.
4. FOSS Torrents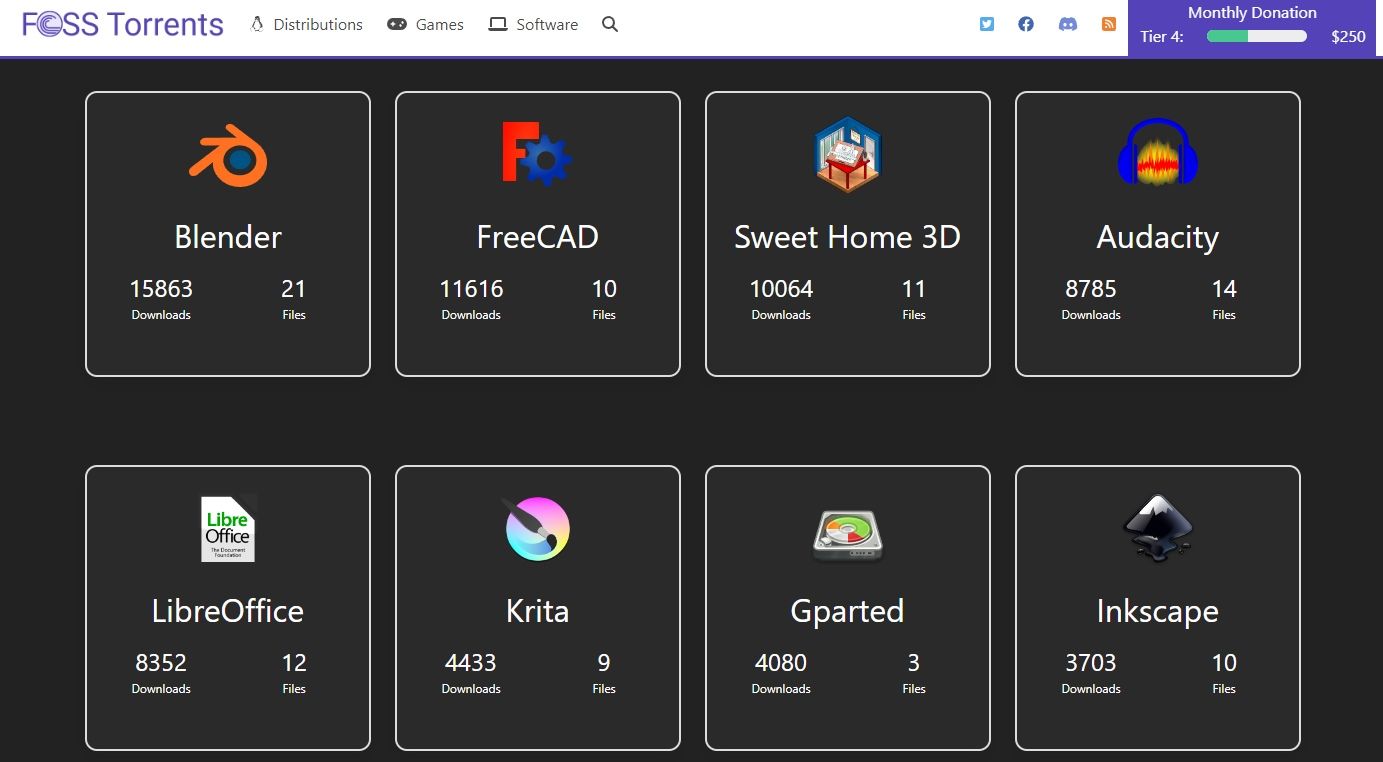 FOSS Torrents is a community-powered web portal that helps to list torrents for distributions, games, and software.
It is entirely dedicated to listing free and open-source projects. You can find screenshots of the software, key information regarding it, and torrents for various packages. Some torrents are officially submitted by the developers and some are unofficial torrents by the website to facilitate downloads.
If you prefer using torrents to download a software quickly, FOSS Torrents is your solution.
5. GitHub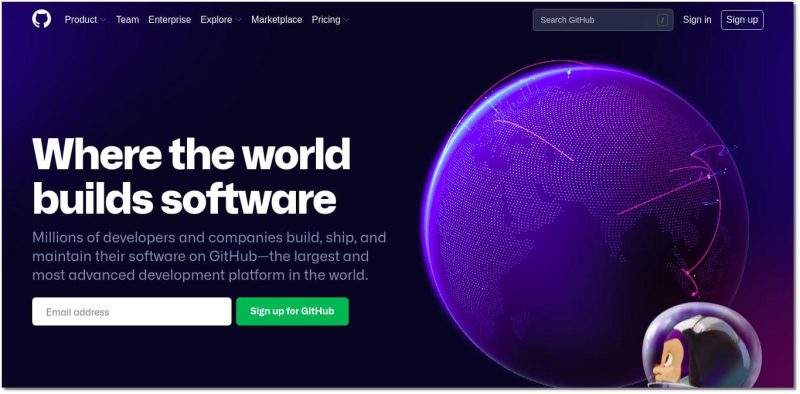 GitHub is slightly different from the two discussed above. GitHub is more focused on hosting source code and collaborating with the project development. But it is also extensively used for distributing software.
Projects can make their own web pages on GitHub and can provide a direct download using it. You can also find the latest releases of a software from the project's release section.
You will have to navigate a bit to be able to download software packages, but it should not be a dealbreaker.
6. F-Droid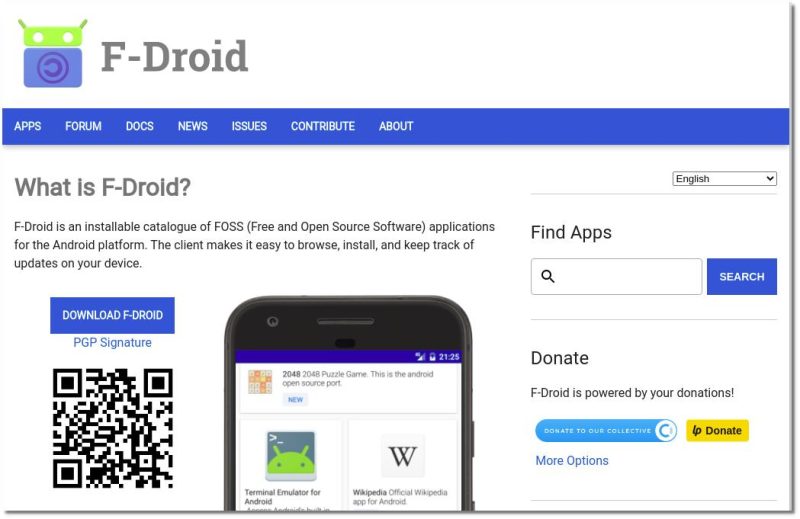 F-Droid is a platform to list and distribute free and open-source software for Android.
You can browse FOSS Android apps in various categories. You can also download the APK files directly from the website, but it is recommended to use the F-Droid client for installing the apps.
With the F-Droid client, your installed Android app will get updates similar to the Play Store. If you directly use the APK, it won't get updates and thus will pose a security risk.
Suggested Read 📖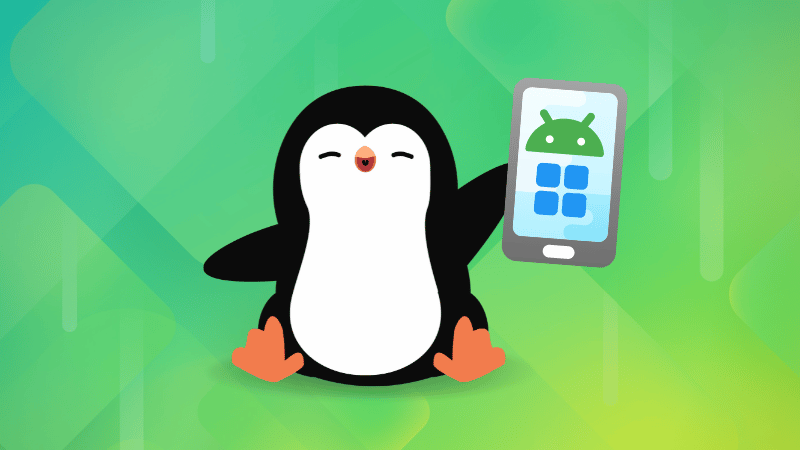 7. Softpedia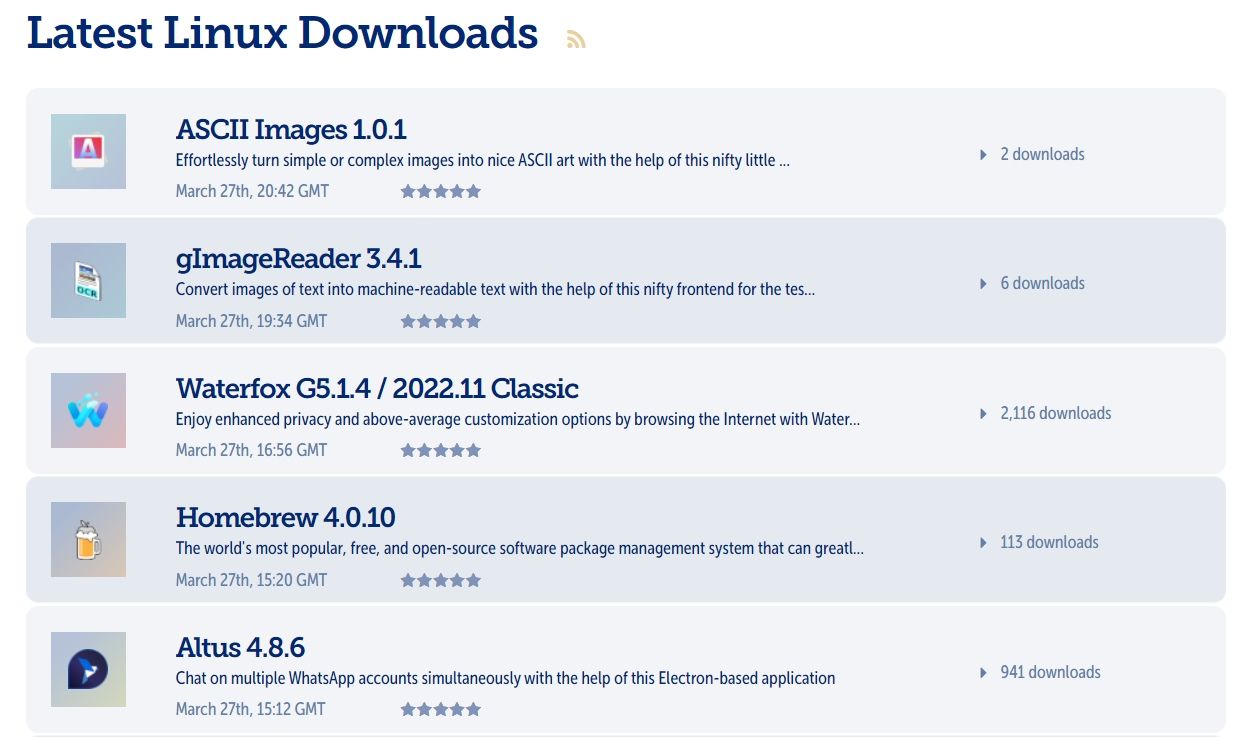 Softpedia is a popular platform where you can find a range of software listed for multiple platforms. It provides you with download stats, license information, a brief description of the software, and all the essential links to the software.
You can find a dedicated section for Linux, where you will stumble upon many open-source projects.
It does not necessarily host the files. But, you can initiate the download from the website, and occasionally, you get re-directed to the official download pages of the software.
What else?
I would like to mention Savannah from GNU for downloading free and open-source software here. It is an old-school website from FSF (Free Software Foundation) that I do not find very user-friendly. However, you can be sure to get 100 percent free and open-source software here.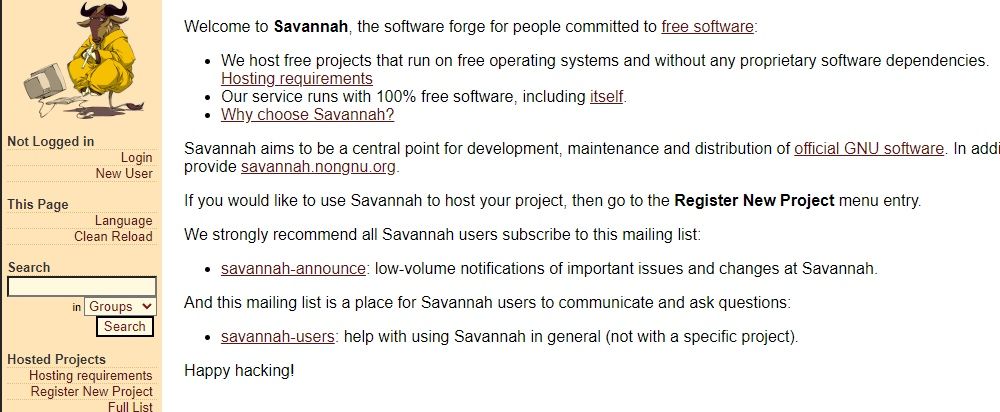 Now, this list may not feature everything there is, and you might know of some other such websites that host and distribute open-source software. If so, please mention them in the comment section below.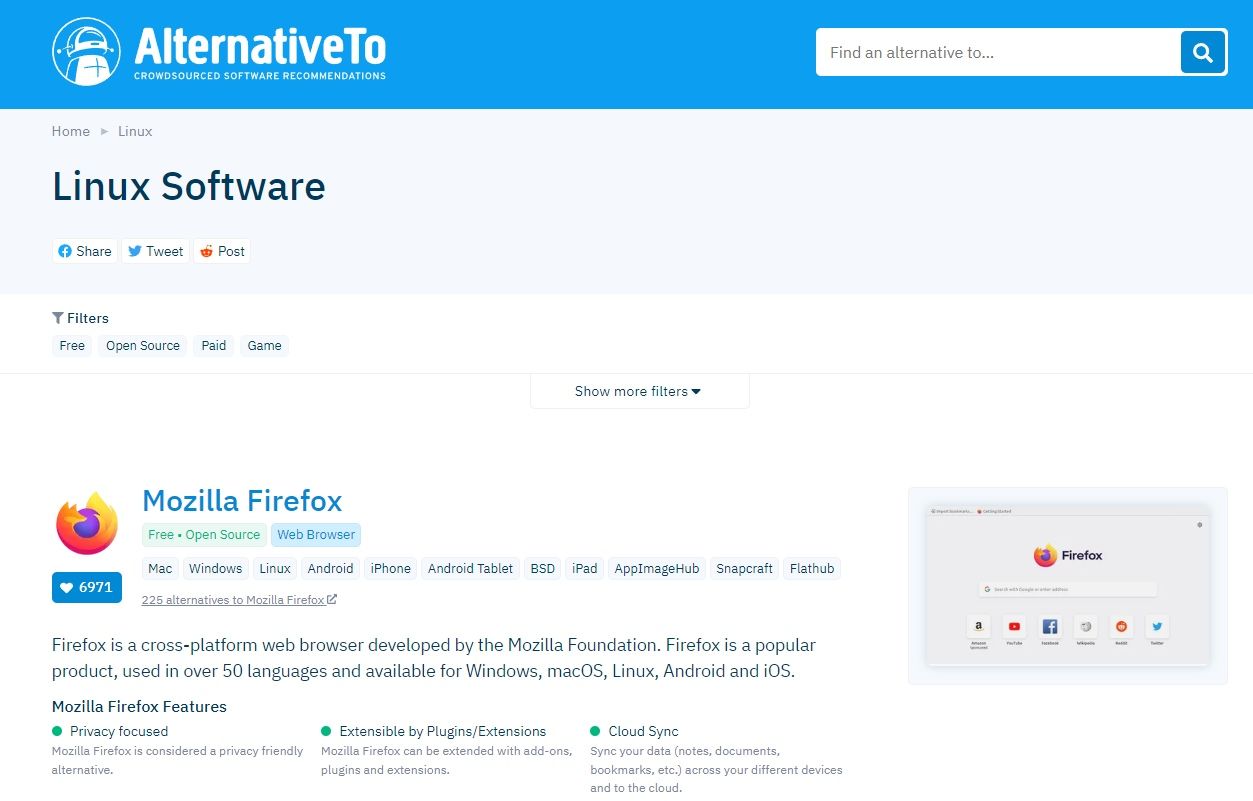 Furthermore, AlternativeTo is a good place to find open-source alternative software recommendations. You get to know the key highlights of the software in a quick glance, which should save time. Slant is a similar option, but listing options in question/answer or pro/cons format.
Additionally, you can explore our list of websites to find Linux games.
Suggested Read 📖