Ubuntu fans! It's time to get excited about the next big release which is Ubuntu 22.04 LTS. Yes. It is a long-term support release and it will be supported for five years till April 2027.
The upcoming LTS release brings several new features. If you are using Ubuntu 20.04 LTS, you will notice numerous visual changes. If you are using Ubuntu 21.10, you already have seen plenty of changes but there will still be a few new ones in the upcoming release.
New features in Ubuntu 22.04 LTS Jammy Jellyfish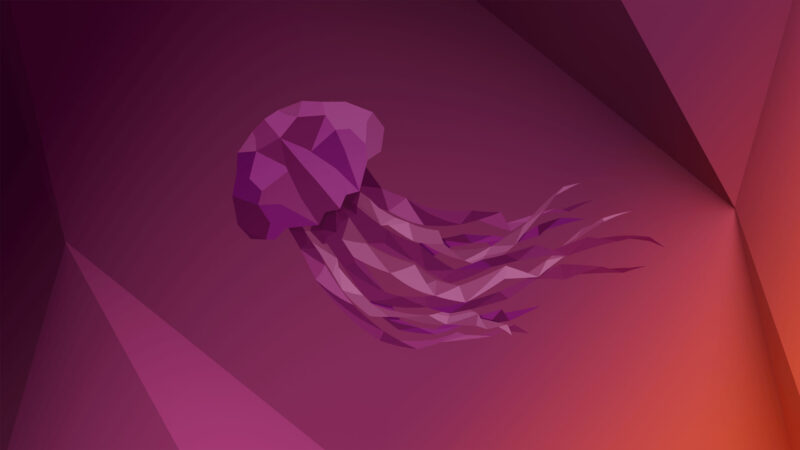 There are several visual and under the hood changes in this release. Since it is easy to show the visual features, my focus will be on these visual changes, followed by the under-the-hood changes.
Most of the visual features come with the GNOME 3.42 version. Some are additionally added (or removed) by the Ubuntu development team.
I made a video to show some features in action:
1. New dock mode
Ever since Ubuntu switched to GNOME as the default desktop environment, it has featured a Unity-styled full-length launcher. However, the vanilla GNOME has a shorter launcher.
Ubuntu 22.04 has a surprise new addition where you can change the size of the dock (basically detach it from the left-side to a floating look)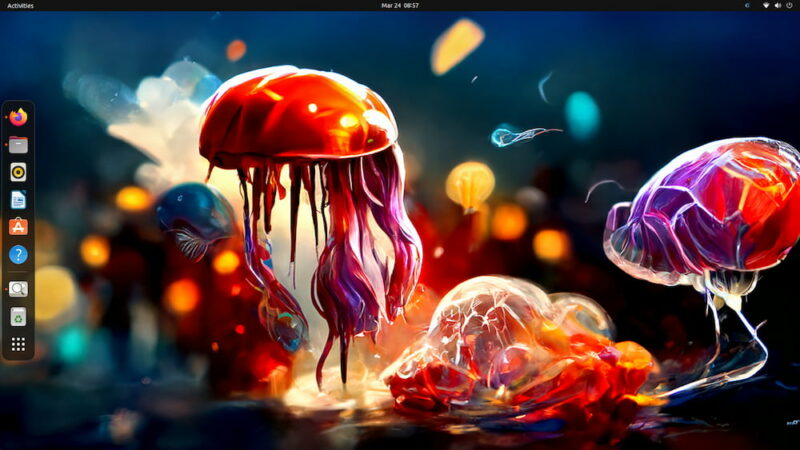 It works best when combined with the auto-hide feature. You can see it when you disable the Panel mode, as shown in the image below.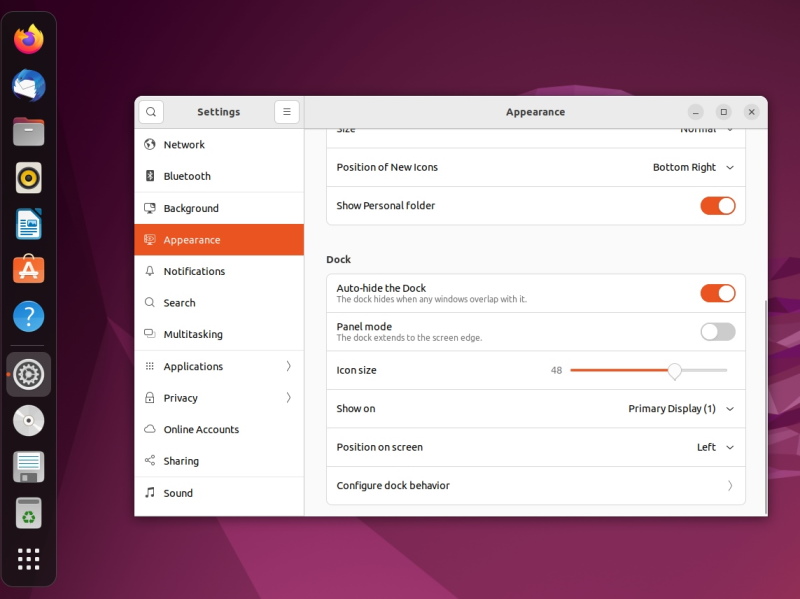 2. Accent Color Selection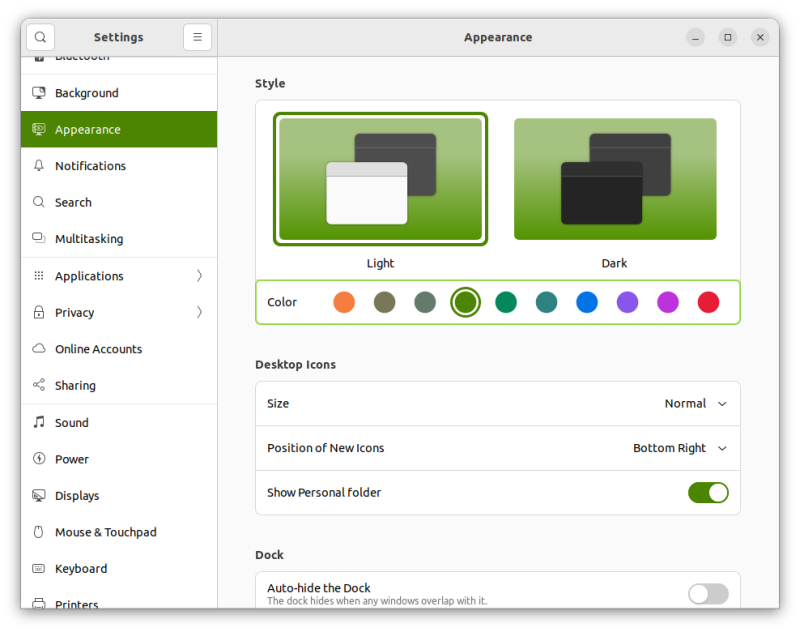 With Ubuntu 22.04, you can now choose a different accent color.
If you dislike the default orange theme, the accent color choices should help you personalize the desktop experience.
The folder icons, the notification bar, buttons, and various other elements in your system will reflect the selected accent color.
3. New screenshot and screencast tool
Thanks to GNOME 42, Ubuntu 22.04 has a revamped screenshot tool that also includes the screencast (video recording of desktop) option.
The new UI lets you take the screenshot of the selected area, entire screen or current application window. The screenshots are copied to clipboard and saved to the Screenshots folder under Pictures directory.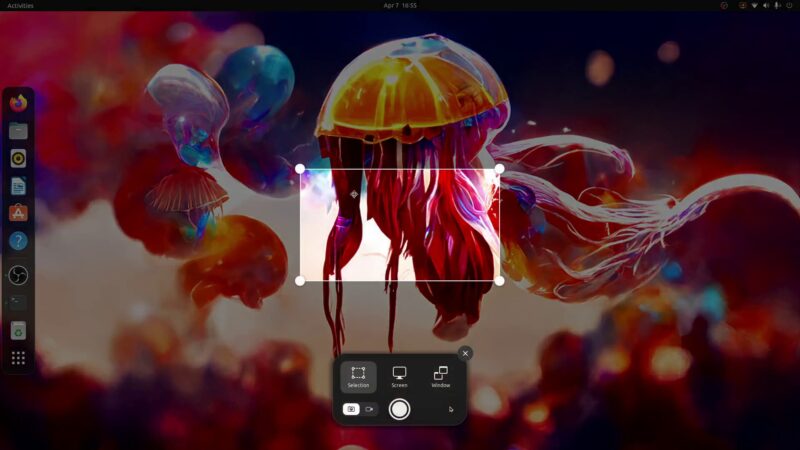 The screencast option works under Wayland. That's a good news. However, there is no configuration option on frame rate, output quality etc. The recorded videos were in poor quality in my test.
4. New multitasking setting
No need to use GNOME Tweaks tool to access these settings the new 22.04 LTS version. The new multitasking settings allows you to enable hot corners. With that, when you move the cursor to the top left corner, it brings the activities area. Otherwise, you have to go to the left corner and click the Activities option.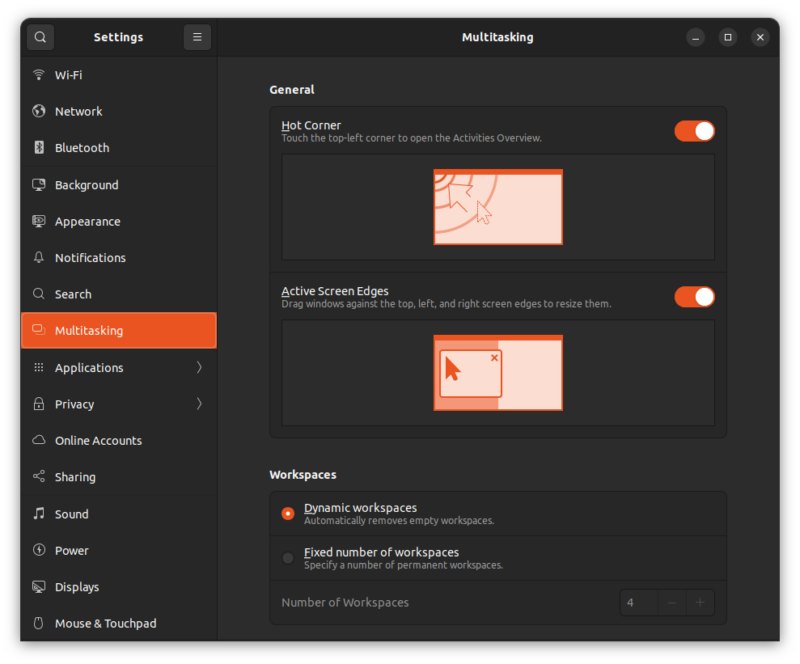 You can also disable the screen edge effect from the multitasking settings. I prefer to have this setting active because it is very helpful when you are multitasking. Keep a PDF or website open in half of the screen and keep the IDE or terminal open in the other half.
There is also option to control the number of workspaces and their behavior. If you have multi monitor setup, you can choose whether the workspaces will be displayed on all monitors or just the primary one.
5. Wayland is default again
With version 22.04, Ubuntu switches to the Wayland display server by default once again. However, it will be limited to systems without Nvidia graphics cards at the time of release due to some known issues.
Hopefully, the Wayland experience has improved as we get to use it. In either case, you can switch back to the legacy X display server.
6. Grub 2.06 and the trouble that comes with it
Ubuntu 22.04 LTS will have Grub bootloader version 2.06 but there is a problem with it. It has os-prober feature disabled by default.
This means that if you are on a dual boot system, Grub won't probe for other operating systems and thus it won't list Windows (or other OS) in Grub. A few people, who upgraded to the development version of Ubuntu 22.04, have already started facing this issue.
It's not that the problem cannot be fixed. There is a workaround.
Install os-prober (usually installed already) and then edit the /etc/default/grub file to add GRUB_DISABLE_OS_PROBER=false to this file. Save this file, update grub and Grub should see other operating systems now.
7. New option to enable and disable animations
Ubuntu 22.04 now provides the option to toggle animations in the accessibility settings.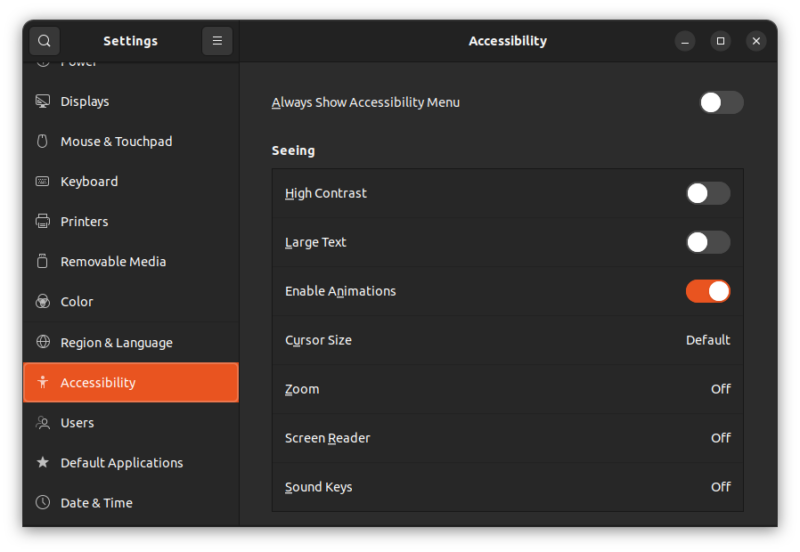 What does it change? By default, the animation is enabled and though you might not have noticed, when you minimize or maximize application windows, go to the activity overview area, there is a slight effect to make the UI more fluid.
Never noticed it? You can disable it to see the impact. Disabling animation could give you a tiny performance improvement. But it's mainly for the people who have difficulties with such animation effects. Hence, it is under the accessibility settings.
8. Position of desktop icons

Another change is about the position of the new desktop icons. By default, it is now in the bottom right corner. If you create new folders or documents, it gets created at the position you had selected.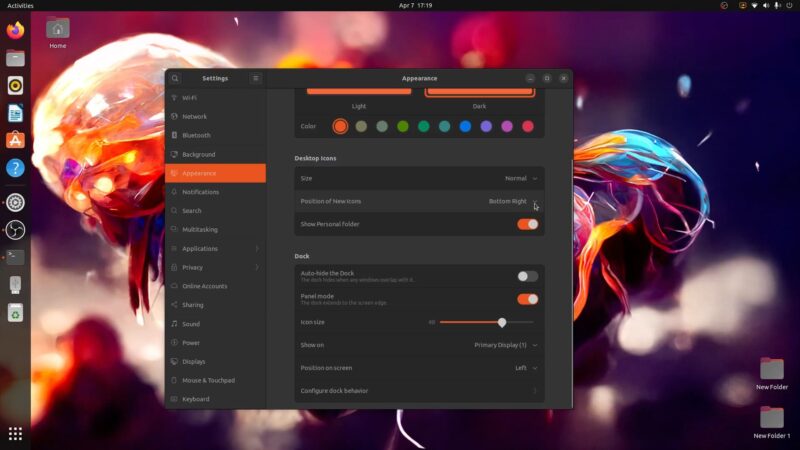 But when you arrange the icons, they get placed in the bottom right. Or you can change their position to top right, bottom left, or top left.
9. Controlling mounted drives and trash in Dock
The settings now enables you to control the behavior of mounted drives and trash icon in the dock. You can choose to show the mounted disks in the launcher or hide them as per your preference.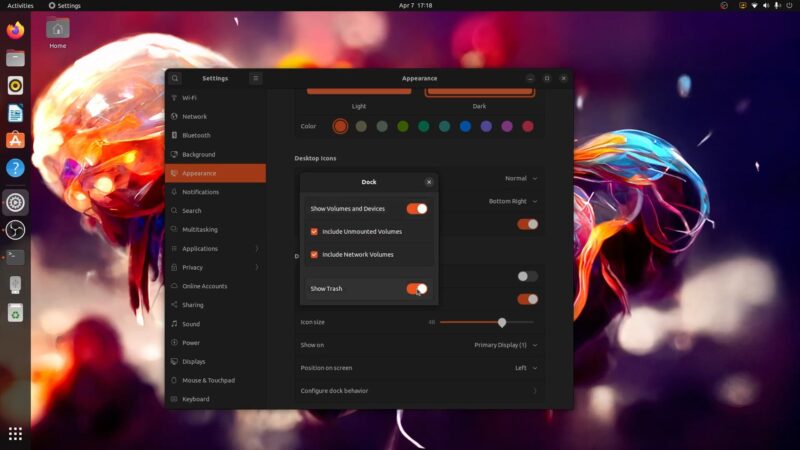 The same goes for the Trash icon.
10. Slightly revamped Software Center
Software Center is slightly revamped. The icons are bigger, licensing information is gone and Snaps still get the priority over the DEB version.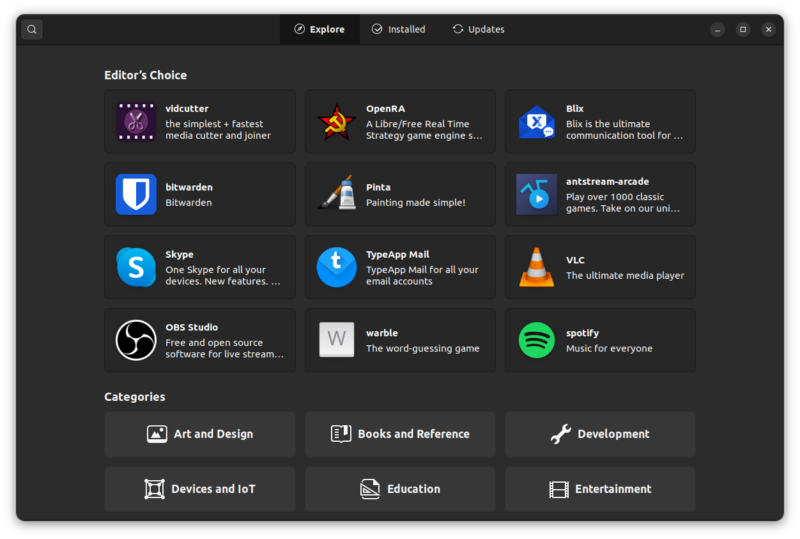 11. New icon for Software & Updates
This is really a tiny change but I am happy to see.
Earlier, you had too similar named applications with similar icons: Software Updater and Software & Updates.

The icon for Software & Updates is now changed so that it is easier to distinguish between the two applications.

12. Multimonitor settings
If you have two screens, you get the option to join displays, mirror them or use only one of them.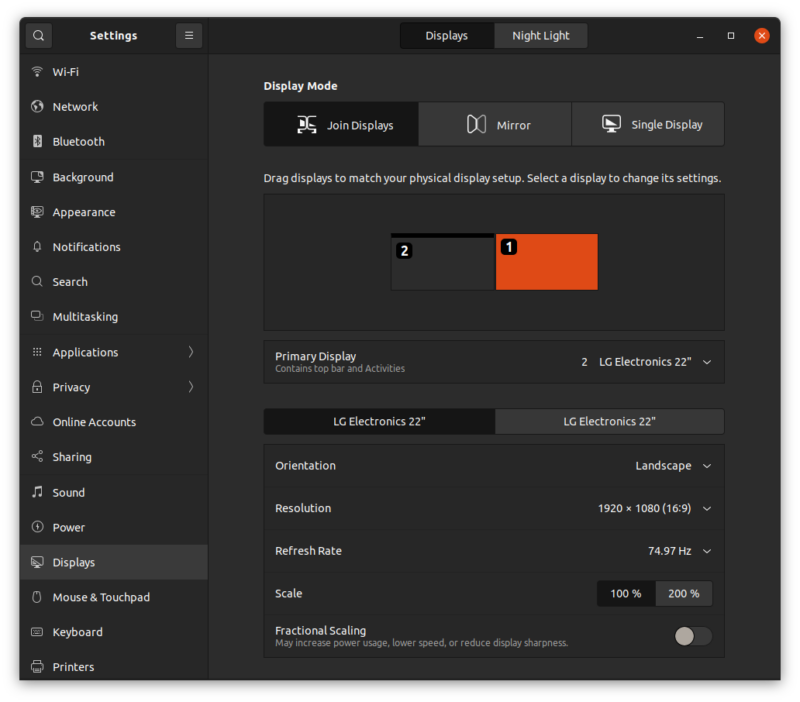 These settings are available for two monitor setup only. For three or more monitors, you won't see the mirror option. However, you can still drag and arrange their alignment.
13. Fractional scaling up to 225%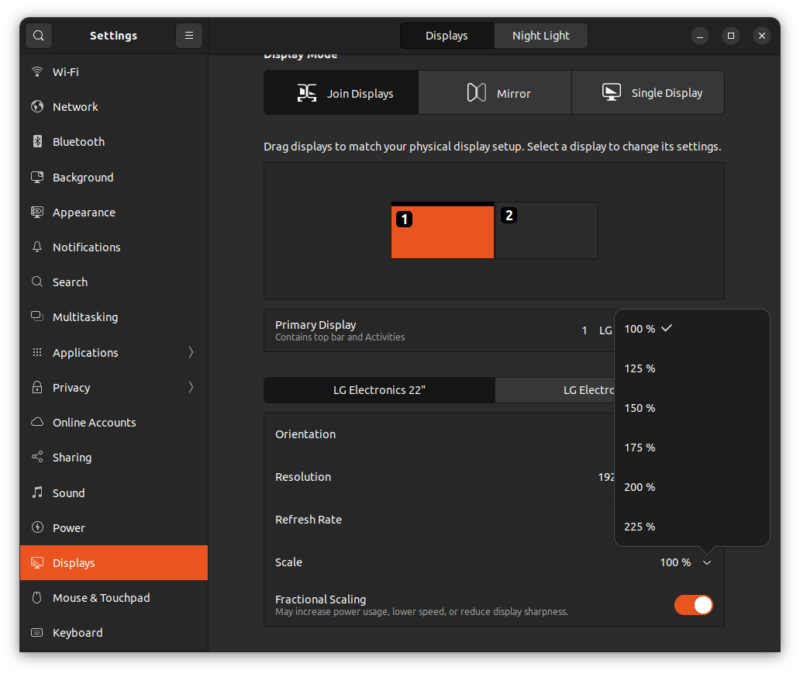 Fractional scaling has been available in Ubuntu for the past several versions. But it was restricted to 200%. I noticed that in Ubuntu 22.04, the fractional scaling goes up to 225%.
14. Brand new logo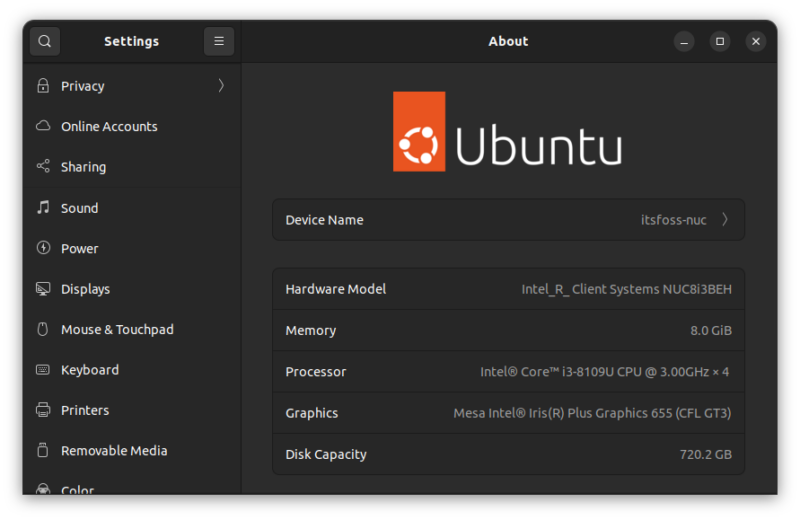 Ubuntu has a new logo and it is visible everywhere in Ubuntu 22.04. You'll see it while booting into the system, on the login screen, lock screen, and even on the about page.
15. New wallpapers but no dark and light variants
GNOME 42 introduced the set of dual tone wallpapers that get changed based on the dark and light system themes. This feature is absent from Ubuntu 22.04.
You do have a bunch of new wallpapers, though.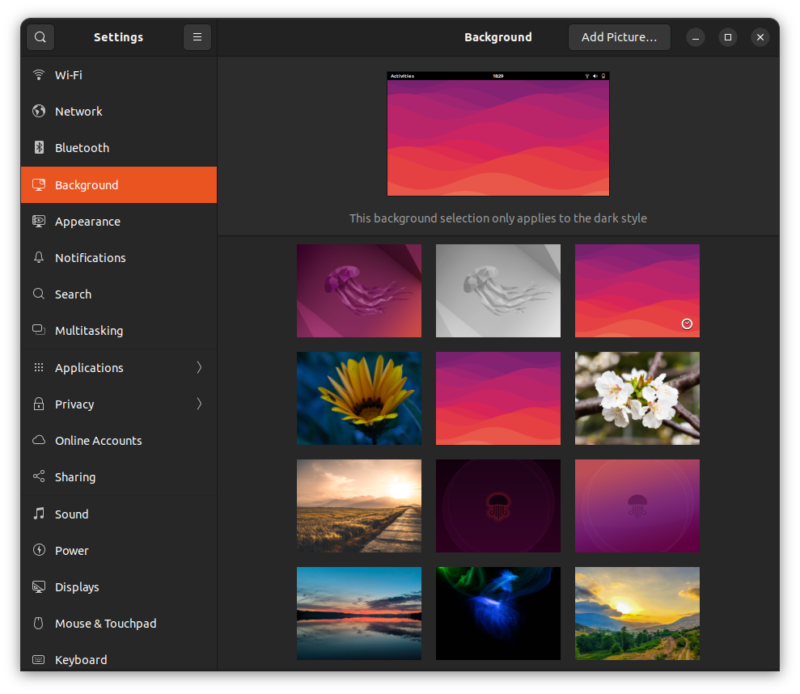 16. Improved support for Raspberry Pi
Ubuntu started supporting the desktop edition on Raspberry Pi devices with the release of version 20.10. While it could work on the 8 GB version of Raspberry Pi, it struggles on 4 GB and won't work on 2 GB models.
The performance should improve with Ubuntu 22.04 especially with the introduction of zswap.
17. Firefox as Snap
Firefox will now be included as a Snap package by default. While you can install the deb package by downloading it separately, Ubuntu recommends Snap.
This is a joint effort by Canonical and Mozilla to simplify the maintenance of Firefox across distributions, enhance security, and facilitate faster security updates.
18. Other changes
There are a few other changes you should see in terms of a software offering. There should be newer versions of most of the prominent software. Some of them are:
OpenSSL 3.0
Ruby 3.0
Python 3.10
PHP 8.1
GCC 11
Ubuntu 22.04 features Linux Kernel 5.15 LTS.
As I said earlier, things are in development, and I'll update this article as soon as more new features are revealed.
Getting Ubuntu 22.04 LTS
Though Ubuntu 22.04 release has been announced, the ISO will take some time to arrive. Updates for existing users will be roll out in coming days. If you want, you could force update to Ubuntu 22.04 right now from 21.10 and 20.04.
For fresh installation, get the download from this page:
What features do you like the most in Ubuntu 22.04?
I have listed so many minor and major features in Ubuntu 22.04. Which features do you like the most? Is it missing a feature you were expecting? Share your views in the comment section.