It's time to stand tall like the short-tailed weasel to make way for Ubuntu's new release 19.10 Eoan Ermine. After six months of development, Ubuntu 19.10 is finally here.
You might have already seen our list of the features of Ubuntu 19.10 while we tried the beta recently. In this article, I shall highlight a few key features and mention the official download links to get your hands on the new Ubuntu release.
Key Features Of Ubuntu 19.10
Below is a list of key highlights in this release:
Boots Up Super Fast With LZ4 Compression
LZ4 compression algorithms help reduce the boot time in comparison to its previous releases (Ubuntu 18.04 & 19.04). Abhishek found the boot times to be noticeably faster as well on his Intel NUC setup.
ZFS Filesystem Support
Ubuntu 19.10 adds an option to utilize ZFS Filesystem. You can choose to opt for it while the installation process.
Ubuntu 19.10 Ships With GNOME 3.34
You must aware of the latest GNOME 3.34 release. Well, Ubuntu 19.10 comes baked in with the latest and greatest.
In addition to all these key features, you will find a lot of significant changes which we've also covered in our article on Ubuntu 19.10 features.
Here's What You Should Know Before Installing Ubuntu 19.10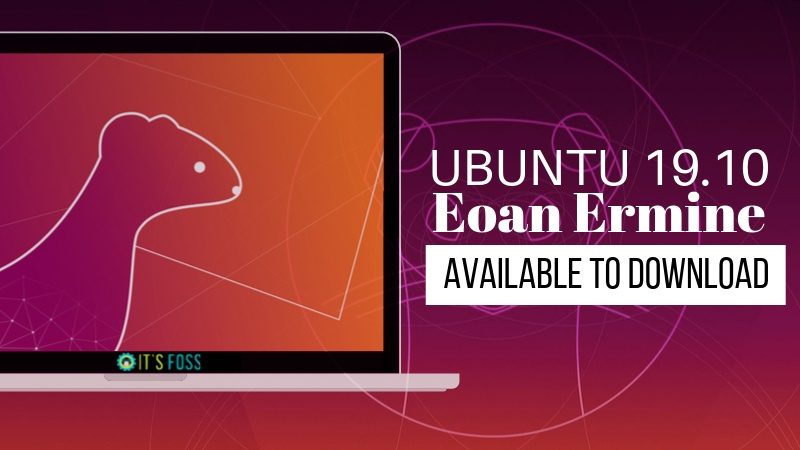 I'll give you some pointers to take care before you choose to install Ubuntu 19.10 on your system.
Upgrading from Ubuntu 19.04 to 19.10
If you don't want to download the ISO file separately for a fresh installation. You can easily upgrade your system from Ubuntu 19.04 to 19.10.
You just need to head on to the "Software & Updates" app.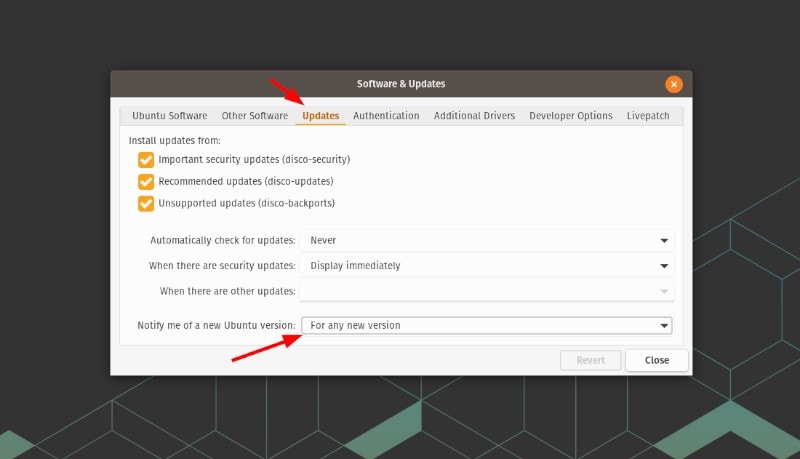 Once, you are here, navigate your way to the Updates section and change the selection in "Notify me of a new Ubuntu version" to "For any new version".
If it's already selected, you just need to check for the update to see if it's available. Some times, it takes a few days before you get notified of the availability of the new version.
Please keep in mind that once you upgrade to 19.10, you cannot downgrade to 19.04. You'll have to reinstall it.
Ubuntu 18.04 LTS to Ubuntu 19.10? Not recommended
If you are on a long term support release of 18.04, I wouldn't recommend upgrading to Ubuntu 19.10. Wait for six more months and you'll have Ubuntu 20.04 LTS.
To upgrade from 18.04 to 19.10, you'll have to upgrade to 18.10 first. Ubuntu 18.10 has reached end of life already so you might not even see the option to upgrade to 19.04.
If you come across tutorials describing the process to upgrade from 18.04 to 19.10 by editing sources.list, please don't do that. The core system in both versions is different and manually upgrading like may lead to a broken and unusable system.
Ubuntu 19.10: Downloads Available for all flavors
As per the release notes, Ubuntu 19.10 is available to download now. You can get the torrent or the ISO file on its official release download page.
If you need a different desktop environment or need something specific, you should check out the official flavors of Ubuntu available:
You might notice that some of the Ubuntu-based distros haven't yet made the 19.10 update available. It should take a couple of days/weeks/months for them to have the update ready. You can then download it or upgrade it directly.
Have you tried Ubuntu 19.10 yet? Which Ubuntu flavor/distro do you use? Let us know your thoughts in the comments below.
[interaction id="5da80371e7754ab7c5b4cbc3″]