Brief: Ubuntu 17.10 reached the end of life on 19th July 2018. This means that systems running Ubuntu 17.10 won't receive security and maintenance updates from Canonical anymore leaving them vulnerable.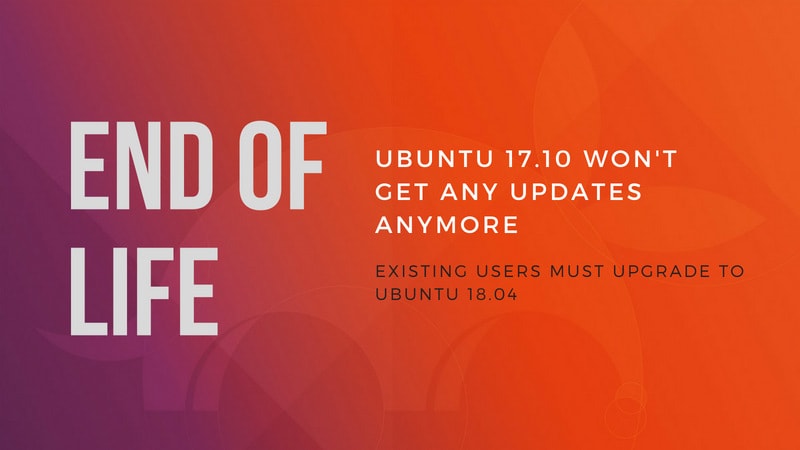 Ubuntu 17.10 was released on 19th October 2017 and nine months later, it has reached its end of life. This shouldn't come as a surprise because Ubuntu 17.10 was a normal or short-term release and these releases are supported for only nine months.
Ubuntu 17.10 was a crucial release in many senses. It was used as a testing platform for Ubuntu's switch from Unity to GNOME desktop before the release of Ubuntu 18.04 LTS. It also tried using Wayland as the default display server and we all know that was a disastrous decision. Thanks to 17.10, Ubuntu 18.04 didn't feature Wayland as the default display server.
What does end of life mean, again?
End of life is the term used for the date after which an operating system release won't get updates. You probably know that Ubuntu or any other operating system provides security and maintenance upgrades in order to keep your systems safe from cyber attacks.
Once a release reaches the end of life, the operating system stops receiving these important updates. If you continue using a system after the end of life of your operating system release, your system will be vulnerable to cyber attacks and malware.
Not only that, in Ubuntu, the applications that you downloaded using APT from Software Center won't be updated as well.
[irp posts="28188″ name="Frequently Asked Questions About Ubuntu 18.04″]
All Ubuntu 17.10 users must upgrade to Ubuntu 18.04

Starting 19th July, Ubuntu 17.10 will stop receiving updates. You must upgrade to Ubuntu 18.04 which is a long-term support release and will get updates till April 2023.
This is also applicable to other official Ubuntu flavors such as Lubuntu, Xubuntu, Kubuntu etc.
How to upgrade to Ubuntu 18.04?
Ubuntu provides easy ways to upgrade the existing system to a newer version.
If you have a good internet connection, you can use Software Updater tool. I have written a detailed guide about upgrading to Ubuntu 18.04 using this method.
If you don't have a good internet connection, you can still upgrade to the new version using live USB. All you need to do is to download Ubuntu 8.04 ISO on an internet connected system and make a live USB from it. When you boot from the live USB, you should see the upgrade option under the installation procedure.
Are you still using Ubuntu 17.10 or 16.10 or some other unsupported version?
You should note that at present only Ubuntu 14.04, 16.04 and 18.04 versions are supported. If you are running an Ubuntu version other than these, you must upgrade to a newer version.