Brief: This is a continually updated article to tell you about Ubuntu 17.04 release schedule, Ubuntu 17.04 features and other news associated with it.
Ubuntu 17.04, the upcoming release of Ubuntu Linux, has been codenamed Zesty Zapus. The release schedule of Ubuntu 17.04 is out.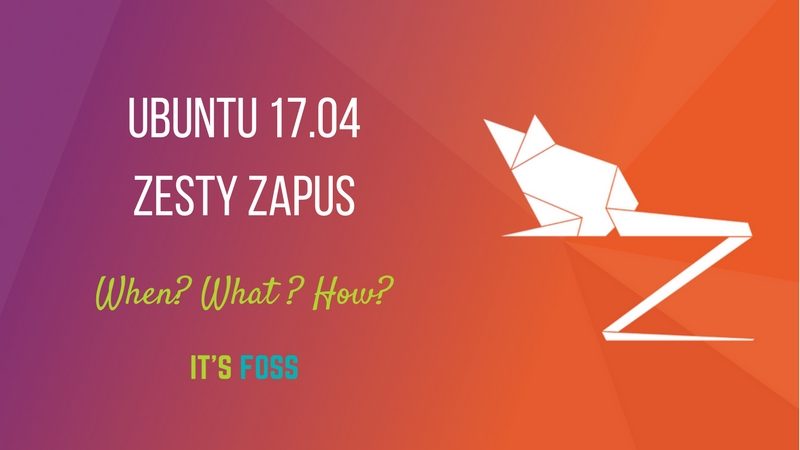 Long term Ubuntu users might already be aware that 17.04 will be released in April 2017. It's not rocket science to guess the release month at least, considering that there is a specific logic behind Ubuntu codename and version. In 17.04, 17 stands for the year 2017 and 04 stands for the month of the year (i.e. April).
While we are at it, I should also tell you about the logic behind the codename of Ubuntu releases. It's always a two worded codename and both words start with the same letter. The first word is an adjective and the other is an endangered species or a mythical character.
So, in Ubuntu 17.04 Zesty Zapus, Zesty is an adjective meaning lively and pleasing, Zapus is a type of jumping mouse found in North America.
One more thing, the release codename is incremented alphabetically. So the current version Ubuntu 16.10 is codenamed Yakkety Yak starting with the alphabet Y while the upcoming Ubuntu 17.04 is codenamed Zesty Zapus, starting with Z. This also means that Ubuntu 17.10 codename will start with A.
Ubuntu 17.04 release schedule
Coming back to Ubuntu 17.04 release date, here is the complete release schedule:
29 December – Alpha 1
26 January – Alpha 2
16 February – Feature Freeze
23 February – First beta
9 March – UI Freeze
23 March – Final beta
30 March – Kernel Freeze
9 April – Release Candidate
13 April – Stable release
The complete schedule can be found here. Do note that while Ubuntu has a reputation of keeping the dates, the dates are subjected to change depending on various factors.
Ubuntu 17.04 release will be a short term one and will be supported for 9 months. That means you'll be forced to upgrade in January 2018.
[irp posts = "7356" ]
New artworks for Ubuntu 17.04
While most users don't care about trivial things like wallpapers, some devoted Ubuntu users (including me) look forward to the wallpapers and other default artworks.
Ubuntu 17.04 default wallpaper has been released. This is what you'll see on your first Ubuntu 17.04 installation: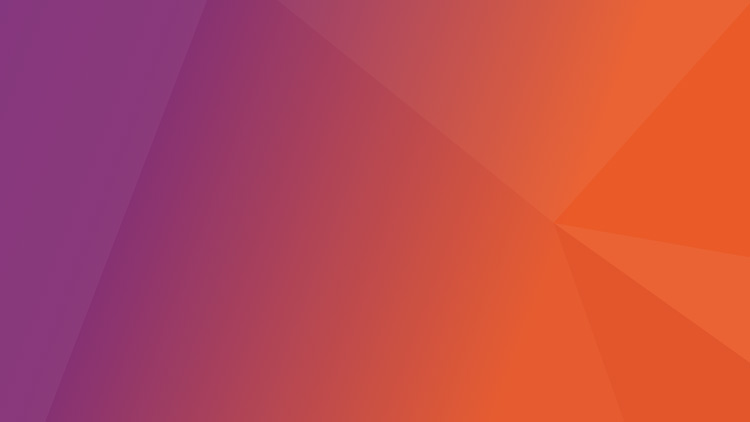 Apart from the default background, you'll get the following wallpapers by default:
New features in Ubuntu 17.04
Enough talk about Ubuntu 17.04 release date. Let's see what we are getting or expecting to get in Ubuntu 17.04.
Unity 8
Ubuntu users have been hearing a lot about Unity 8 for the last couple of years but so far Unity 8 is nowhere to be seen officially. Of course, there are ways you can run Unity 8 in Ubuntu releases already but that's the experimental way.
Ubuntu 17.04 does bring this experimental build of Unity 8. Though Unity 7 will still be the default desktop environment, you can select between Unity 7 and Unity 8 at the login screen.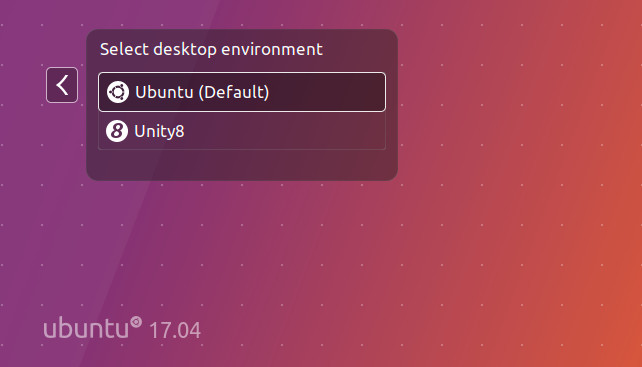 In case you didn't know, Unity 8 is the new version of Unity desktop of Ubuntu and it will be coupled with Ubuntu's own Mir display server. Unity 8 is important because it brings convergence to the desktop side of Ubuntu.
Update: Unity 8 won't be the default desktop on Ubuntu 17.04 or 17.10 or 18.04. Ubuntu Unity is dead and GNOME will be the default desktop environment starting Ubuntu 18.04.
Swap files instead of Swap partitions
Do we need Swap partition, that too double of RAM size? This has been one of the most frequently asked questions in Linux world in last few years.
You might know that Linux distributions use a Swap partition to free up RAM so that your system works smoothly. But this was more useful in the times when RAM was available in MBs which is not the case anymore. So dedicating an entire partition of 4-8 GB for Swap doesn't make sense anymore.
Canonical (Ubuntu's parent company) takes note of that. Starting Ubuntu 17.04, Swap partitions will be replaced by Swap files by default. So instead of a dedicated partition, Swap files will be using no more than 5% of free disk or 2GB (whichever is lower). The reason behind this decision is obvious:
Today, carving a partition and reserving twice the RAM size for swap makes little sense. For a common, general, machine most of the time this swap will not be used at all. Or if said swap space is in use but is of inappropriate size, changing it in-place in retrospect is painful.
This change does not apply to Ubuntu installation using the LVM (Logical Volume Manager) option.
32-bit PowerPC support is dropped
You might not have realized but Ubuntu till now used to support the aging 32-bit PowerPC architecture. As Debian has decided to drop this support, naturally Ubuntu followed the suit and has decided to drop the support for 32-bit PowerPC starting Ubuntu 17.04.
Driverless printing
We all know that printers are not that friendly with Linux. But things will get better with Ubuntu 17.04.
Ubuntu 17.04 is bringing the support for IPP Everywhere. It's a new protocol that "allows personal computers and mobile devices to find and print to networked and USB printers without using vendor-specific software."
Most of the printers sold these days already support IPP protocol. This means that you don't need to install drivers for printer from XYZ manufacturer. You can search for it on the network and use it for printing.
Linux Kernel 4.10
Ubuntu 17.04 includes the Linux kernel 4.10, which is known to enhance the performance of Intel Kaby Lake and AMD Ryzen systems.
Mesa 17 and X.Org Server 1.19
As Softpedia noted, Ubuntu 17.04 might include Mesa 17.0.1 3D Graphics Library and the latest X.Org Server 1.19.2 display server.
More Snaps
Ubuntu's new distribution agnostic Snap packages will be more prominent in the new release. It won't be replacing apt anytime soon, though. Read this article to know about Snap packages in detail.
More?
At the time of writing this article, there are not many new Ubuntu 17.04 features to discuss. However, I'll be updating this article as more new features start to arrive in the daily builds.
Download or upgrade to Ubuntu 17.04
Remember, you cannot upgrade to Ubuntu 17.04 from Ubuntu 16.04. You'll have to upgrade to Ubuntu 16.10 first and then upgrade to Ubuntu 17.04. And this is not what I recommend to anyone. Upgrading to two versions will definitely create issues, in addition to the long time taken in the upgrade.
If you are using Ubuntu 16.10, you will have to upgrade to Ubuntu 17.04 sooner or later. It's because Ubuntu 16.10 will reach end of life in July 2017 and your Ubuntu 16.10 system won't get security updates after that. So if you are using Ubuntu 16.10, start planning your move to Ubuntu 17.04.
There are two ways you can do that.
Upgrade to Ubuntu 17.04 from within Ubuntu 16.10
Do a fresh install of Ubuntu 17.04 (make sure to backup your Linux system)
Upgrading to Ubuntu 17.04 from Ubuntu 16.10
It will take some time that you get notified for the availability of Ubuntu 17.04. But if you want to get it at any cost, you can use a little trick.
Go to Software & Updates -> Updates. In here, make sure that Notify me of a new version is set to For any new version. Also, check the option of pre-released updates.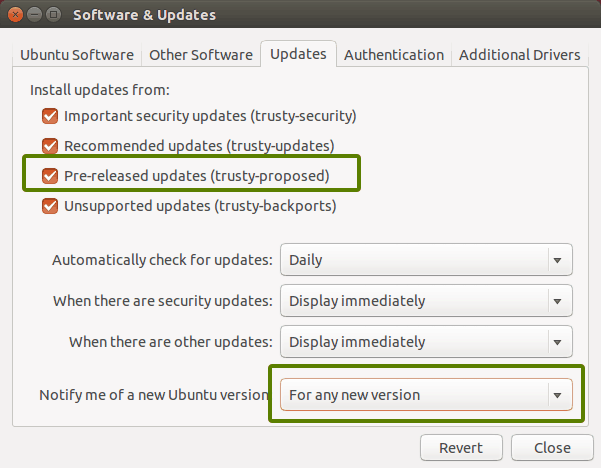 Next, update your system:
sudo apt-get update && sudo apt-get dist-upgrade
Now run the command below for distribution upgrade:
sudo update-manager -d
This will open the Software Updater GUI that will notify you of a new available version to upgrade. Just click on Upgrade button and follow the steps: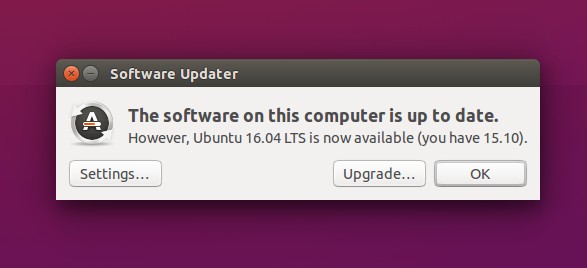 Alternatively, you can get the Ubuntu 17.04 ISO from this link.
If you do a fresh install, don't forget to check out the list of things to do after installing Ubuntu 17.04.
Something to add?
How did you like the new Ubuntu 17.04 features? Does it excite you enough to upgrade to Ubuntu 17.04 or would you prefer to stay with your current Ubuntu version?