Brief: Have a look at ProtonMail, a secure, open-source, privacy-focused email provider that you can use as an alternative to Gmail.
I, like most people these days, use email every single day. Similarly, I also have several email addresses to manage.
And, when we talk about email in general – most of you must be thinking about Gmail, right?
However, Gmail is not meant for a privacy-focused person like me. You probably already know that Google reads your emails. And I don't want Google to do that, especially for my business emails.
So, I prefer to use . Being one of the most secure email services available, I'll briefly describe what you need to know about ProtonMail.
What is ProtonMail?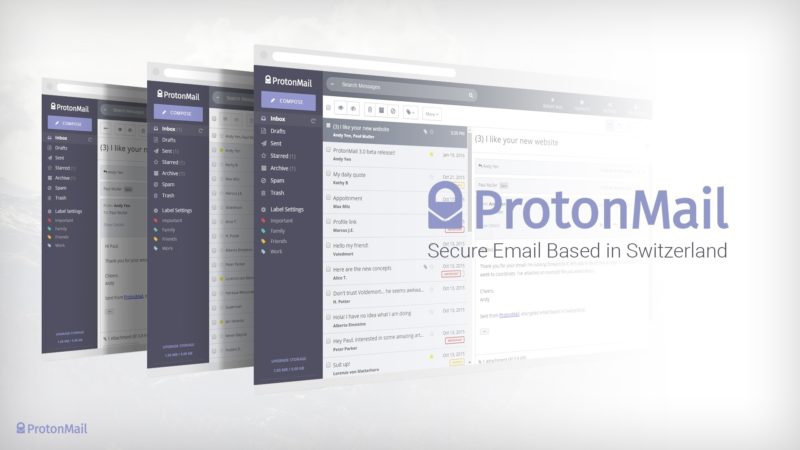 is a Swiss-based and privacy-centric email provider like Gmail. You can get a free @protonmail.com account or you can use your own custom domain (premium plans only).
Overall, ProtonMail is an open-source and privacy-focused email service provider.
Is ProtonMail Free To Use?
To get started, yes, it is completely free.
Unfortunately, you won't get all the functionalities for free on ProtonMail (which is usually available for free on Gmail).
To give you an idea, the free plan limits the storage with a 500 MB cap and does not give you the ability to utilize a desktop client. But, it's still good enough for secure email communications in a small scale.
If you need to make the most out of it – you would have to upgrade your subscription to the premium plan that increases the storage size, adds the ability to have a custom domain, adds desktop client support through ProtonMail Bride and similar other features.
Why Use ProtonMail?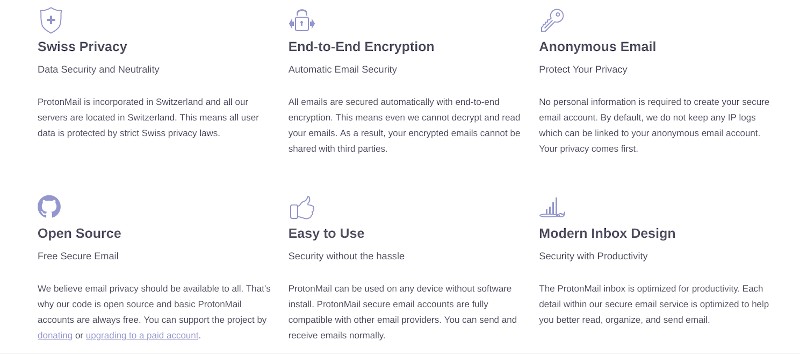 Of course, there's a lot to love here – but it's mostly for privacy-focused users. So, let us take a look at some of the potential reasons one should use it.
1. Privacy & Security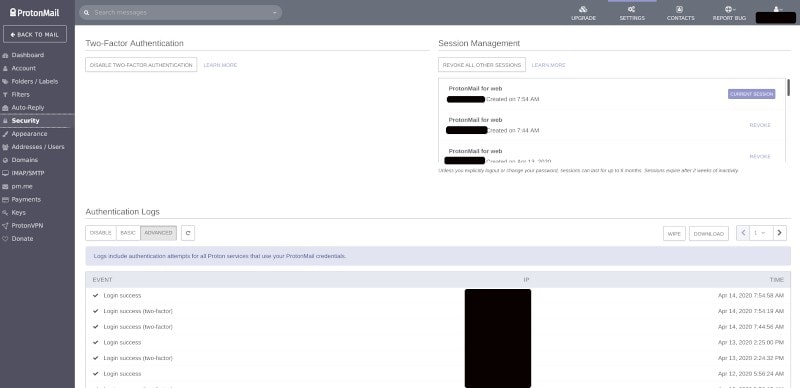 Since ProtonMail focuses so much on security it only makes sense for it to be a reason why you would want to use it.
First off, since ProtonMail is Switzerland-based, strict Swiss privacy laws protect their servers. In other words, they are potentially out of US/EU regulations.
Because of this, they are able to implement end to end encryption without any hassle. That means that ProtonMail's servers encrypt your email at every step of the way. Because of this client-side encryption, the risk of a third party collecting your email against your knowledge is "largely eliminated."
You and those you are emailing are the only ones able to read your emails. In other words, this means that your personal data is not accessible to even the folks at ProtonMail.
Not only are these bold claims, but we can count on them (at least, I choose to) keeping these promises for one major reason: ProtonMail is Open Source!
Not only are they secure, but in using Open Source libraries ProtonMail is fundamentally transparent. There are no secrets, no data mining, nothing. ProtonMail doesn't just talk-the-talk, they walk-the-walk, and they have the source code to back it up. That is something some other email providers simply cannot say.
2. ProtonMail Custom Domain Support
Even though it requires you to have a premium plan in order to able to use custom domains.
It's still something impressive to know that you have an open-source email service provider that provides features for business or commercial users as well.
Not everyone would need this – but with just $5/month, this could end up as one of your good investments to support an open source and secure service that lets you take control of your security.
3. Open Source
The whole point at It's FOSS is to highlight good open-source solutions. Even though I agree that not every open-source option works good – but this does.
If you are one of the users who want their software free and open source. You can browse through the source code of ProtonMail which is available on GitHub.
4. Intuitive UI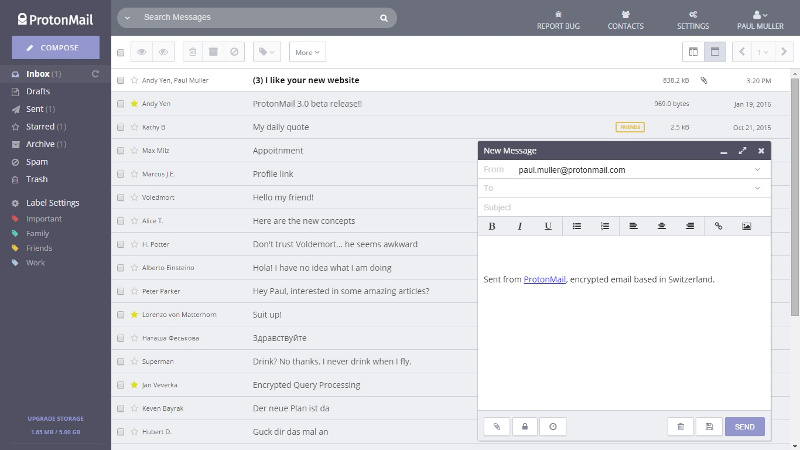 Unlike some other legacy open source email clients, ProtonMail boasts of a nice modern UI. You can add labels, stars, etc to categorize your emails.
Considering the fact that ProtonMail is being actively maintained – they're constantly pushing new changes and have made good progress.
A dark mode and an overhaul of the UI was also in progress while updating this article.
5. Cross-Platform
You can access ProtonMail on a web browser, that's not surprising.
But ProtonMail also has its own native iOS app and Android app to keep you connected, always.
So, you get the convenience of using a secure email service across multiple platforms using several devices.
The Downsides of Using ProtonMail
So at this point, you have only heard me say a plethora of great things about the service.
You may wonder what the downsides of ProtonMail are. Though there aren't many setbacks but nothing's ever perfect.
1. Desktop Client Support Comes At A Cost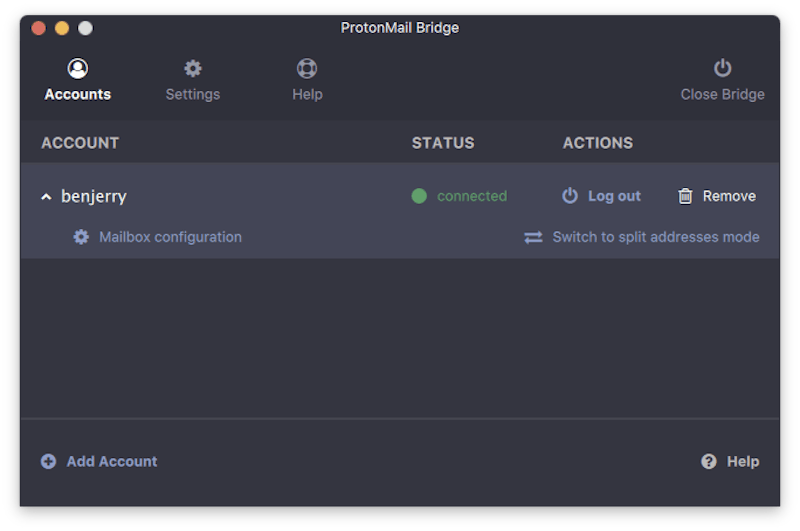 You might be already knowing about some of best email clients for Linux.
However, you can't utilize them when coupled with the free version of ProtonMail. Yes, you would need to have the premium subscription in order to access ProtonMail Bridge which makes the desktop client integration possible.
This could be a big deal breaker for users who want to use the free tier of ProtonMail but want the desktop integration as well.
2. Limited features in the free version
As I've mentioned above, it's free to use but you need to purchase the premium plan to make the most out of it.
So, this could be a very common reason that could put off a user from trying their services. You get limited storage, limited support, etc. Unless you are content with those limitations, you will need to fork out the minimum $5 a month to start getting some of those premium features.
Now let's be honest. Those limitations sound worse than they are. I have been using the free ProtonMail account for months and I have used 1% of the 500 Mb. And on top of that, how many of us can actually say we send and receive more than 150 emails a day? I sure can't.
So, it all comes down to what you prefer and your usage.
3. No easy account recovery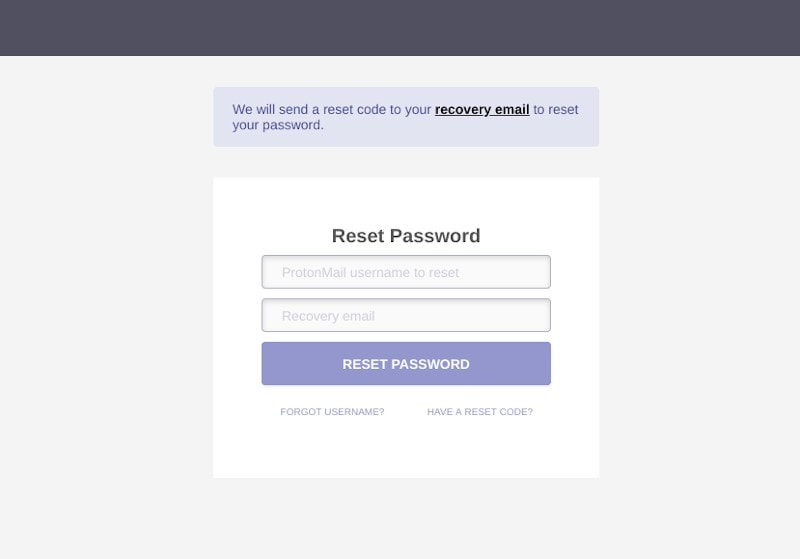 Since has encryption and a zero-knowledge policy for its customers, if you lose access to your recovery email (or don't have one) and forget your password, there is nothing ProtonMail can do.
Only if you've recently reset the password and you do remember the old password, in that case, you will be able to recover your account.
But, if that's not the case and you forget the password of your account along with the access to your recovery email (if any), you simply lose access to your mailbox.
Of course, privacy and security come at a cost of convenience for some services. So, if you choose to use ProtonMail, you can try having one of the best password managers on Linux to store the passphrase.
Or, just write it down on a paper note – if that's not a problem for you.
Conclusion
As an open-source solution to privacy-focused users, it is indeed an impressive alternative to Gmail that you can utilize.
If the free plan works out for you – I'd recommend trying it out first.
When it comes to its premium offerings – the pricing plan might seem high to some users. But, if you consider supporting open-source projects, you should grab the $5/month plan to get most of its premium features.
Have you tried using ? Feel free to share your thoughts in the comments below.