Brief: We'll have a look at Nuclear, one of the lesser known music players in Linux. It lets you stream music from a number of sources such as YouTube, SoundCloud etc.
Although I do maintain a collection of good ol' mp3 files on my PC, I don't disagree with the advantages of streaming music. I mean, you don't have to worry about storage. It's kinda unlimited storage capacity with streaming services.
Most music streaming services do have web apps as well as mobile apps, so you can access your songs anywhere. With local music, when you download new songs, you have to update your collection across all your devices. This is not an issue if you use a streaming service. And we have quite a selection of music streaming applications on Linux.
Pandora and Spotify are not yet available where I live so I have to use other free services like Soundcloud and YouTube. And today, we'll be having a look at the Nuclear music player. It is a professional-quality music player used with free services. Yeah, and it pulls songs from YouTube and puts them on your computer, so it's kinda dirty.
[irp posts="3932″ name="Install Pandora Radio Client Pithos In Ubuntu Linux"]
Features of Nuclear Music Player
Simple and easy to use user interface.
Popular new music information.
No subscription.
Multiple music sources.
Supports music streaming from YouTube, Soundcloud, Vimeo, and Bandcamp.
Ad-free.
Superior music quality.
Supports direct mp3 downloading from YouTube.
Free and open source software
Nuclear music player is an Electron based application. It allows you to stream music from YouTube, Bandcamp, SoundCloud, and Vimeo. It can also play YouTube playlists.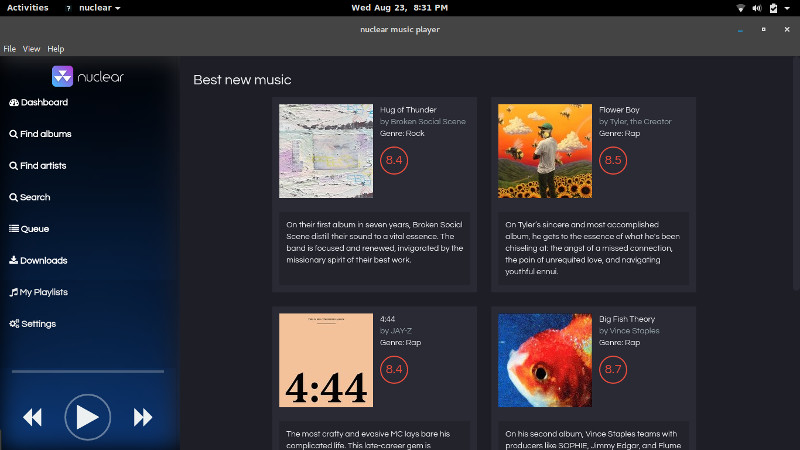 Nuclear music player features a clean and simple user interface. You can play songs by using the search. First, select the music source by checking the entries on the top right, then use the search box to search the songs of your choice. That's it. Easy peasy.
You can add songs to a playlist and save it. Also, Nuclear music player allows you to directly rip and download mp3s from YouTube with just a click. I told you it's dirty.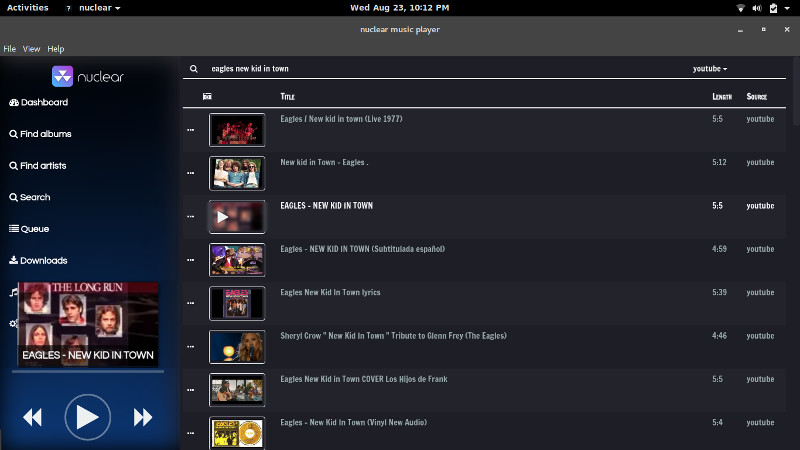 Installing Nuclear Music Player
You can download Nuclear music player from its website. Prepackaged .deb, AppImage files are available in addition to the source code.
You can launch Nuclear music player from the dash or the menu. One little issue is, you have to select the music source every time you search for a song, or else it throws an error. Not a big issue, but I hope the developer fixes this in the next update.
That's it for today. Do give Nuclear music player a try and don't forget to tell us how much you loved it using the comments below. I sure loved it. Cheers.