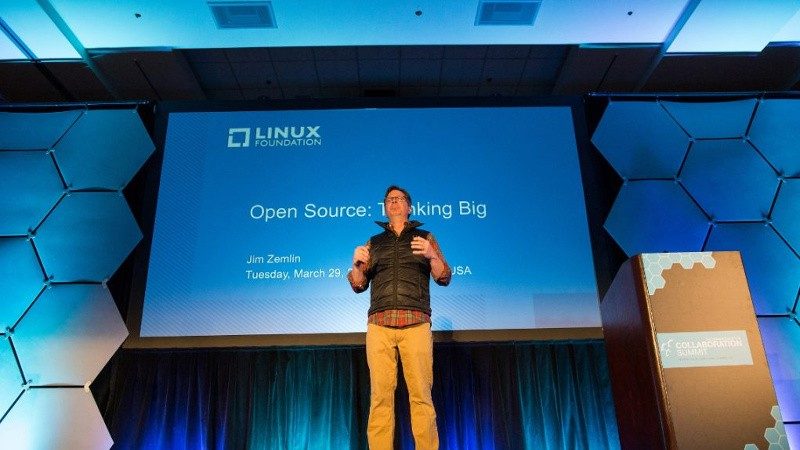 Open Source Summit 2017 is going on these days. Linux and Open Source biggies from across the globe have flocked to LA to attend this event.
Jim Zemlin, the executive director of The Linux Foundation, announced in the event, "2017 is officially the year of the Linux desktop!". This is the tweet from the official Linux Foundation account:
This should not come as a surprise. The head of Linux Foundation calling 2017 the year of Linux desktop, what could possibly be wrong with that?
But here's a catch! Jim Zemlin doesn't use a Linux desktop. Perhaps, he hasn't used a Linux desktop in years. And the worst thing is that he prepared his slides to announce 2017 the year of Linux desktop on an Apple device:
Matthew Garret is a security developer at Google and works extensively on Linux. And he is the same person who has spotted Jim Zemlin using Apple's macOS twice in last four years.
Is it really a big deal that Linux Foundation head doesn't use Linux desktop?
Perhaps I am creating unnecessary controversy. Perhaps this simply should be ignored. After all, he has the freedom of choice, freedom to choose his operating system. Doesn't he?
I mean, would it be a big deal if a Coca Cola executive drinks Pepsi, or if Apple's head, Tim Cook, unveiled the next iPhone while using a Microsoft Surface device?
It would be! Of course, it would be.
While Linux enthusiasts worldwide try to encourage people to start using Linux on their desktop, it is disheartening to see the head of Linux Foundation not using Linux on his desktop.
The Linux Foundation doesn't care about the Linux desktop?
I am not the first one to notice this. FOSS Force has already written an article about The Linux Foundation's apathy towards desktop Linux.
Lately, The Linux Foundation has focused too much on the server side. Cloud, container and everything else that powers network infrastructure and it has done an excellent job in this regard.
Which is fine because Linux rules that domain. But in order to do that, The Linux Foundation has neglected the desktop Linux it seems. Remember that they give free Chromebooks with their Linux training courses, not a 'real Linux computer'.
It's not like The Linux Foundation is short on money (at least that's what I think). They have membership plans where big corporates join the board by paying millions of dollars. Then why is desktop Linux neglected?
Only The Linux Foundation can answer that.
What do you think of it?
What do you think of the entire episode? Am I reading too much between the lines or my worries are legitimate?
Do share your thoughts in the comment section below.