Brief: Google announced the support for Linux apps to Chromebooks in its Developer Keynote I/O event. People using Chromebooks will soon be able to run Linux apps on their systems. 
In a surprising and welcome move, Google announced the support for Linux Apps in its I/O event this year. This means the Chrome OS users will soon be able to run their favorite Linux applications like GIMP, Inkscape etc seamlessly on their system.
With Linux apps, Google is trying to lure developers to Chromebooks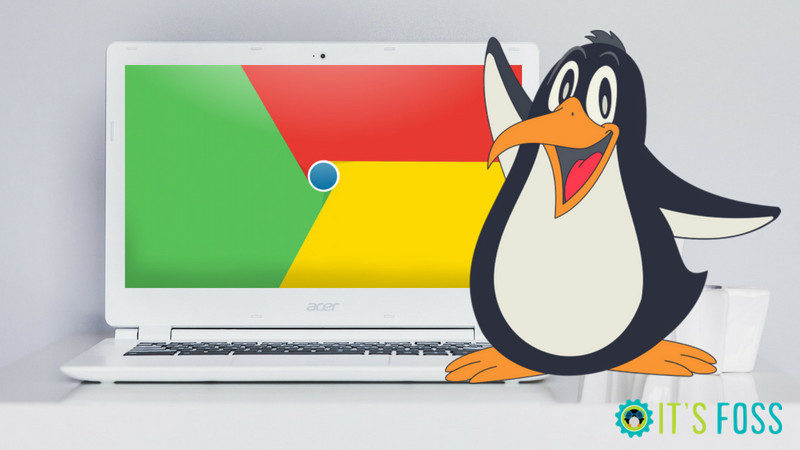 Chromebooks were launched as a cheap alternative to PCs with support for Web Applications through Google Chrome web browser. The Android app support was added a few years later on selected Chromebook models.
Chromebook gradually captured a good part of laptop market in developed countries like the USA. Lightweight, plenty of free cloud storage and cheap price have made Chromebook a popular choice among students.
But despite the support for Android apps, Chromebook primarily remains a limited use device with limited desktop applications. And this is what Google wants to change by bringing Linux applications to Chromebook.
The Linux apps support has just increased its importance for the Linux users, developers and in the education sector for students. There's more to do with a Chromebook than running Android apps and using web-based services.
Tal Oppenheimer, product manager at Google was more than happy to announce for Linux apps on Chrome OS in the Developer Keynote.
We introduced Chrome OS almost seven years ago to showcase best of the web and make computing accessible to all. But It's not about just access to technology, it's also about access to create it. And that's why we are expanding Chrome OS to support developers with the ability to securely run Linux apps on Chrome OS.
As she pointed out the main purpose of bringing Linux applications to Chromebooks is to allow development on the platform. Linux-based Chrome OS primarily relies on services hosted on the cloud in addition to the support for Android apps added some time back, a developer has to switch back to Windows or Mac for his development works. By supporting Linux apps, Chromebooks can overcome this shortcoming. A Chromebook owner can install an Eclipse IDE or the Android Studio for coding.
It can make things as easy as developing an Android app through Android Studio and testing it on the same machine!
[irp posts="26895″ name="No More Ubuntu! Debian is the New Choice For Google's In-house Linux Distribution"]
Linux apps on Chromebook are containerized thus no compromise on Chrome OS security
The support for Linux apps has been incorporated by running Linux in a Virtual Machine designed from scratch for Chromebooks. This VM itself will run in containers and thus the integrity of the host Chrome OS will not be compromised.
The virtual machine promises to be fast and opening an app will just need a click similar to other platforms. However, the performance will also depend on the application being used, a not so powerful Chromebook might not be able to run GIMP or Eclipse smoothly.
If you are excited about the Linux app support for Chrome OS (just like me), you may have to wait for sometime. The program is currently limited to Google's Pixelbook and one has to enable developer mode to avail it. It will be rolled out gradually to other Chromebooks in the market.
Here's a video showcasing the experimental feature on a Pixelbook:
Things to know about Linux apps on Chromebook
To summarize:
This Linux app support is different than installing Linux on Chromebook with Crouton.
Linux application support is provided by a containerized Linux virtual machine.
You will be able to access it from the terminal and install Linux apps using apt-get commands.
You will be able to pin the installed Linux apps on Chrome OS taskbar and launch it in single clicks.
This is an experimental feature and is currently available to Pixelbook in development mode.
More Chromebooks will get it when this feature is stable. There is no timeline for that at the moment.
Conclusion
It's an exciting news for both Chrome OS and Linux users. With a cheap and portable device that supports Android apps, the support for Linux app will mean it will be as powerful as any other Linux system. Though the wait will be a bit longer, especially if you are not a Pixelbook owner.
Are you excited about the Linux app support to Chrome OS? Let us know in the comments, we are curious to know your opinions.