Brief: This article will show you some useful tips so that you use can use your Kindle to its fullest. I'll show you how to transfer non-Kindle books to Kindle in Linux and I'll also show you how to read Kindle books on Linux.
Recently, I realized that I have lost the habit of reading books for past few years mainly because I am busy with my regular full-time job and managing It's FOSS. To rekindle my love for reading detective fiction and history, last week I bought a Kindle Paperwhite.
I am not going to review Kindle Paperwhite from a Linux user's point of view because it won't be different from the other reviews of Kindle Paperwhite already available on the internet.
I, however, will show Kindle hacks for Linux that you might not have realized that you could do with Kindle.
Using Kindle in Linux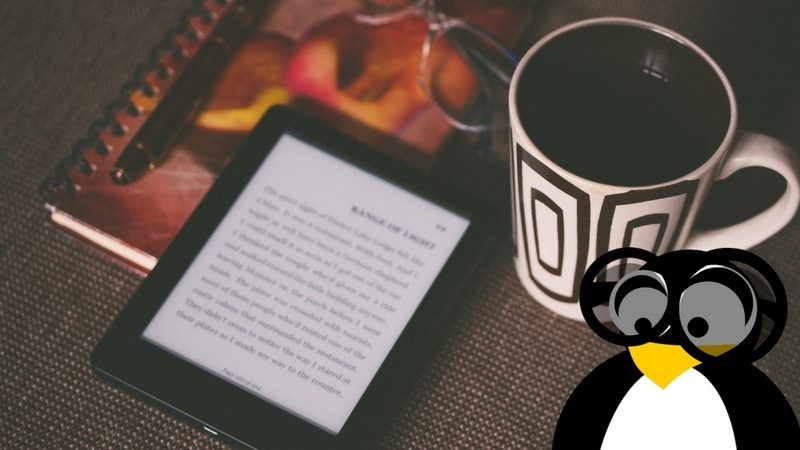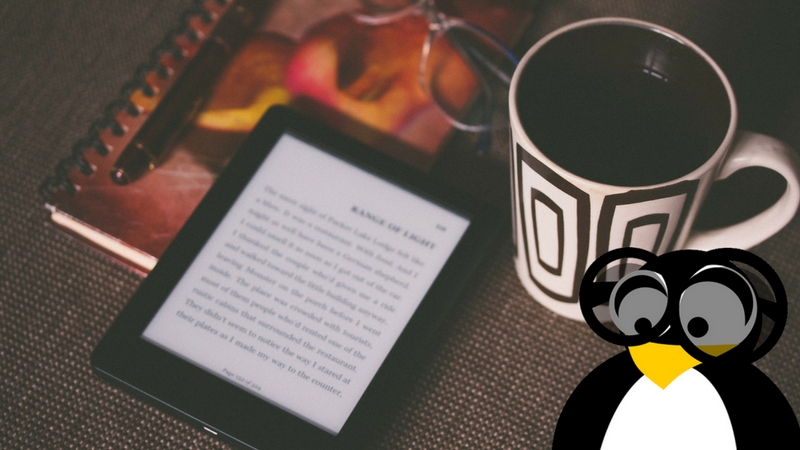 In this article, I am simply sharing my experiences to using Kindle to its full potential, with Linux. Few things you might already be doing, few things you might not. I'll discuss them in detail so that it can help you better.
1. Add books to Kindle in Linux
You can always buy books from Amazon but you might also have your own collection of books that you might want to read on your Kindle.
For example, if you downloaded free Linux books and you want to read it on Kindle, you can easily do that. Transferring non-Kindle books to Kindle is fairly easy.
A few things to keep in mind here. If you have a PDF book, you can still read it on Kindle. However, it is advisable to convert the PDF to MOBI or other format preferred by Kindle.
This way, the books will be displayed in native Kindle format and they won't look out of place. The display also depends upon the way PDF was 'coded' in the first place. I mean, if you have PDF that was scanned from an old book, there is no way it can be displayed in native Kindle way.You can still read it on Kindle, but it won't be the same experience, same beautiful typeset, properly spaced and the ability to select words and highlight them.
You can still read it on Kindle, but it won't be the same experience, same beautiful typeset, properly spaced and the ability to select words and highlight them.
Let's see how to convert PDF to Kindle ready format.
Step 1: Convert PDF to Kindle format
We will be using the best tool to manage eBooks, Calibre. Calibre is an open source, cross-platform application for managing eBooks. We have already seen how to create an eBook in Linux with Calibre. previously. We'll see how to use it to convert PDF to MOBI and AZW3 format.
Calibre is available in the official repositories of all Linux distributions. Ubuntu and other Ubuntu based Linux distributions such as Linux Mint, elementary OS etc can use the command below to install it:
sudo apt-get install calibre
Once installed, start the program. Import the PDF file (In the menu, use Add Books option). Here, I imported a bunch of eBooks in Calibre: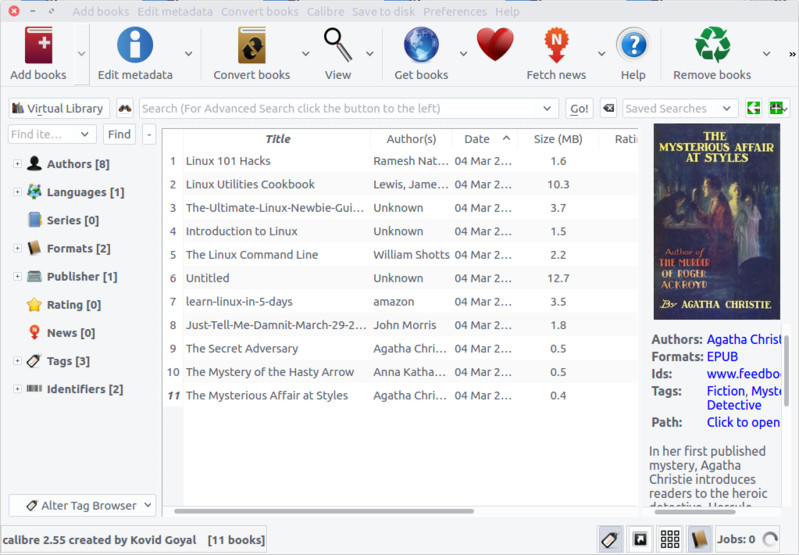 Once you have the eBooks added in Calibre, right click on the desired eBook and Convert books->Convert individually.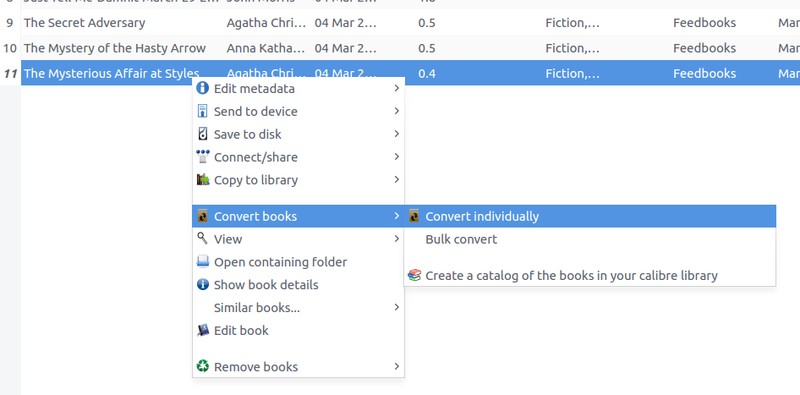 It will give you some options. Important thing is to select the output profile and output format. I have chosen the output format AZW3 but you can also choose MOBI.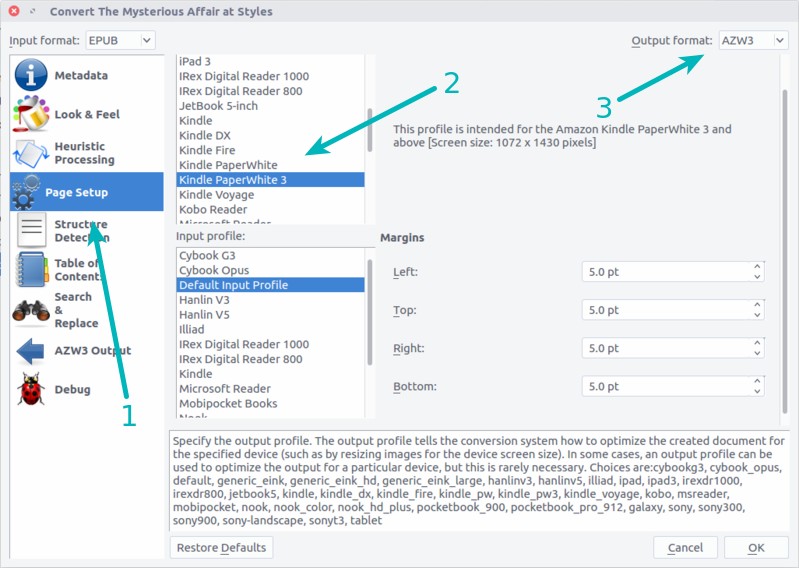 Once you do that, go to the place where you had defined Calibre library (default location is Home/Calibre Library). You'll see the converted eBook there.
Step 2: Transfer converted eBook to Kindle
There are several ways you can transfer the MOBI or AZW3 file to Kindle. I'll discuss the easiest two.
Option 1: Transfer via USB
No rocket science here. Just connect your Kindle to your computer via USB. Once Kindle is mounted as an external storage device, just copy paste the converted book.
Option 2: Transfer via email
If you didn't know, Amazon gives you a Kindle email id. You can see it in your Amazon account, under manage your Kindle device option.
Alternatively, you can find your Kindle email on your Kindle by going to Settings->All Settings->My Account->Send-to-Kindle Email.
Once you have your Kindle email, you can simply compose an email using your regular email account. Attach the converted eBook to the email and send it to your Kindle email.
When your Kindle connects to internet connection next, you'll see the new eBook there.
Do note that the non-Kindle books transferred this way won't be added to your Kindle cloud storage. So if you delete the book from Kindle, you'll have to manually transfer it again. It won't be saved to the Amazon cloud.
2. Read Kindle books on Linux desktop
So, we just saw to read non-Kindle books on Kindle. Let's go the other way round. How about reading Kindle books on non-Kindle devices, more precisely your Linux desktop.
You can do this as well, all thanks to Amazon. Amazon provides a web interface Amazon Cloud Reader where you can find all your Kindle books saved in the cloud. Non-Kindle books won't be available here. You can also use it on non-Chrome based web browsers.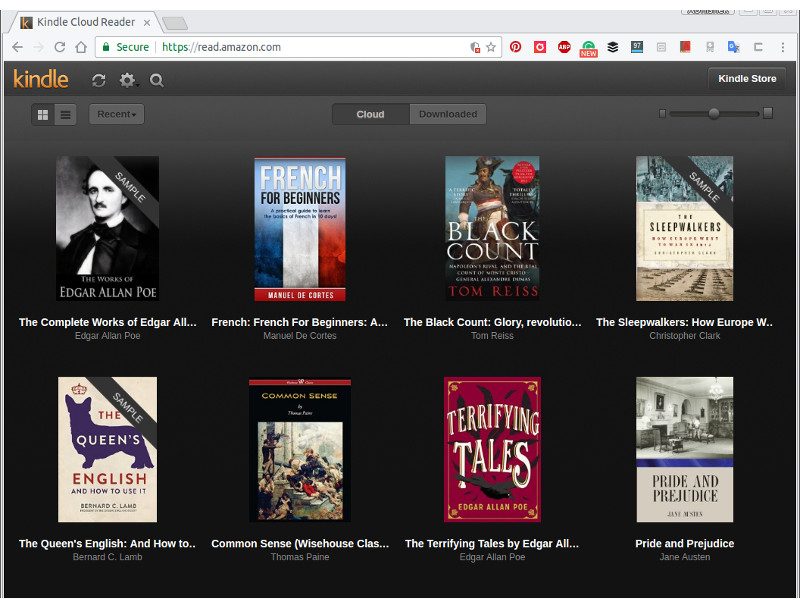 One added advantage of the Amazon Cloud Reader is that the state of books is synched with your Kindle device. Which means that you can continue reading the Kindle books on your desktop from the page you left on Kindle.
You can also try to open the Kindle books in the default eBook viewer when Kindle is connected via USB. But chances are that your book will be locked by DRM.
3. Legally download free eBooks
This has nothing exclusively to do with Linux. But I wanted to inform you about some websites from where you can download books for free and it is totally legal. Some (or all) of these books or DRM-free so you can easily convert them to Kindle format.
4. Convert ugly PDFs into readable books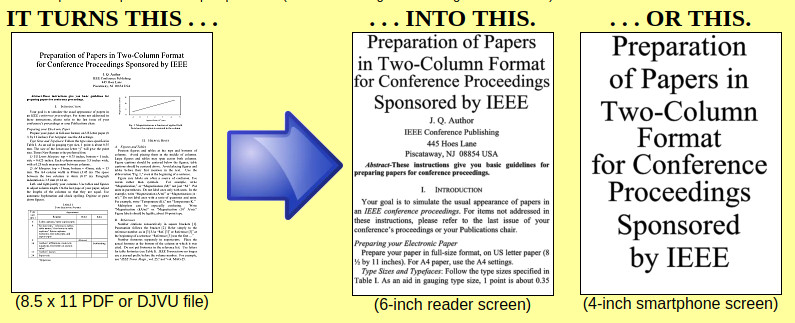 If you have some scanned PDFs that don't look good on your Kindle, you can convert them to a more Kindle-friendly format using a free tool called K2pdfopt.
How do you use Kindle with Linux?
Time for you to share your inputs. How do you use your Kindle with Linux? Do you have some tips up your sleeve that you would like to share with the rest of us? Do use the comments section below.