Enve is a cross-platform application that allows you to create vector animations and raster animations. You can even use audio and video files for creating your animation.
Enve is open-source software using GPL 3 license. It is available for Linux, macOS and Windows.
Enve for creating 2D animation in Linux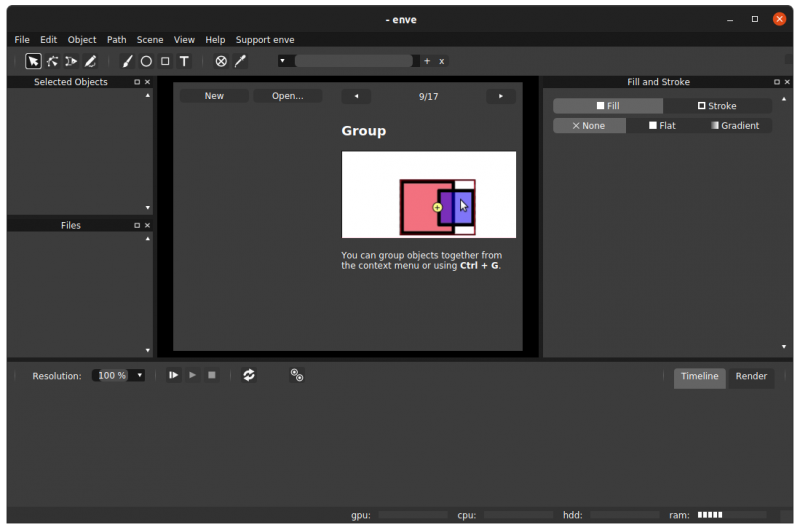 There are several graphics tools available for Linux. From vector images to 3D animation, we have it all. Enve provides 2D animation capability. Let me run through some of the main features of this open source software.
Timeline based animation
Supports objects like curve, ellipse, rectangle, text, brushes etc.
Multiple scene per project
Allows importing images, audio and video
Configurable preview resolution
Supports Linux, Windows and macOS
Want to see it in action? This official video shows how Enve works. The video demonstrates by creating the intro of Enve in Enve itself. Can it be called "Enveption"? (sorry for the lame joke)
There are several videos on the official YouTube channel of Enve. You may follow them to learn to create 2D animation with Enve.
Enve is recursive acronym and it means Enve is Not a Video Editor.
Installing Enve on Linux
Enve is available as AppImage for Linux users. This means you can download the application in AppImage file, give it execute permission and run it. No need to install AppImage.
You can find the AppImage and source code on its GitHub repository:
I installed Enve on Ubuntu and it ran successfully. Since it comes packaged in AppImage, it should run fine in other Linux distributions as well.
If you are expecting to read about my experience with Enve, you are in for a disappointment. I am not good with brush, paints or mouse to make good graphics or art. There is no hidden artists inside me.
I didn't create any graphics because I am not the best person to judge its capabilities. If you are someone interested in 2D animations, you should try and explore Enve and see whether it fits your needs.