Brave is a rather new web browser based on the open source Chromium project.
With Chrome like features, built-in ad blocker and an optional crypto ecosystem, Brave has managed to get a good following. They are expanding their ecosystem with their own Brave search engine.
I am not going to debate if Brave is better than Firefox or other privacy-first browser. If you are already using Brave and a fan of dark mode, let me quickly share how to enable dark mode in Brave browser.
Switch on dark mode in Brave browser
If your operating system is already using dark mode but Brave doesn't recognize it, you can enable the dark mode from the settings.
To do that, click on the Hamburger menu (located at top right corner of browser window) and then on Settings.
Once the browser settings window is open, click on the Appearance sub-menu from the list of available items to the left.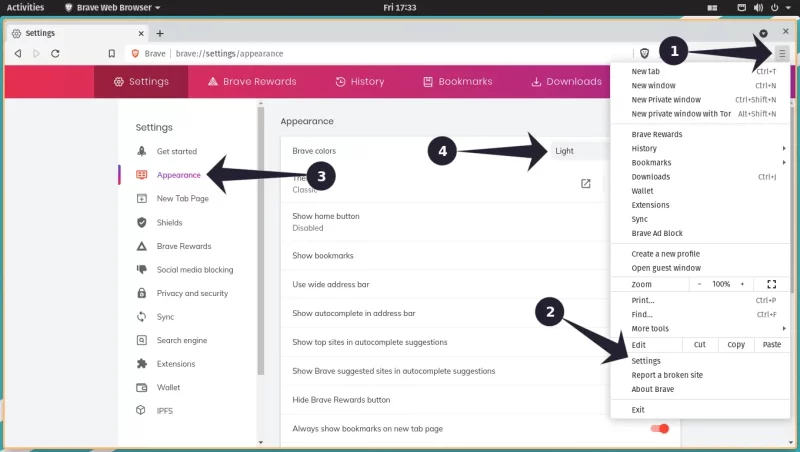 From there, the very first option is to change colors. Select the option "Dark" from the Brave Colors drop-down menu.
Alternatively, you can visit the link given below to land on the necessary page regardless of UI changes:
brave://settings/appearance
This should give your eyes some temporary bliss as the colors turn dark and the strain on your eye reduces.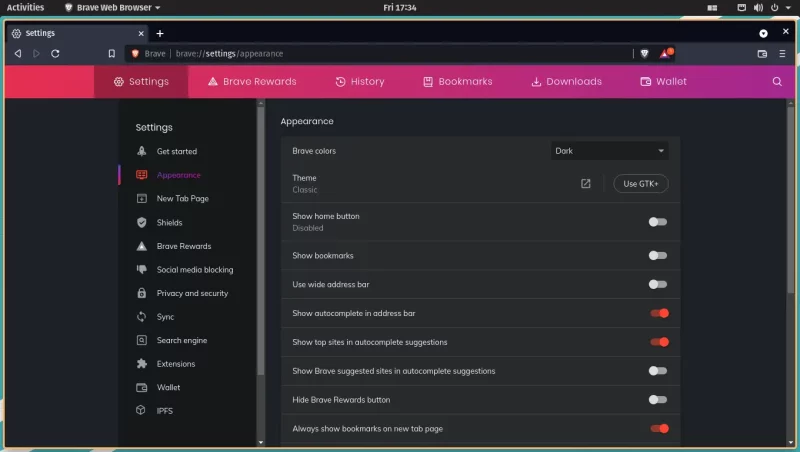 Unfortunately, the journey is not over… yet. The final destination awaits…
Forcing web pages to render in dark theme with Dark Reader extension
Sadly, not all web pages check if your browser has a dark mode enabled.
To force dark mode on web pages which do not even have a dark theme to begin with, you can use an extension that intelligently changes the web page color scheme.
One such extension is Dark Reader. This is the extension I personally use, and for the most part, it works flawlessly. It is also available for Firefox users :)
For any web page that does not have a dark theme (or a toggle), Dark Reader works like a charm. But at times, it will implement its own dark theme on a web page which already has a toggle-able theme.
GitHub is a good example for this; it already has a dark theme and Dark Reader's automatically selected colors might look off to a user who has already seen GitHub's dark theme.
That doesn't mean Dark Reader is bad. It is plenty good, but you should know the full story.
Here is an example of Dark Reader working wonders with the It's FOSS homepage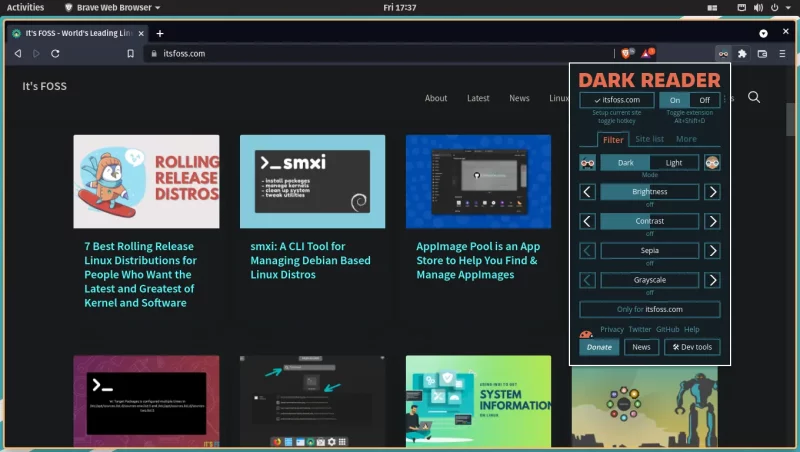 For websites which already have a Dark mode implemented, but not activated by default (YouTube, Google etc), you can add said websites to it's "Site list" and turn the dark theme as a per website basis, and Dark Reader will not implement it's own dark theme for given websites.
When you feel that Dark Reader's auto generated dark theme are not good enough, you can tweak the filters for Brightness, Contrast, Sepia and Grayscale color values per webpage.
With Dark Reader, you get two lists, one for the websites where you always want dark mode turned on and another for when you do not want dark mode turned on.
You can even setup a hotkey for adding a website to any given list.
On top of automatically setting dark colors for websites, Dark Reader gives you the option to change font(s). It is open source, you can view the source code on GitHub.
Dark or not…
Dark theme is getting popular even among non-developers. More and more operating systems, websites and applications are providing dark mode option.
When things don't work out of the box, you could try finding a way to achieve it. I hope this little post here helped you to enjoy the dark theme in Brave.