Atraci is a new open source streaming music player that streams music from YouTube but in a nicer and cleaner interface. Apart from listening to the top tracks, you can search for an artist or album, create playlists. You can also see the songs you played previously in history.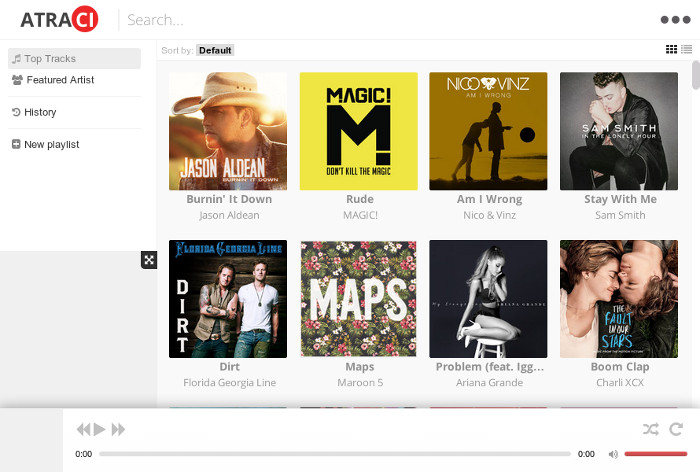 In terms of interface, it is somewhat similar to Popcorn Time and Netflix. Since it fetches music from You Tube, you can also watch the videos in the left sidebar. You can maximize the video but it won't go full screen, unfortunately. Also, you cannot change the quality of the video.
Atraci claims that one can listen to 60 million songs in Atraci which is much more than 26 million in iTunes. Atraci uses iTunes, SoundCloud and Last.fm to get the track information and album art. Main features of Atraci can be summarized as below:
Features of Atraci music player
Attractive and clean interface
More than 60 million songs
Create playlists
Play top tracks and featured artists
Search for albums/artists
Shuffle and repeat option
View history of recently played tracks
Installing Atraci in Linux
Atraci is available for Linux, Windows and Mac. You can get the source code and executables from their GitHub page. In Linux, just extract the downloaded file and run the executable. For Linux distributions based on Ubuntu 14.04 such as Linux Mint 17 etc, you can use a PPA by Webupd8 team.
Open a terminal and use the following commands:
sudo add-apt-repository ppa:webupd8team/atraci
sudo apt-get update
sudo apt-get install atraci
Since this application uses Node.js, which is not supported by Launchpad, this PPA will download and install the latest binary from Atraci Github.
I know it is not the same as using Spotify in Ubuntu but its ad-free and plays quite smooth (at least on my fiber optic internet connection). Did you try Atraci? How do you like it? Do share your views.