Want to use WhatsApp on your Linux desktop? Here are a few ways to do that.
Surprisingly, the hugely popular messaging app WhatsApp doesn't provide a standalone desktop client. However, the good part is that they considered the issue and launched WhatsApp Web.
WhatsApp launched its web version back in 2015, where you could access WhatsApp on the web browser, considering that your mobile was connected to the internet.
Fast-forward to 2022, WhatsApp finally added the Multi-Device feature where you can stay connected to your WhatsApp chats without an active internet connection on your phone.
However, there is still no desktop client for Linux. So, you can stick to WhatsApp Web or use some of our suggested workarounds. Here, I list some of the best ways to use WhatsApp on Linux.
1. Use WhatsApp Web on a Web Browser
First, go to WhatsApp Web using a web browser, and you will see a QR code.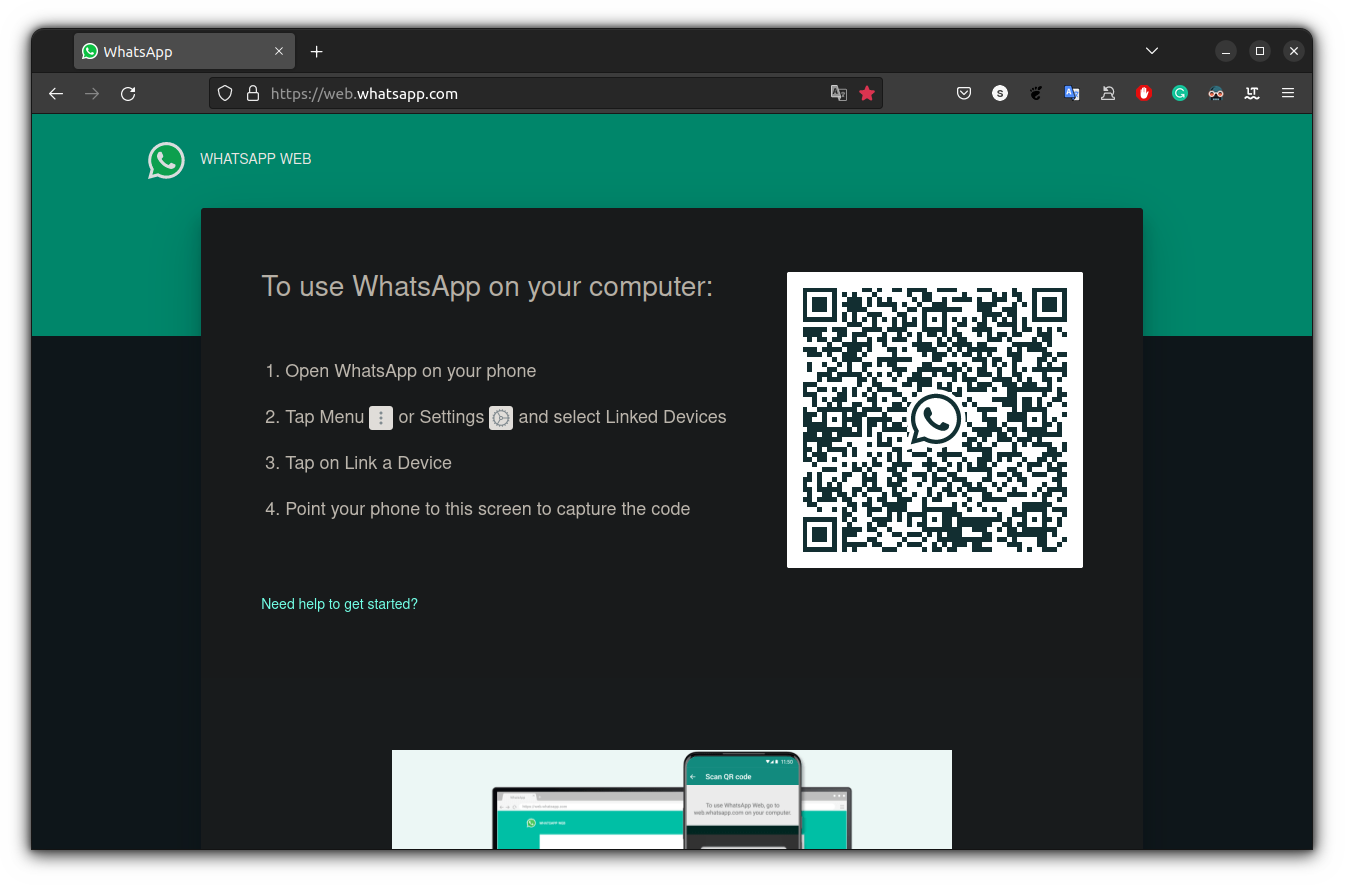 Curious to know how I enabled the dark mode in Firefox? Here are some open-source add-ons to improve your Firefox experience.
Back to our task at hand:
Launch the WhatsApp app from your Android or iOS device and go to Menu → Linked devices → Link a device.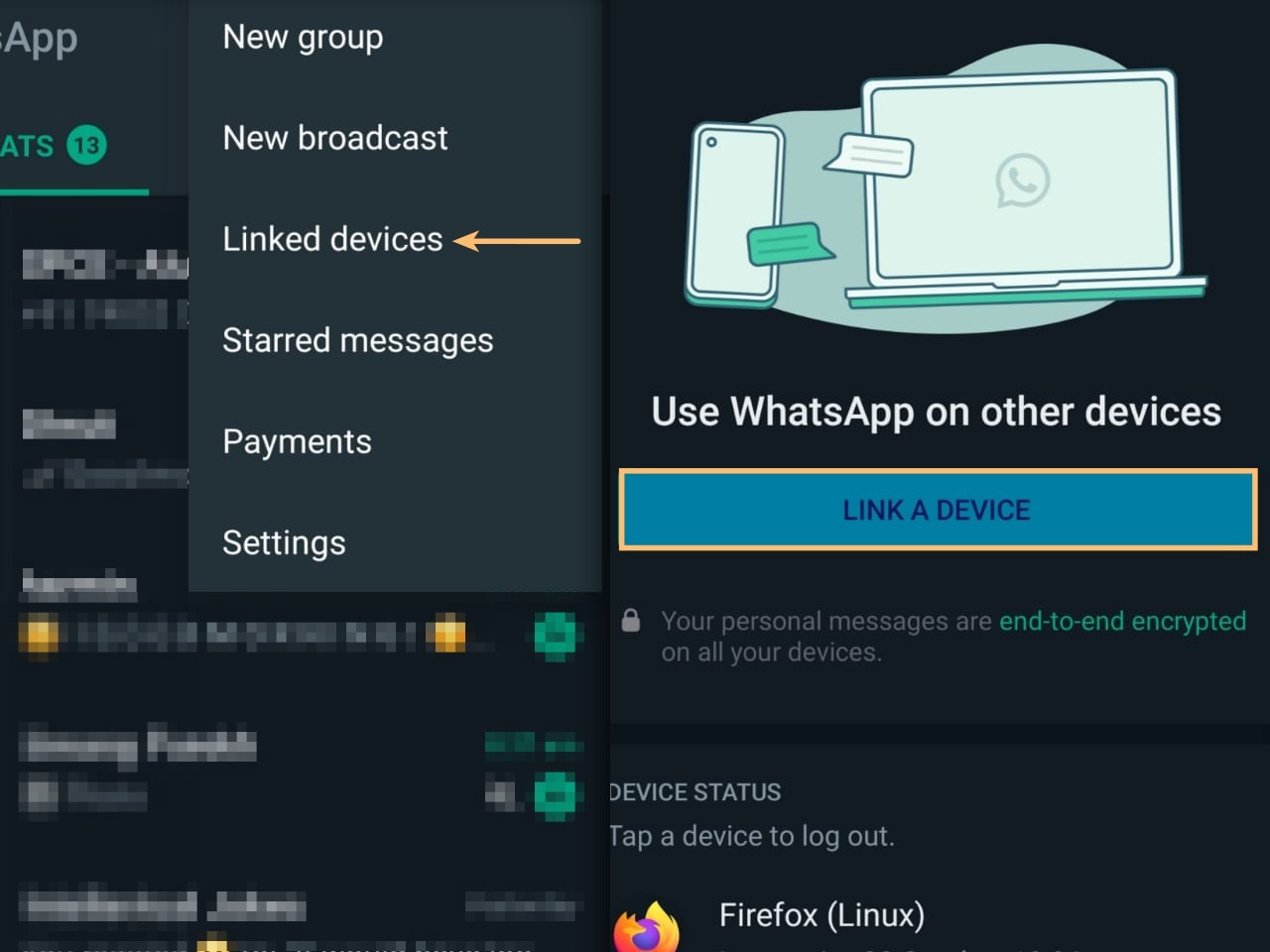 Simply scan the QR code displayed on your computer screen using the phone. That's it! You should be logged in to WhatsApp in no time.
🚧
Voice and video call is still not allowed via WhatsApp Web or any of the other methods mentioned here.
2. Install the Unofficial WhatsApp desktop client Whatsdesk on Linux
Whatsdesk is an easy-to-use unofficial WhatsApp client for Linux. The WhatsApp client was developed by Gustavo Gonzalez, and the code is available on GitLab.
Whatsdesk pretty much works the same way as WhatsApp web. However, the only difference is that you get a dedicated WhatsApp app installed on your Linux machine.
It is available as a snap package. So, you can install it using the terminal or the software center.
To install it through the terminal, press CTRL + ALT + T simultaneously. Over here, you have to run the below command:
sudo snap install whatsdesk

Once installed, go to the menu, search for Whatsdesk and launch the client.

Similar to WhatsApp Web, you have to scan the QR code from your smartphone, and you will get logged into your WhatsApp Account.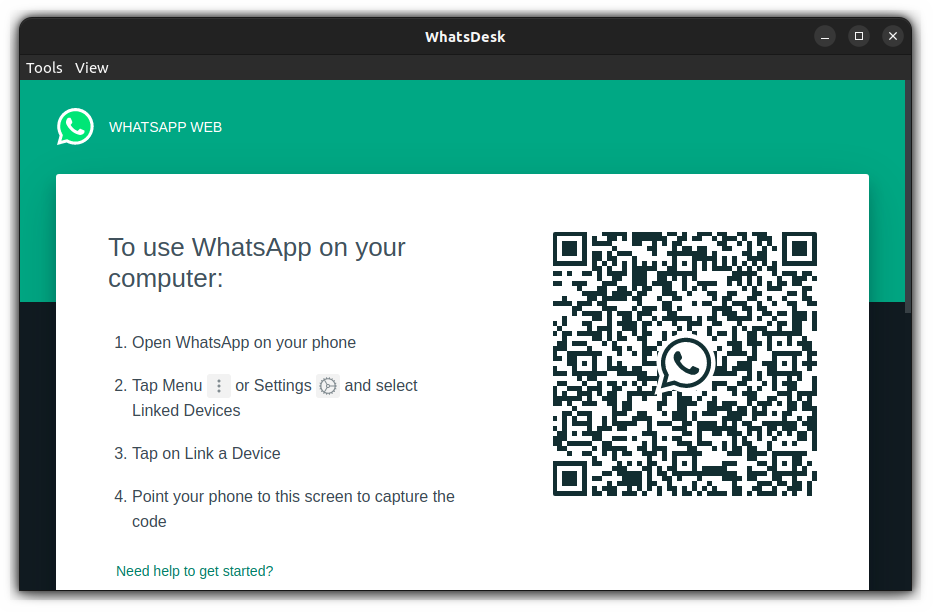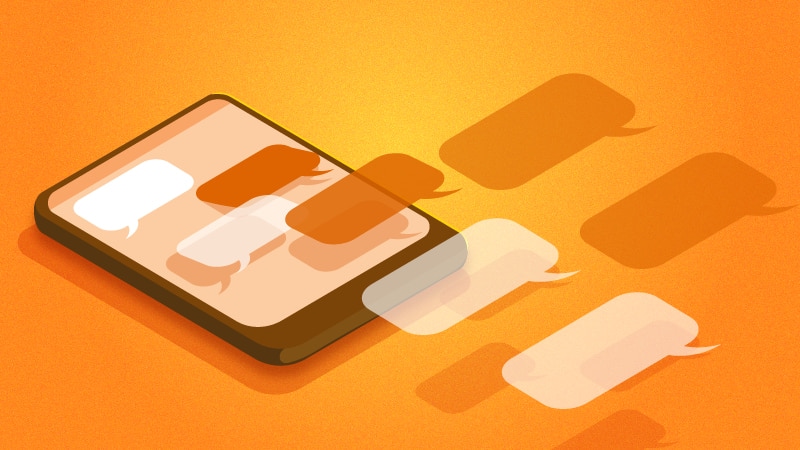 3. Use Franz for using WhatsApp on Linux
Franz is an all-in-one messaging app that supports WhatsApp, Facebook Messenger, Slack, Telegram, and other social media platforms and apps. It is a single platform that allows you to add different services as often as you want.
It makes it easy for you to manage multiple business and private accounts simultaneously. Getting started with Franz is easy. And, it is free!
Franz is available for Linux, Windows, and macOS.
To get started with Franz, follow these below steps:
a. Go to Franz's download page and download the software for Ubuntu. Once you download the package, you have to install Franz in Linux.
There's also an AppImage available for Franz. You can follow our complete guide on how to use AppImage in Linux if you are new to this.
b. Once installed, click "Create a free account" and sign up for an account.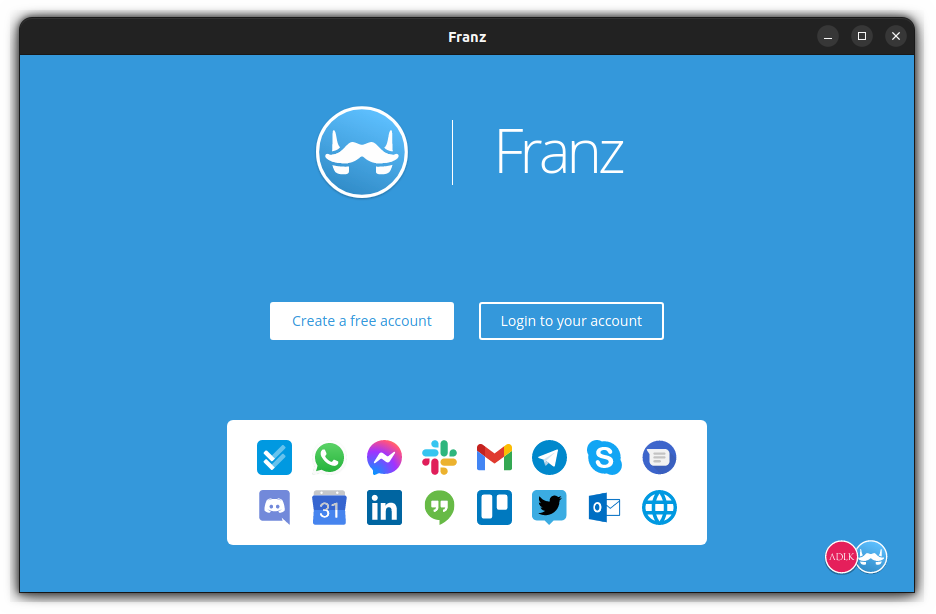 c. Then deselect the other options (Messenger and Gmail) and hit on the Let's go button to proceed with WhatsApp.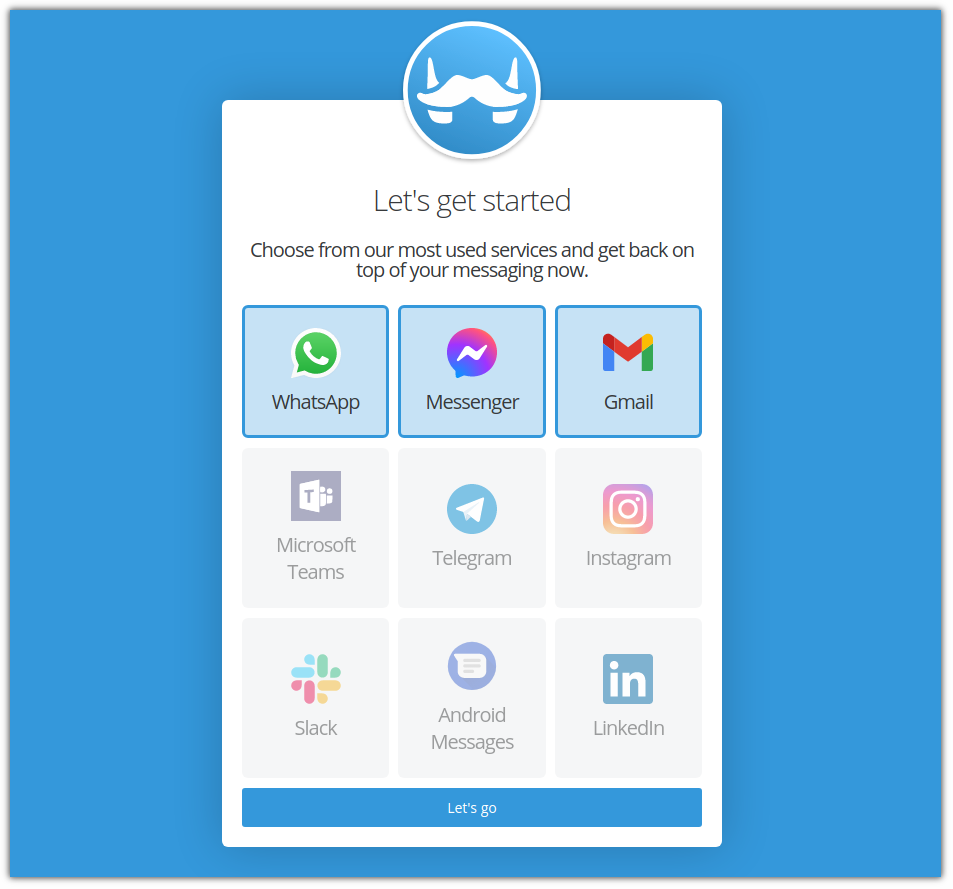 d. Thereafter, you will see the WhatsApp QR code, which you have to scan from your Android or iOS device, and you are all done.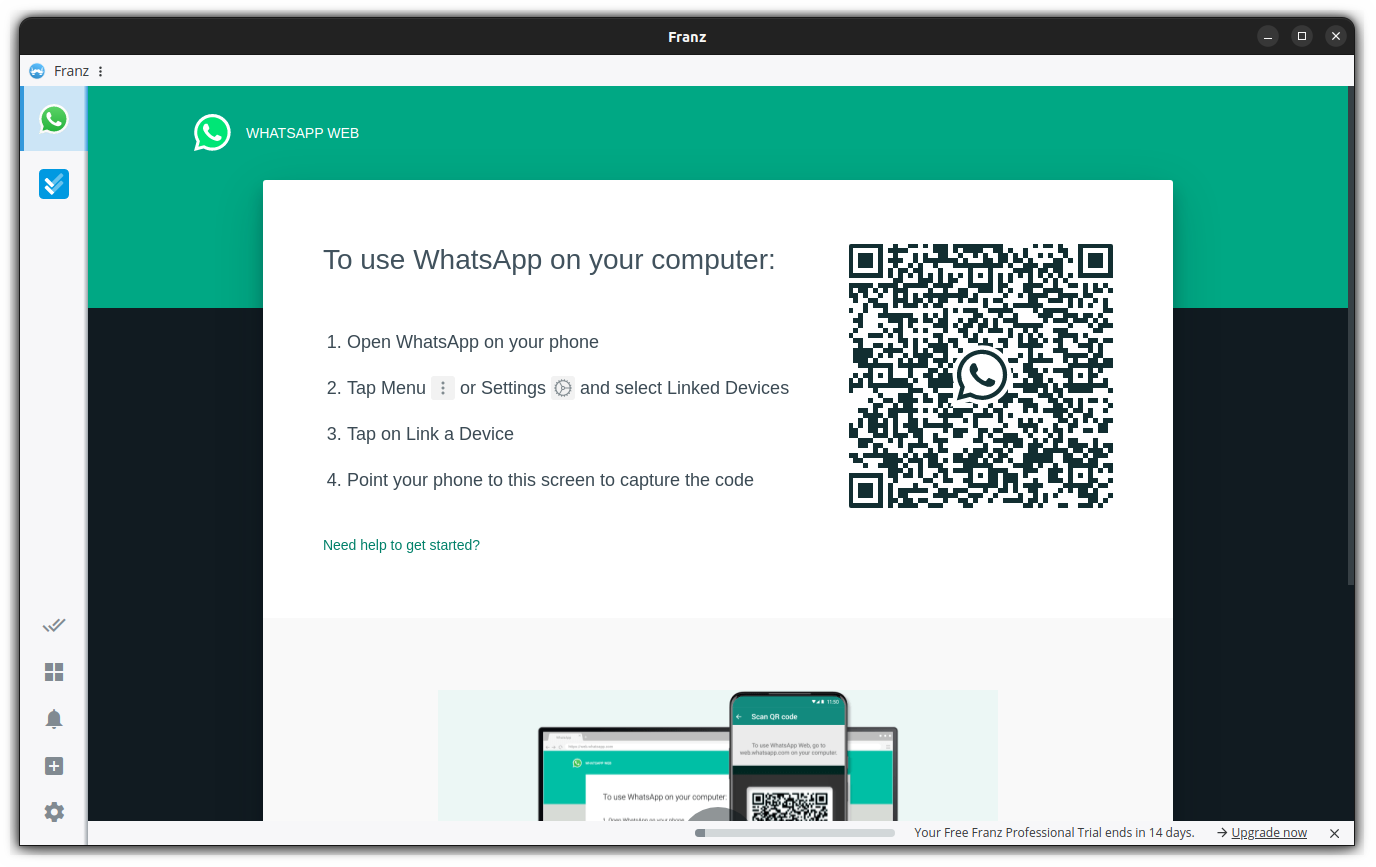 That's it. Franz as an option is useful for users dabbling with multiple messengers, and social media services.
There's also Rambox, which is somewhat similar with more paid features.
WhatsApp is Easy to Access Now on Linux
Through this tutorial, I provided various ways to use WhatsApp on Ubuntu or any other Linux distribution.
This way you can easily chat and reply to messages. You can even send voice messages. However, voice calls and video calls are still not supported.
What do you prefer to use? The official WhatsApp web? Or a desktop app on top of it?
Kindly let me know your thoughts in the comments below.