Ubuntu 22.10 'Kinetic Kudu' has just been released. If you are using Ubuntu 22.04, you should be provided the option to upgrade to Ubuntu 22.10.

However, this rollout will be gradual. This means not everyone will be notified about the availability of the new version immediately. It may take a couple of weeks before you see the upgrade option.
But what if you are itching to get your hands on Ubuntu 22.10 which comes with GNOME 43 and other new features? Do you really have to wait? The answer is no.
Note: While the upgrade procedure is painless, it is still recommended to make backup of your data on an external disk. Having a live Ubuntu USB helps you reinstall in some rare unfortunate incidents when the upgrade doesn't go as planned.
Also, once you upgrade, you cannot go back to the previous version. You'll have to fresh install it.
Upgrading to Ubuntu 22.10 from Ubuntu 22.04 right now
Here's what you do. Open the Software & Updates application:

And make sure that you have set "Notify me of a new Ubuntu version" to "For any new version" under the Updates tab.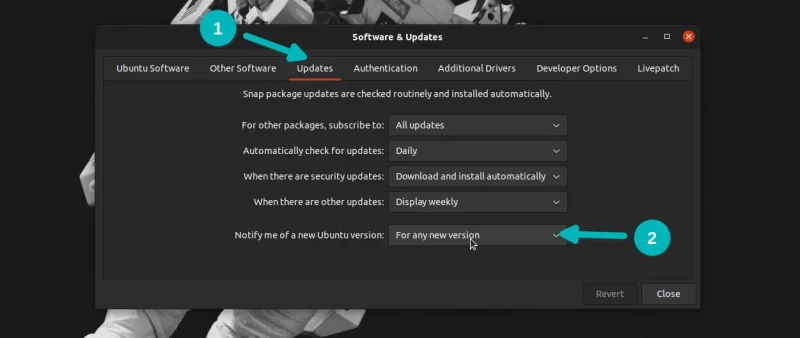 Now open a terminal and enter the following command to make sure that your system is updated:
sudo apt update && sudo apt upgrade
Now run the Software Updater and it should show you the option to upgrade to Ubuntu 22.10.
Still don't see the upgrade?
Since the rollout is gradual, not everyone will get notified immedately.
However, you can make the update manager to look for development releases (Ubuntu 22.10 in this case) with this command:
update-manager -d
It will open the Update Manager tool that looks for updates. Since you have already updated the system, it won't find new updates to install. However, it will see that Ubuntu 22.10 is now available.

You can hit the upgrade button and follow the on-screen option to start the upgrade procedure.
Ensure these two things:
You should have a good internet speed to download the 2 GB worth of updates.
Your system should stay connected to a power source during the upgrade.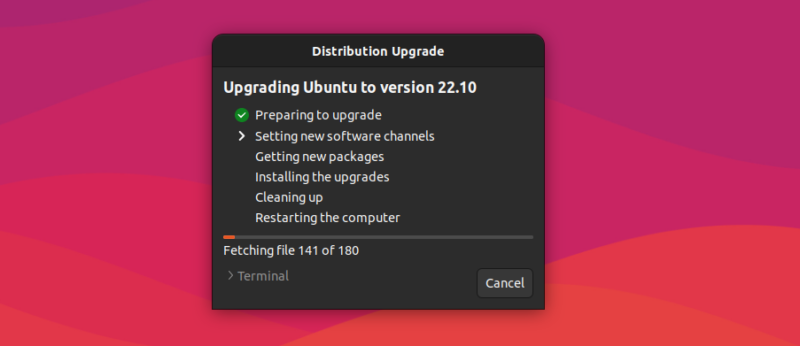 If you need more help, here's a video to that shows all these steps.
Enjoy Ubuntu 22.10!