Since the rise of smartphones digital distribution platforms for computer software have multiplied and with them the use of applications as "apps". Major players in this field are Apple and Google offering all kinds of apps that are easy to download and integrate on people's mobiles.
But what about server and business applications for an organization that can be used both on-premise and in the cloud? How about being able to install a whole range of enterprise applications and integrate them in your IT environment with just a few clicks?
Univention, the maker of Univention Corporate Server (UCS), a free, open source server and identity management solution, was missing such a platform and hence developed UCS' own app marketplace, the Univention App Center, in 2012. Since its beginnings, this App Center has been improved and grown a lot.
It's main, business-relevant characteristics are:
Open structure, no vendor lock-in
Offering choice by providing a large number of mostly open source-based, mature and well-known applications from various independent software vendors
Easy installation and simple integration into existing IT infrastructures
Central management of the apps via the Univention Management Console
Possibility to install on-premise and in the cloud
Provision of preconfigured Univention Apps for the cloud as well as virtualization solutions for VMware, VirtualBox and KVM
Single sign-on and password self services for the users
Integrated lifecycle and patch management for all installed apps
App Installation and Central Management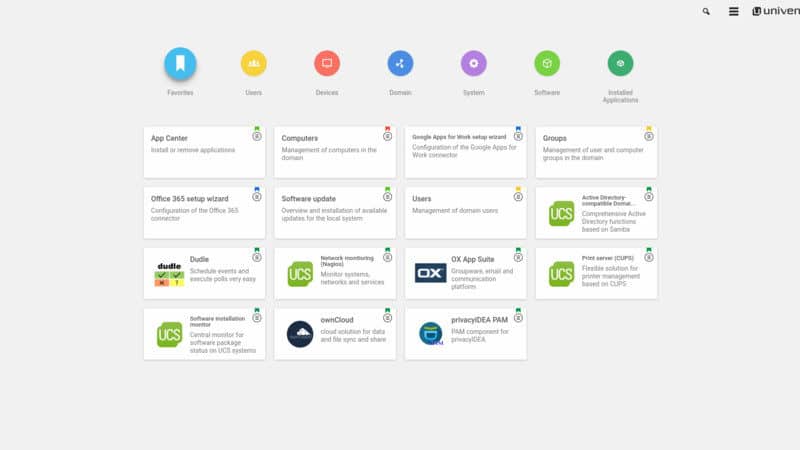 The Univention App Center is an integral part of the Univention Management Console and allows Apps to be installed with a few clicks.
Most of the Apps integrate automatically to the UCS management system by adopting basic settings and basic data, for example, from the Active Directory or the LDAP directory. User-specific rights for each application can be assigned afterwards if required. Once installed, you can add users to the solution and give them access. Passwords are also managed centrally via the Univention Management Console and users can change passwords on their own via the UCS self services.
Another convenient feature is that the App Center provides all updates and allows you to regulate centrally when and what updates to run. Your IT is thus always up to date and secure. You can also choose to run new updates automatically. This centralization and automation possibilities can save a lot of administrative work.
Range of Applications
A large variety of solutions are available covering the following areas:
Groupware & Collaboration
Enterprise Resource Planning
Backup and Monitoring
Security
Content and Document Management Systems
File and Print Management
Virtualization
System Services and
Education
Interestingly, Peter Ganten, Univention CEO, published a chart list of their App Center in September. According to this, the most popular in-house app is the Active Directory-compatible Domain Controller App which extends UCS with Active Directory services using Samba software. Among the top apps from third party vendors are ownCloud, Kopano, OX App Suite, Nextcloud and Let's Encrypt. Here are the latest Third Party Univention App Charts.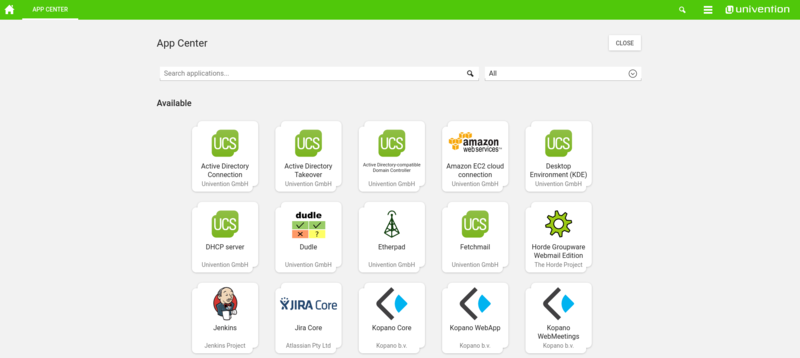 Integration of Docker Technology
Since starting to implement the Docker technology for app packages in 2015, more convenience is provided to users and providers alike. The Docker-based encapsulation of the Apps brings more security and simplicity. Apps don't affect the performance of other apps running on the same system. Any errors or problems in one application cannot influence anymore the underlying UCS host system or another app environment operated on the same server or hinder it in any way.
New application versions can thus be installed and configuration files can be replaced easily by the vendor without paying much attention to compatibility issues. The Dockerization of all apps is still in process but most of the apps have already been changed accordingly.
Virtual Univention App Appliances
Some of the applications available via the Univention App Catalog on the website provide pre-configured, virtual images for VMWare, VirtualBox and KVM. They contain the pre-configured App and a pre-configured UCS system including the management system for administrating the App itself and its users. These images are ready to use and very useful for testing and/or using them in the cloud without having to install the App first via the App Center.
Univention Apps are already available for popular apps such as OX App Suite, ownCloud, Nextcloud, Kopano and OpenProject.
Special Features for App Providers
App Settings
A quite new feature adding value to app providers is the possibility to facilitate the configuration process for the user. By creating pre-configured configuration forms that users can access via "App Settings", the app provider can help to improve the app's integration depth in UCS and thus simplify the set-up for the user.
App Branding
Another interesting feature for app providers is the possibility to choose their own corporate branding for their virtual App Appliances in the App Center. Thanks to this feature, areas such as the Bootsplash, the welcome screen, the setup and the portal of the UCS system show the colors and logo of the respective App.
Univention App Center as a Marketplace
Apps can also be purchased via the App Center. The offering depends on the respective app and mostly includes subscription and support packages scaling with the number of users needed for the organization. The App Center "Shop" can be used by customers and resellers alike. It simplifies and centralizes the purchase process. Furthermore, it completes the marketplace concept.
Conclusion
Univention's vision is to provide an open, transparent and vendor independent platform for a wide range of applications that can be installed with a few clicks and managed centrally, either on-premises or in the cloud. With this App Center, they offer an already quite large amount of applications and services that are easy to manage with UCS.
If you look at how the App Center developed, it is quite remarkable. Since its start, the number of available apps has grown to over 90 solutions and continues to grow. The App Center not only offers mature and well known open source software including many additional components for UCS but, what is as important, it is open and lets the user stay in control of his environment. There are no trap doors in form of a closed cloud, users do have free choice about the whole range of applications and with the Docker technology earlier unwanted interdependencies or frictions among the solutions and the domain are gone.
So, try it out! More information on how to install an app from the App Center can be found in the article Using Univention Corporate Server (UCS) as a Home Server.