Brief: A company from the Czech Republic is trying to raise money to bring a modular and open source router to the public. It has a number of features that can't be found in the current line up of routers available for purchase.
Turris MOX: Modular & Open-Source Router
The goal of the campaign is to create a modular router. The team behind the project knows that not everyone needs a powerful, high-end router. They want to give users the ability to put together a custom router that meets their needs. According to the Indiegogo page, the Turris MOX is "Probably the first router configurable as easily as a sandwich. Choose the parts you actually want."
They, in fact, have a funny introductory advertisement on YouTube.
To make this happen, the Turris MOX has 5 modules available: Basic, Extension, Ethernet, SFP, and Super Ethernet. The Basic module is powered by a Marvell Armada 3720 ARM 1.2 GHz dual-core processor, USB 3.0, microSD slot, and a GWAN port. The Extension module has a mPCIe slot and a SIM slot. The Ethernet module has 4 GLAN ports. The SFP module adds an SFP port to access fiber networks. The Super Ethernet module adds 8 GLAN ports. You can even get a 500 GB SSD to create a Network-attached storage (NAS) device.
The following sets can be built from the different modules
Pocket Wi-Fi
Power Wi-Fi
Classic
Wired
Fiber
Simple NAS
This video gives a better idea of the modules of the Turris MOX router:
What runs underneath Turris MOX?
The Turris MOX router is powered by Turris OS, which is based on OpenWrt 18.5. It will make use of the 4.14 Long Term Support kernel. The Turris team added an automatic update system that allows them to actively update the software to defeat new cyber threats. They use LXC containers for virtualization.
The software also has several features that most other router software doesn't have, such as an OpenVPN server, an ssh honeypot, a parental control tool, and an internet access measuring tool among others. The ssh honeypot is a research project that people can take part in to help secure the web. Hackers like to try and log into computers via ssh. The ssh honeypot pretends to be a computer with an open ssh port. Once the attacker tries to log in, his information is captured and sent to Turris to help protect other systems.
[irp posts="26478″ name="Mandrake Linux Creator Launches a New Open Source Mobile OS"]
An experienced team is behind Turris MOX
CZ.NIC is the team behind the Turris MOX. They are from the Czech Republic. This is not their first tech rodeo. In January of 2016, they successfully raised $1.2 million to create the Turris Omnia, a hi-performance & open-source router. It is currently available on Amazon and other stores. The company is a big supporter of open source technology. They also handle CZ domain registrations.
What do you think of Turris MOX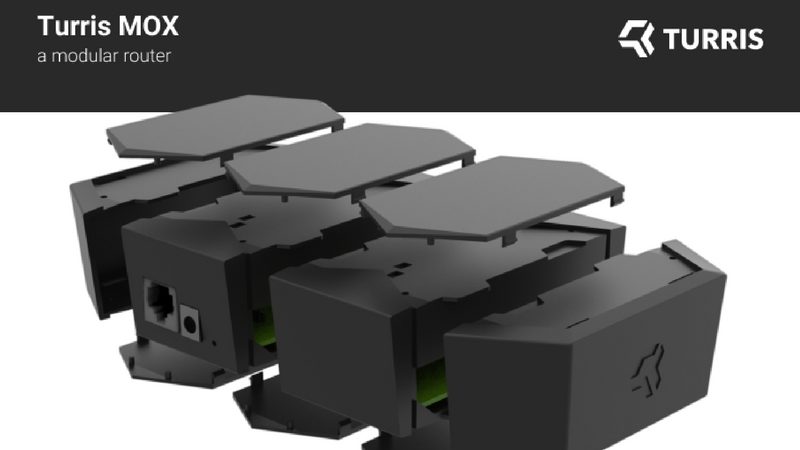 The majority of routers available on Amazon or in shops are proprietary. Most of the time they are fairly bare bones and aren't cheap. One of the main things that I like about the Turris MOX is that it is open-source. It makes it much easier to write drivers. I have read horror stories about trying to write open source drivers for proprietary hardware. (I'm glad that not one of my jobs.) Currently, CZ.NIC is working to get MOX hardware support in the mainline kernel.
I also like the fact that MOX can be modified to meet your needs. You can start out basic and add modules as you need them. In the long run, you are only paying for features that you need.
If you liked the concept, you can support the crowdfunding campaign. As an early bird, you can get some nice perks and discounts
Support Turris MOX on Indiegogo
Have you ever used a Turris router? What is your favorite open source hardware? Please let us know in the comments below.
If you found this article interesting, please take a minute to share it on social media.