Linux Mint has gotten mintier with the new Sarah update. Graceful animations, softer performance and a whole lot of Xenial software.
Linux Mint 18 'Sarah' is based on Ubuntu 16.04 and also features the long awaited Cinnamon 3.0 desktop environment. Linux Mint 18 will be using the Linux Kernel 4.4.x and currently comes with Cinnamon and Mate desktop environments and Xfce in beta.
Things to do after installing Linux Mint 18.3
Here is my list of things to do after installing Linux Mint 18 to get a power packed experience out of Your Mint.
1. Update
The update manager has become friendlier. On the first launch, it prompts you to select one out of the 3 update policies.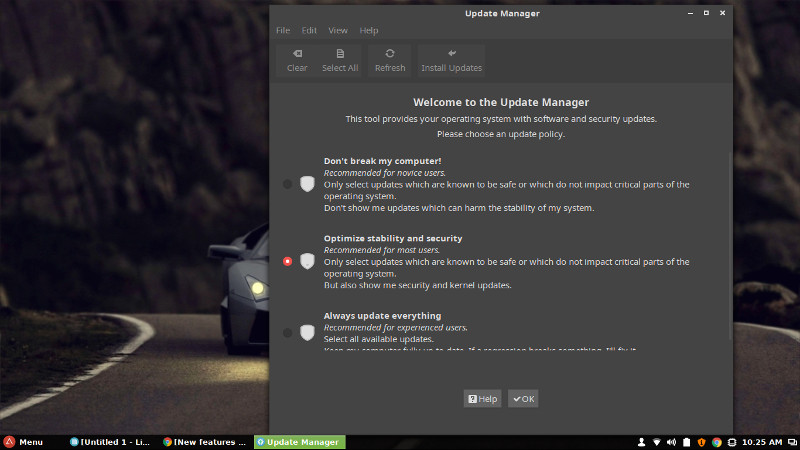 Select one as per your needs and grab those updates. I suggest you NOT to skip this step as it contains some important security updates.
2. Multimedia Codecs
Linux Mint 18 is not providing out of the box multimedia codecs like its predecessors. But fetching them is just a single step process. Type "Codec" in the menu, and click on Install Media codecs option and it'll load up all the codecs. That's it.
3. Drivers
I suggest you get the proprietary drivers for your computer's GPU to make use of that chip to it's fullest. Now I'm not saying that the pre-installed open source drivers can't do that, I'm just saying there IS a difference.
Open Driver Manager from the menu and select the "recommended" driver from the list and click on Apply changes. After your driver is downloaded and installed, You need to reboot to see the changes.
4. Firewall
Although I haven't had any problems using Linux Mint 18 without the firewall, I suggest you turn it on. Better safe than sorry right?
Open Firewall configuration from the menu and just flick the off switch to on. The default configuration should be good to go.
Anyway, If you have any problem connecting some apps to the internet, open firewall, click on the rules tab and use the '+' button to add a rule to permit that app.
5. Software
Now is the time to get them toys. Open software manager and install the software you want. Check out some docks, music players and other stuff. Everything is organized. I specifically added this step so that we can make a backup before we add external PPAs.
If you're into games, download steam. Steam is porting many good ones to Linux, and they already have a pretty good catalog. Games like Portal series, Bioshock Infinite, Euro Truck Simulator 2, Counter-Strike:Global Offensive and many more are available. Free to play section has Team Fortress 2, Dota 2, Unturned and many more great titles. Steam is just making it all better. Isn't it?
6. Backup
There is no excuse for not having a backup. Currently, Your Linux Mint is new and shiny. That's why we make a backup now. So that we have a perfectly working OS to fall back to in case things go south later on.
We use the powerful timeshift for this purpose. Timeshift takes a snapshot of the entire system and saves it. It is somewhat like Windows Restore, but better. You can even copy an entire installation to other computer and also restore a system even after it fails to boot (Using a live pen drive obviously).
Run the commands below one by one in the terminal to install timeshift.
sudo apt-add-repository -y ppa:teejee2008/ppa
sudo apt-get update
sudo apt-get install timeshift
7. Power management
Now I suppose most of you will be using a laptop and this one's for You. Linux has always been a little behind in battery management compared to Windows. Linux is performance oriented.
But installing TLP can help you squeeze some extra juice out of that battery.
Use the commands below to get tlp:
sudo add-apt-repository ppa:linrunner/tlp
sudo apt-get update
sudo apt-get install tlp tlp-rdw
The TLP web page states that TLP comes with a default configuration already optimized for battery life, so you may just install and forget it.
8. Themes and Icons
Linux Mint 18 has improved on the looks and artwork. Check out the Dark and Darker themes. And also check out the Numix Circle icons. There are many icon packs out there, but Numix Circle kinda makes it all more beautiful on Linux Mint 18.
Here's how You get them. Open the terminal and copy paste the commands below one by one.
sudo add-apt-repository ppa:numix/ppa
sudo apt-get update
sudo apt-get install numix-icon-theme-circle
You're all set now. You can start working on Your computer right on or customize Linux Mint 18 more to make it more… yours.
Got any more must-do things after installing Linux Mint 18 or awesome customization tips? We want to hear from you.