Brief: SoftMaker Office is an interesting paid alternative to Microsoft Office on Linux. Compared to some free and open-source office suites out there, it offers some extra features and a better user interface.
SoftMaker is a premium office suite for Linux, Windows, and macOS. It is neither free nor open source, so I didn't include it in the list of best open source office suites for Linux.
You can go for a trial version of SoftMaker and opt to pay for premium feature later on. Every license includes installations on up to five computers and five mobiles (cross-platform).
There is also a free version called FreeOffice that has fewer features than SoftMaker.
If you don't care for the open-source part and are unhappy with LibreOffice, you can try SoftMaker. It is a feature-rich office product with a modern and intuitive UI. Compatibility with Microsoft Office is a big plus for SoftMaker office.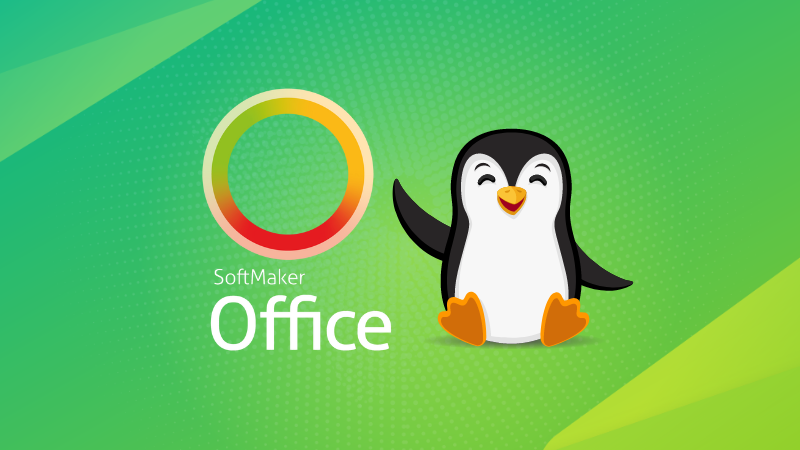 Disclaimer: SoftMaker is not FOSS, but it is available for Linux desktops, which is why we cover it here.
SoftMaker Office suite includes:
TextMaker: Word processing application
PlanMaker: Spreadsheet application
Presentations: A Presentation Application
Note: This article features the 2021 edition of SoftMaker, which was the latest available version in 2022.
Features of SoftMaker Office
Since SoftMaker Office supports the Microsoft Office formats DOCX, XLSX and PPTX by default, there is no need to convert files later. Moreover, each office application provides a dialog box when you save a document, to choose the file format.
Note that it also offers its proprietary file format. But, you should only use it if you want to use maximum SoftMaker Office features and ensure that anyone who intends to work with you has SoftMaker installed.
Some of the Important features that all the office apps inherit are:
Create PDF files directly out of every application
Enhanced version management: enables you to revert to any previous version because of freely selectable number of manually and automatically saved versions of each file.
Powerful research function: Select terms in your document to search a large variety of online dictionaries and encyclopedia
It can be installed on a USB flash drive to be used on any PC without installation.
Switch to the dark mode
Touchscreen mode with larger icons and wider spacing
32-bit and 64-bit versions in the same package
Create archival PDFs in PDF/A format for long-term preservation of documents
Real-time preview of formatting changes
TextMaker
TextMaker is the word processing application provided as part of SoftMaker Office Suite. It offers several handy features, which has improved a lot over the years.
Some of the highlight features of TextMaker are:
Automatically add fold marks to your pages to ensure correct folding for envelopes
Export to the e-book format EPUB (Pro and NX Universal)
Easy mail merge (Can use SQLite, XLSX, PMDX, dBASE and CSV files)
Built-in database module for SQLite, XLSX, PMDX, dBASE and CSV files
SmartText: for example, type "asap" and "as soon as possible" appears immediately
Integrates directly with the citation and reference management software Zotero
PlanMaker
PlanMaker is the Spreadsheet application coming with the Office Suite. It offers all the essential features of a spreadsheet application along with some other highlighting features
Some of the features are:
Real-time calculation in the status bar, now displaying multiple values
Page break preview to prepare worksheets for printing
More than 80 different types of charts, that can be rotated in 3D space
External references (calculations that access data in other files)
Colored tabs for worksheets
Presentations
Presentations, as the name indicates, helps you make slides for presentations in the SoftMaker Office Suite. Like other office programs in the suite, its compatibility with Microsoft's PPTX file format makes it a good choice.
Other key highlights:
Export entire presentations as graphic files or HTML web pages
Media ribbon tab to manage movie or sound objects
Presenter view – the slide show runs on one monitor or projector for the audience, and the second monitor offers tools for the presenter
Installing Softmaker Office on Linux
Softmaker Office is officially available to install in several Linux distributions, including Debian, Ubuntu, Linux Mint, Manjaro, Fedora and openSUSE. You can find official DEB and RPM files as well, if you prefer installing that way.
You can install it in Ubuntu, through terminal and GUI method.
Install Softmaker Office with DEB Package
First, you must download the deb package provided on the official download page.
Once downloaded, open the file with software center and use the install button.
Install Softmaker Office via the SoftMaker repository
If you are a fan of installing apps through the command line, the developers provide that option too.
To install by adding their repository in Ubuntu, open a terminal and enter these commands one by one:
sudo -i
wget -qO - https://shop.softmaker.com/repo/linux-repo-public.key | apt-key add -
echo "deb https://shop.softmaker.com/repo/apt stable non-free" > /etc/apt/sources.list.d/softmaker.list
apt update
apt install softmaker-office-2021
Installing SoftMaker Office on Other Linux System
As mentioned, SoftMaker Office is available to install officially for some of the popular distros.
You can refer the official installation instructions to get help for other distributions.
If you do not find options for your distro, you can download the tar file from the official download page. Now open a terminal and enter the following command:
tar xvzf <PATH/TO/DOWNLOADED/TAR/FILE>
Then, inside the folder, run the installation script by,
./installsmoffice
This will install the office suite to your system.
Why Not LibreOffice?
From my conversation with a number of Linux users, I know that many people have to deal with MS Office for business purposes. LibreOffice, though excellent, is not often the best solution in such cases.
Going back to Windows just for an office product can be avoided. One can use something like CrossOver or SoftMaker and keep using Linux.
If you do not want to pay for a license, but want some of the SoftMaker perks, they provide a free edition separately as FreeOffice.
Which office suite do you use on Linux?