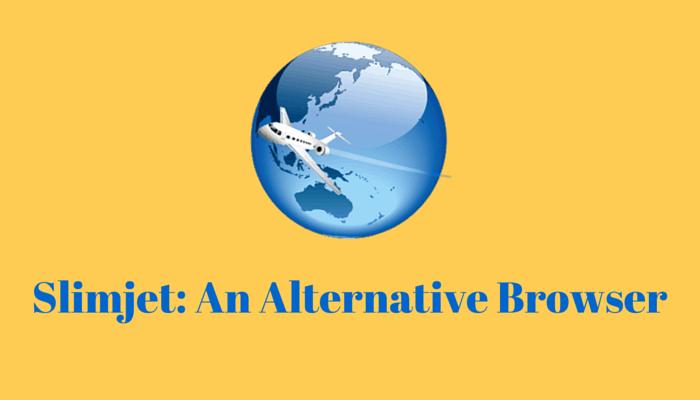 If you remember, I had informed you of Google Chrome ending support for 32 bit Linux and for all builds of Ubuntu 12.04 LTS. Starting from March, Google Chrome won't get security updates for these systems.
If you are using Google Chrome on a 32 bit Linux system or a Linux distro based on Ubuntu 12.04 (even 64-bit ones) such as Linux Mint 13, it is time for you to switch to another web browser.
The first and obvious choice is Mozilla Firefox but if you were using Google Chrome, chances are that you might not like Firefox.
What other choices do we have then? Popular suggestion would be to go for Chromium browser, the open source project from which Google Chrome is derived. While Chromium is a good alternative, I would like to suggest another alternative, Slimjet.
Slimjet is a web browser based on Chromium project. However, Slimjet is NOT open source. As the name indicates, Slimjet focuses on speed and is slimmer (lightweight). It provides added functionalities on the top of the Chromium browser.
Read this article if you want to know open source alternative web browsers to Google Chrome.
Slimjet browser features
Here are some of the main features listed on its website and some experienced by me:
Based on Chromium, integrates with Google account to import history and bookmarks (depending upon your settings)
Relatively lightweight and faster
Ad-block enabled by default
New apps can be downloaded from Chrome Web Store
Focused on privacy and comes with anti-tracking technology (you can enbale this)
Comes with a download manager that helps in resumable download between sessions
Quick fill form filler
A built-in photo app for easier upload and enhancement (apply effects, frames etc)
One-click Facebook integration
Customizable toolbar
Instant photo upload with built-in compression
Customizable new tab page
Flexible web page translation (translate entire or part of web page)
Supports various mouse gestures
Personalization and theme support
Looking at the list above you can see that most of the features can be achieved in any standard web browser by installing plugins and tweaking settings but having it by default is an advantage in itself. For beginners and for people who do not like to tinker a lot, this could be quite helpful.
Installing Slimjet
Slimjet is available for Linux and Windows. Surprisingly, it's not available for Mac OS X. For Debian and Ubuntu based Linux distributions, Slimjet provides the .deb executables while other Linux distributions such as Fedora, openSUSE etc have the option to install it by running a script.
You can download the respective installer from the link below:
If you are using Ubuntu, Linux Mint, elementary OS or Linux Lite, just double click on the .deb file to install Slimjet.
Using Slimjet
I have tested Slimjet in Linux Mint 17.3 64bit. When you first run Slimjet, it immediately gives you the option to install ad-blocker.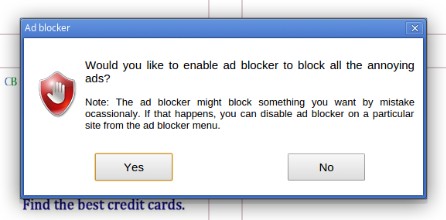 Choice is yours whether to enable ad-blocker or not. Sensible thing would be to install it unless you have a favorite ad blocking plugin that you would use instead.
The next thing you notice on the tab is that it is full of advertising websites like eBay, Booking.com, Groupon etc like you might have seen in Firefox on the first run. But these websites are also added in the list of bookmarks by default and that's most annoying thing.
You have the option to sign into Slimjet which is basically using your Google account. This will automatically sync settings, bookmarks, browsing history from your Google Chrome to Slimjet, given that you use sync option in Chrome.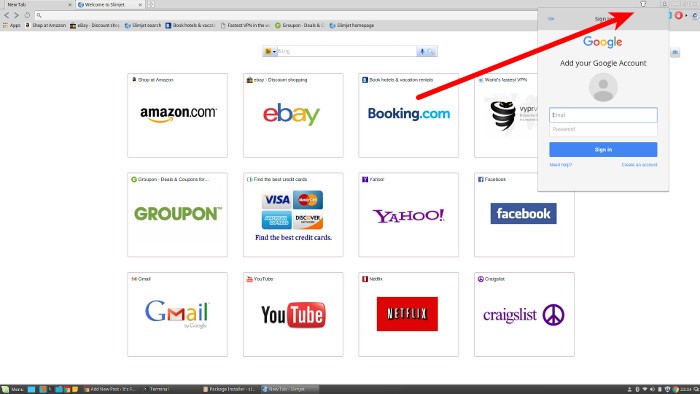 Your passwords won't be imported automatically, though. Importing passwords between browsers have become increasingly difficult because the way Google is storing password these days. Even using a third party app like LastPass did not help me.
Is it really slim and fast?
All kind of claims are made by products, and digital products i.e. Software are no exception. Slimjet pitches itself as the faster alternative to the existing web browsers. But is it really faster than the rest?
To test that, I opened four websites in Google Chrome, Chromium and Slimjet and I found that all of them consume more or less same amount of resources. The figures kept jiggling between the various browsers: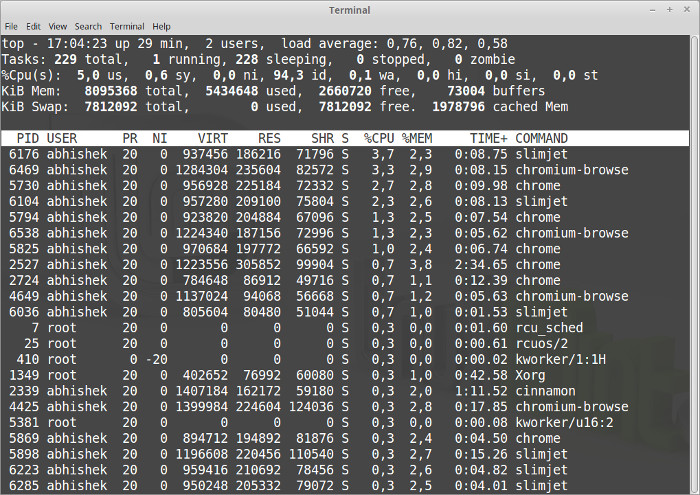 I did not do extensive testing though so I cannot make claims if it is really faster than the others or not.
Verdict
It's a neat little browser that has all the functionalities you are accustomed to in any standard web browser such as Google Chrome. It has a few features of its own that provide it a slight edge but that's not really the exclusive to Slimjet.
If you are looking to replace Google Chrome because of the upcoming support end, I suggest you try it yourself and see if it suits you or not.